Tweet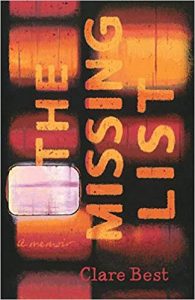 When Clare Best was asked by her dying father to help him write his memoir, she took the brave decision of using that process to examine her own, deeply painful past. By interweaving transcripts of interviews with her father, descriptions of cine films made by him and her own memories of events, The Missing List pieces together the hidden experience of sexual abuse that he subjected her to.
Best's previous work, poetry as well as prose, has won several awards, including an Author's Foundation Grant from the Society of Authors. She has held various Writer in Residence positions and has been teaching Creative Writing for the Open University since 2005.
This courageous memoir is an investigation into the power relation between father and daughter, an honest account of a life dominated by fear. The narrative follows the final year of Best's father's life when he was dying from cancer. Over a series of visits, her father narrated his very selective memories of his earlier life: the devastating loss of his mother who died when he was five years old, his subsequent misery at boarding school and his domination by his step-mother. Believing that he triumphed over these hardships he does not, during his dying moments, acknowledge the profound and life-long damage inflicted on his daughter by making her complicit in his sexual predation of her.
Best thinks her first memory of abuse is of when she was seven years old, but she is not sure, because she has suppressed the memory of her childhood.  Accordingly, school reports and memories of the various homes that her family lived in over the years are used to piece together her early life. In the book, she describes her relationship with her mother, whom she adored, reflecting on whether her mother knew about the abuse, and decides that while it seems that  her mother was trying to protect her daughter, Best's own terror of breaking up the family stopped her from confiding properly.
Throughout the book, there is a sense of purpose, of hard work being done to recover past events. The cine film descriptions are forensic examinations of the evidence of her father's gaze. Best describes how at first she appears as a carefree, happy child, but later the visual record of her is one of a girl who turns away from the camera, who tries not to be noticed. In the writing of the book Best deals with the prospect of losing a father she never had, and yet one who maintains a terrible grip on her. She writes of her feelings of absolute powerlessness. Silenced by fear, she obeys conventions that dictate that she should look after her father in his illness, arrange carers, hospital appointments and organise medication for him at the same time as trying to face up to the turmoil of her inner life even as memories of abuse begin to re-emerge. There are few accounts of the abuse itself in The Missing List. Best prefers to tell of the effects of abuse rather than dwelling on specific acts. That reticence coupled with her eloquence somehow invokes the horror more palpably than any lurid detail.
What comes across powerfully in Best's understated narrative is a picture of a man whose sense of entitlement allowed him to coerce his daughter into sexual acts that she detested, alongside a complete denial on his part that anything untoward happened.
What also comes across in the book is the astonishing fact that, somehow, Best's emotional development has not been completely destroyed, and that she now has a supportive family of her own. This is a memoir that is a tribute to its author; her honest telling of her incredibly brave, and ultimately therapeutic journey into her past.