THIS, Tay Poems by Jim Stewart
Tweet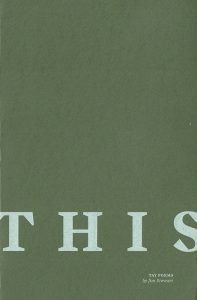 The poet Jim Stewart (1952-2016) earned that rarest of writer's accolades: of being well-loved by those who not only knew his work but knew him. He had a well-deserved reputation as a gifted and inspiring teacher who, in typical Dundonian fashion, seemed to hide his calling under a genuine sense of duty, so that his poetry, though admired whenever encountered, never quite made the transition into a collection that would have secured his reputation as a significant writer in a city which produces more than its fair share of poets.
It is all the more sad, then, that this collection is posthumous, because it achieves exactly that goal of distinguishing him as a remarkable poet who deserves to be recognised nationally, and not just by the city to which he gave so much. It would only have been appropriate if he had been able to enjoy the public acknowledgement of what he himself must have privately known.
This, a gently directive yet typically emphatic title – immediately followed by the equally locational subheading, 'Tay Poems' – insists on acts of intense observation of plants, animals, birds, and insects which, through long refinement and mastery of craft, become transcendent meditations. Jim Stewart's work, as Kirsty Gunn observes in the collection's moving introduction, was all about this process of creation-as-responsiveness. The three parts of This, 'Field', 'Forest', and 'Shore', are everywhere shot through with epiphanic phrasings which place him within what Norman MacCaig famously called a 'Zen Calvinist' sensibility, from the death of a blackbird, 'Summer will pass; and when it's done,/her skull will present for keeping/its lattice of air', to the growth of a tree:
Such a grainy slowly growing thing.
Unheard, the bang of pressure is for dear
life itself. It nearly forces grace,
need grown wide through all that minor strife.
As that charged term 'grace' indicates, there is an obsessive need here to learn from the non-human a way of responding to how we really are, rather than how we suppose ourselves to be, an ethical dimension which lifts Jim Stewart's work from the proudly local or the carefully observant to the deeply spiritual in a disillusioned version of that term.
This is a poetry which loves the searching nature of the riddle and the intimacy of dedication (the collection as a whole is dedicated to a young nephew, who died at five) more than stylistic flamboyance or grand and righteous themes, but it is no less serious for that. A meditation on a shield bug produces the almost Blakean apperception, 'Just as these unthinkingly do and feel,/so we know and do not know of spirit.'
There is a self-deprecating mode of Dundonian-ness summed up by Michael Marra's term, 'hermless'. It contains both strengths and weaknesses: the virtue of humility, and the vice of disengagement – as Montaigne warns, 'one may be humble out of pride'. Jim Stewart's first collection was too long delayed, but not, I think, because of that particular weakness. Rather, he settled on a process, as he called it, that had elements both of a spiritual discipline and of that dedication to craft before reputation that true poets instinctively choose. The process has not ended with his death or this publication. It continues in us, his readers, and, as a happy side-effect, serves to establish him with a single volume as one of the most significant Scottish poets of the last decade.
Ed – From:  THIS, Tay Poems by Jim Stewart; book launch 14 November at Toppings, St Andrews. 'Oystercatchers' from THIS  is available HERE.