ARTIST ROOMS Lawrence Weiner
Tweet
The new installation of Laurence Weiner at The McManus marks the first time that the ARTIST ROOMS modern and contemporary art collection have displayed in Dundee. This touring programme is delivered by the National Galleries of Scotland and Tate, although Weiner and his office were directly involved in the planning of this exhibition.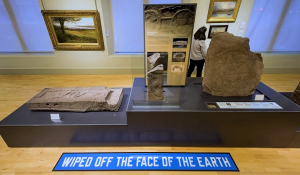 Certainly, the diverse presentation of artist books, posters, drawings and other ephemera appears to have been carefully curated to showcase a career that spans more than 50 years.
Laurence Weiner is a celebrated conceptual artist, recognised for his use of text and typographic print across manifestations ranging from small form creations to expansive wall texts. In opening the exhibition, Sir John Leighton, Director-General of the National Galleries of Scotland, noted that Weiner rejects the notion that he is a poet and identifies as a sculptor, with language forming his medium. In recognition of this experimentation with form, texts have been installed within museum displays in other parts of the building, connecting Weiner's work to Dundee. Anecdotally, we also learnt that Weiner is a fan of Dundee Marmalade.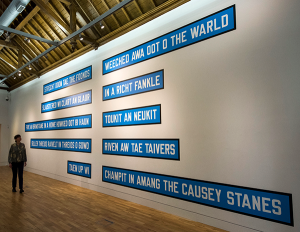 Within the main exhibit, two significant pieces of wall text control the space. Although not intended to be poetic – Weiner's work often includes only phrases or statements – the textual elements create a direct engagement with their audience. An additional bonus within this installation is the translation of Weiner's work into Scots for the first time by author James Robertson. It is this Scots language that is used in the cycle of ten wall texts which confronts visitors upon entry to the space, and is striking in the use of sky blue on white, echoing the colours of the Saltire. This proved to be a discussion piece on the preview night, with even ardent Scots among us being challenged by some of the words and engaging further with the piece as a consequence. By way of example, TOUKIT AN NEUKIT translates beautifully from a 1988 piece TUCKED IN AT THE CORNERS. As part of the learning programme supporting the exhibition, these translations will be explored with James Robertson in a session in January. As a further example of Weiner's diverse exploration of language as medium, the exhibit entitled 7 is a 1972 study of sound and its interpretation into a series that includes sculptural form, a music compilation and an artist's record, all available in the centre of the room on a listening station with headphones.
Two series of artists' books are showcased including those that Weiner has produced through collaborations with other artists in the room's display cabinets. These are loaned from both the Tate and the University of Dundee's own 'abcD' (Artists' Books Collection Dundee), which has recently been re-housed in the Duncan of Jordanstone College of Art and Design Library. One such item is a comic book created by Weiner and the American artist Matt Mullican which takes the form of a narrative sequence of geometric shapes and poetic diagrams. I like to think this was possibly selected to offer a nod to Dundee's established reputation in the field of comics.
The exhibition runs until February 2019, offering a unique opportunity here in Dundee to visit the works, both old and new, of one of the key conceptual artists of the 1960's.
Hannah Whaley