Hummingbirds Between the Pages
Tweet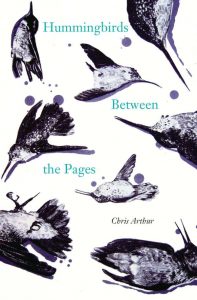 Chris Arthur's latest essay collection is unmistakably about hummingbirds. However, this innocuous fact is far more revealing than one might expect. Arthur's hummingbirds are varied; sometimes they are avian, but they are also objects, words, creatures and people. To be a hummingbird is to capture the attention of the beholder and in doing so, challenge their perception of reality: 'a kind of epiphany'. Every essay in this collection is a standalone piece of writing — there is no need to read them in order — but taken together they express something more. The book signifies a way of finding the extraordinary, a way of finding the hummingbird, in the everyday: 'To admit to being an essayist is even riskier than comparing writing to something as beautiful as a hummingbird.'
As a modern essayist Arthur is self-deprecating when he differentiates himself from preconceived notions that often lead to staid, academic forms. The collection should not be viewed as a series of scholarly exercises, but more as moments of self-expression. There is no set structure or formula to Arthur's work. Each essay follows a thread of thought through various tangents and revisits, some exploring the titular concern immediately, some after a lengthy preamble, and some sporadically. But describing his essay structures as 'loose' is not a criticism; in fact it is what allows each essay to drift towards the point it needs to and when it wants to. This fluid nature means that essays can explore multiple themes in the space of a few pages, each essay a complex web of interrelated thoughts focused around a core, hummingbird moment.
Hummingbirds Between the Pages takes the reader on narrative journeys using personal anecdotes alongside potent imagery such as in "Darwin's Fox":
we're all obedient to a magpie's-eye imperative that makes us seek out whatever shines for us most brightly. And this makes me unrepentant about fixating on this brief passage in Darwin's writings where he records his killing of the fox.
Arthur's work is painfully self-aware, justifying itself and the forms it takes. Here the symbolism of the 'magpie's-eye' has been set up as a description of his imaginative assembly of interesting events. It is a style of curation embodied in all of these essays ‒ shiny moments such as the casual killing of a fox by a beloved naturalist are showcased, but then made to seem almost incidental as what really matters are the thoughts that surround those episodes. This complex dance allows the writer to explore the cause and effect that lead up to instances of shocking epiphany, and how they affect not only his understanding of the world, but also how that comprehension translates into the very form of what he has been writing.
Hummingbirds Between the Pages is not just technical and complex but the essays also resonate on an emotional level. Arthur's work is purposeful and moving; it is hard not to feel something when faced with the universal themes of innocence and experience. The interplay between these two states can be seen in 'Glass': 'Having marveled at it, and mourned its passing, we took the blue tit's body out to the garden and buried it in a flowerbed underneath a ginkgo sapling.'
It is a moment familiar to most people, either from their childhood memories of witnessing death for the first time, or of being an adult helping a child through such experiences in later life. Such powerful moments like this leaven the complexities and make them more emotionally resonant.
There is something for everyone in Chris Arthur's Hummingbirds Between the Pages. His work will appeal to dreamers and the worldly-wise, fans of the poetic and admirers of the lyrical. This collection will take you on several intricately crafted journeys. Why not let it?