Tweet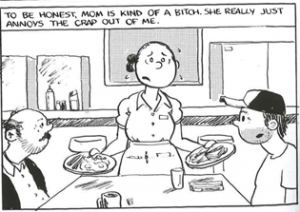 'Dear Diary, go fuck yourself' opens I Am Not Okay With This, author and artist Charles Forsman's latest graphic novel, a line that made me laugh with its direct belligerence. An opening like this, coupled with the comic's cartoon art style  – reminiscent to me of Bryan Lee O'Malley's work – lured me into expecting a dark comedy. Instead, IANOWT is a bleak and unsettling tragedy, closer to fellow cartoonist Alison Bechdel's Fun Home than Malley's Scott Pilgrim.
That's not at all to say the art style and story don't work well together. IANOWT tells the story of Sydney, a troubled 15-year-old, and the visuals – simplistic, almost childish – mirror Syd's youthful perspective. At first glance, they seem to downplay the seriousness of Syd's situation, much as she seems to brush off her own feelings; even the title, "I am not okay with this", is a remarkably mild, if direct, way for Syd to express the trauma, grief, fear and rage she is revealed to be experiencing.  But Syd's everyday reality is just a veneer of normalcy, and seems to be eroded by apparently supernatural forces. And beneath the graphic art's simple surface lurks a wealth of emotional complexity. Cartoons have the potential to be wonderfully expressive, after all.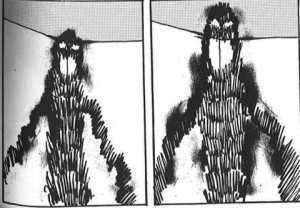 When the story calls for something more disturbing, Forsman's art delivers there, too. A "beast" lives in Sydney's head – a metaphor for either trauma, mental health problems or perhaps both – and grants her brutal, uncontrollable psychic powers. Forsman represents this spectre as a looming mess of scribbles: sinister and inscrutable; it towers over Sydney like a malevolent shadow. Similarly, moments of sudden violence are made all the more shocking and ghastly by their incongruous cartoon depictions.
Coupled with Forsman's artwork is a naturalistic, sometimes dry or darkly comic dialogue, and Syd's laconic narration, framed as her writing in her diary. Using entries from Syd's diary as narrative captions emphasises her isolation. The diary, the only place where Syd feels able to express herself, stands in for the reader. Readers thus become Syd's confidant until the ending abruptly reminds them that a diary is no substitute for real human ears. This is one example of Forsman's deft handling of emotion in this story. He likewise portrays Syd's trauma with depth and nuance. The way the beast not only attacks those she hates, but also those she cares for, reflects the way her damaged psyche leaves her feeling cut-off from everyone around her. If not condoning, the sense of understanding with which Forsman depicts Syd's actions makes the ending of the story not just painful but almost frustrating. Syd's story is certainly not an inspirational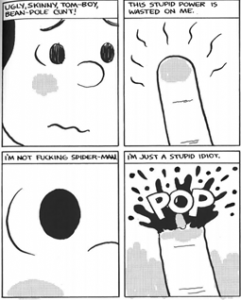 one for any young people dealing with their own trauma or mental health issues.
However, I Am Not Okay With may contain a vital message for those supporting those with mental health issues. Throughout the story Syd is perpetually misunderstood and dismissed by adults placed in positions not only of authority, but in care-giving roles, from the police to even, in the end, her guidance counsellor. Her mother tries to reach out, but as Forsman makes it clear she is compromised by her own trauma and grief following the death of Syd's father. The more Syd's situation spirals, the greater the rift between herself and others becomes, and vice versa.  Perhaps the overarching villain in Forsman's graphic novel is not the bully who sexually abuses Syd's best friend; or Syd herself, despite her murderous actions; or even the beast in Syd's head. Rather, it is miscommunication and a lack of understanding.
Overall, I Am Not Okay With This is not a fun or easy read. However, tight pacing ensures it is a gripping one, with both protagonist and reader locked in a downward spiral. Here is an emotional intelligence yoked to the hardest of gut punches.