Tweet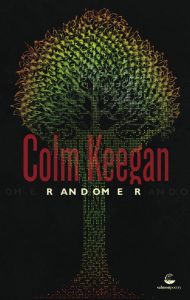 Randomer is Colm Keegan's second collection of poetry; his first, Don't Go There was released to critical acclaim in 2012. Shortlisted for the Hennessy New Irish Writer Award four times, he won the All Ireland Poetry Slam in 2010. Perhaps that's not surprising as from a young age Keegan liked reading out loud. In interviews he has said that reading a poem aloud makes him feel like he owns it, enabling him to leave the page behind. He talks of writing words to fit the mouth. It's little wonder that he co-founded Lingo, Ireland's first Spoken Word festival.
Before I researched any of this, I had concluded that Keegan's is a voice that pushes against the restraints of form. Within many of the poems, stanzas vary in length whilst rhymes, internal or otherwise, feel almost accidental. Phrases are often repeated, drawing disparate threads tight around his themes. Keegan offers a neat summary of his style in the title poem:
I'm just some randomer among randomers
throwing out words and seeing what flies.
'What flies' is an eclectic mix of the political and personal, poems that chart Keegan's life and growth as an artist. It's easy for the reader to become immersed in his world, and he speaks plainly:
This voice owes so much to books, how they transmit, ideas―
words that hit like a punch […]
The opening poem, 'Murder Road' typifies Keegan's style. Recalling an icebreaker exercise at a poetry workshop he says:
and it works,
but it works too well and you're like fucking hell
this is an overwhelming level of admission, dark truths
and vulnerability in the room like a coiling mess of broken
electrical wires, sparks everywhere ‒ out of our mouths
and out of our eyes, because this is more than ice that's breaking.
The poem transitions into the metaphysical as Keegan burns the 'heavy secrets' in his hand, disturbing a crow who screams to let '[…] his whole murder know that fire is coming.' Keegan concludes: 'My job is waking the crows […] I think I do it better than most.'
Is Keegan an angry poet? With poems such as 'Austerity' and 'Con Cave' it would be a fair assumption. He berates himself for once having played the corporate game. His voice
sold lies down a mobile phone for profit.
Talked about believing in things that it didn't believe like low hanging fruit and going fucking forward.
Away from the overtly political, Keegan shares moments from his childhood. In 'Punk Mother' we are plunged into the Ballymun flat where he spent his early years:
Outside the wire-frame glass;
a shadow made of leather and testosterone
banging on the door for what you owe.
The next poem, 'Usurper' appears to be written about an abusive step-father, detailing an episode of retaliation, real or imagined:
It felt good to stick my thumbs in your mouth.
It felt good to cut my knuckles on your teeth.
It felt good to let the blackness out,
you'd spent years pouring into me.

The repetition is seductive, but the last line disrupts the rhythm forcing the reader to focus on the bitter taste of the words. Bitter or sweet, Keegan's words flow abundantly:
This voice surrendered to words, bent down at the altar of them.

Where this different voice bubbled up, like a river after
enough rain.

And then this voice found the stage, joined the rumble of an
underground something exploding across Dublin, something
that saw no lines between performer and audience […]

In 'Springshine', the poet creates a dream-like atmosphere depicting the ephemeral texture of domestic beauty. His daughter practising gymnastics, his son's first ever joke. We are drawn inside his home to witness 'the soft machine of our life.'
Randomer is engaging and genuinely enjoyable. I know I will go back to it again and again.