Tweet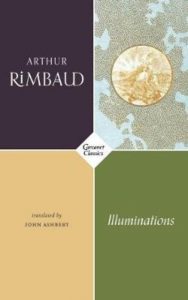 Arthur Rimbaud, eminent French poet of the late 19th Century, precocious in his genius and revolutionary in his poetic considerations, was a defining figure of Symbolist and early Surrealist movements.
This volume is a reissue of the masterful translation by John Ashbery, considered one of the greatest American poets of the 20th Century, having received multiple major American awards for his works, such as Self-portrait in a Convex Mirror, a collection that received a Pulitzer Prize. His sense of the French language is evident as the reader delves into the collection and explores this translation of Rimbaud.
Translating poetry is often an arduous task to undertake because the original language's intricacies are oftentimes impossible to transpose; here, Ashbery's skilful translation of what he calls "the crystalline jumble" that is Rimbaud's collection bursts into life, illuminated by all the colours of his 'painted plates' :
Any fine street of Paris has the advantage of air that is like light […] where savage gentlefolk hunt down their gossip columns by artificial light.

'Cities [ I ]'
Presented by Rimbaud to earlier editors as an unpaginated bundle of loose paper, this published version now comprises 43 poems, some brief, some stretching over multiple pages; the poems' shift in formal layout is mimicked by their changing tones as they shift from descriptive declarations to amazed declamations even as the poet delves in and out of the sensory world, out of the concrete descriptions of cities and into the intricate lives of mythological figures :
The collapse of apotheoses reaches the fields on the heights where seraphic centauresses gambol among avalanches

'Cities [ II ]'
Ashbery writes that 'absolute modernity was for him [Rimbaud] the acknowledging of the simultaneity of all of life, the condition that nourishes poetry at every second'. This absolute modernity is perhaps granted by this translation, published nearly a century after the original work, infusing the poems with a newfound modernity, while maintaining slight archaisms associated with the French language.
Having discarded conjunctions so as to quicken his storytelling pace, Rimbaud's dense prose is artfully rendered by Ashbery's close translation. Indeed, he remains faithful to the original text, as evidenced by the use of a parallel text, a bold choice that highlights the similarity of his translations as well as the few yet inevitable creative liberties taken. This skilful following of the Rimbaud's sentences, peculiar syntax and general images allows the translation to retain distinct qualities of French and how, in prose and vers libre alike, it flows on the page. Indeed, the verse's musicality is essential; the sonority's harmony reinforces the rendering of sensations, thus giving the reader access to their spiritual essence :
To roll with one's wounds, through the wearying air and the sea; with physical torment, through the silence of murderous water and air; with tortures that laugh in their heinous stormy silence.

'Anguish'
The poet plays on the subconscious and dream-like state reflected in his prose to translate his impressions. Ashbery's translation renders the poet's tendency to, instead of naming an object, describe the effect its presence or absence would have on us, as, according to Symbolists, one cannot reduce the world to a concrete image nor describe it through rational knowledge. Symbolism indeed conjures up reality by hiding it behind the ideal and gives voice to poets' pessimistic philosophy with its themes of death, reverie, landscapes reflecting a disillusionment with existence in states of mind and mythology.
What kind arms, what fortunate hour will give me back that region from whence issue my sleep and my slightest movements?

'Cities [ II ]'
Rimbaud's hallucinatory visions translated as poetry and prose is beautifully rendered by Ashbery who manages to transcend the limits of language.