Paolozzi at Large in Edinburgh: Artworks and Creative Responses
Tweet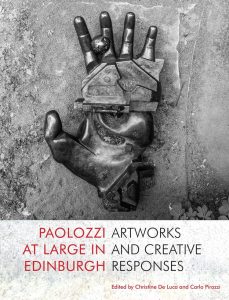 'It is monumental, more than the sum of its parts.'
(Christine De Luca)
We are faced less with 'how do you solve a problem like Maria?', more how do you define a Titan like Paolozzi? If you can, how then do you celebrate his extraordinary legacy? Sculptor, collage-artist, printmaker, mosaicist, teacher. Collaborator with scientists. Activist. Leith's own? Or the force from Viticuso? Berlin? Europe? New York? Osaka? Classicist, Pop artist, sometimes Radical Surrealist.  In this this book, focusing on twelve of Eduardo Paolozzi's major artworks in Edinburgh, that thistle has been grasped. An accompanying exhibition was held at the Royal Scottish Academy in Edinburgh.
The book's genesis in the 'EP Project' is outlined in Carlo's Pirozzi's opening notes. Pirozzi's intention was to commission Shetlander Christine De Luca to write poems responding to these dozen artworks, in tandem with Art historian Robert Spencer's commentary. Alas Spencer died early in the project's development, but his writing remains. Like Paolozzi himself, the 'EP Project' soon outgrew those shapes, becoming a massively ambitious, exciting and creative endeavour.
All the works chosen, from his tube-station mosaics, his genre-defying collages and the surprising charms of a little blue frog maquette can be tracked down using Helga Pavelkova's marvellous, Paolozzi-inspired endpaper map.
De Luca's twelve poems sometimes spin directly from the artworks, and sometimes from knowledge of the artist's workings, but importantly too, her responses sometimes ask questions of contemporary issues, such as the Brexit Referendum that reach far beyond the artist's mortal time frame. That seems true to the drive and impetus of Paolozzi's work. Interestingly, the artist himself termed his work the 'translation of experience',
with extra thorns
(De Luca)

con spine supplementari
(trans. Paci)
In turn de Luca's lines were translated by Francesca Romana Paci, and her sensitive interpretations of the poet's word-play, musicality, versification and devices are beautiful indeed. As I read more of the book, I found myself reading the Italian aloud first, challenging my own responses differently. Those interested in the vexed matter of poetry translation will find great integrity here, and unquestionably the presentation of these poems allows an interesting interaction, which must stimulate a deeper ongoing engagement.
In the book's first section and following each set of plates and poems, there are significant commentaries from Robin Spencer, Judith Collins and other luminaries. There is also a quirky, wonderful series of snippets from writer Vivian French, whose brother Ray Watson was the artist's chief assistant. These are a delight, bursting with a very close and often witty, humanising account of Paolozzi's practice.
The second section, 'Twelve conversations with Sir Eduardo Paolozzi', features a selection of works created by Royal Scottish Academicians in response to their senior Honorary Member.  A series of work and a written piece by each of the artists (including Doug Cocker, Alan Robb and Michael Visocchi) reveals a wide variety of visual and tactile responses. Some of the artists reveal personal connections and interactions with Paolozzi, and for others the conversation is truly metaphorical, their sole connection being his work. This seems a fittingly stimulating development of the great man's legacy.
The answer then to the opening paragraph's questions is perhaps that the solution is not a resolution, but a still-questioning, opening and inter-disciplinary creative commitment. Unquestionably many artists of all disciplines will continue to be influenced directly and indirectly by the greatness of Paolozzi. His work will trigger more written responses. Here we have English and Italian, but there may also be Scots, and his own Viticusar. There was music with MacMillan. Doubtless there will be more. There may be dance. Paolozzi is gone, but the wonder that is his legacy can never be static, and he is here, continuing to challenge, and prove much larger than any first thoughts. And surely that is exactly right.