Tweet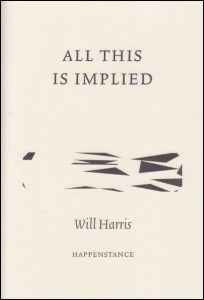 From the very first poem in this collection, 'Object', I am intrigued. It is an algebraic poem of six lines – a conversation between X and Y and what is implied is that X = Y. It is a bold and quirky start to a collection that asks questions about race, identity and inheritance.
Will Harris is a young Anglo-Indonesian poet. All this is implied is his debut pamphlet of poems and has been shortlisted for the Callum Macdonald Memorial Prize by the National Library of Scotland. It is a diverse collection, which reflects Harris' experience of growing up in Britain with an English father and Indonesian mother.
Perspective is crucial in these poems. In 'Mother's Country', the author is returning to Indonesia 'after years of her [his mother] urging me to go'. This piece takes place from the air, so we too see 'the slums', 'the river like a loosely sutured wound', 'the tin shacks' and the 'black smog' and we too share the poet's apprehension at what is now such an alien world to him. This is enhanced in the long vowel sounds and irregularity of the rhyme scheme which create a delay when we read it, echoing the poet's delay in making the journey back. Yet this is his history and he cannot escape it.
In "Self-portrait in front of a mirror", looking in the mirror allows Harris to see himself from the perspective of others: 'the epicanthic fold' which he considers 'just different' marks him out 'for special treatment'. There is little escape from a self that gives licence for strangers to tell him to 'fuck off back home' and for a barman to refuse to accept that he can have a name like Will Harris. This poem makes us challenge our own perceptions of race.
In 'Justine', Harris questions our perceptions of gender. The matter-of-fact tone of the child persona who 'can't stop staring as Justine lifts up her skirt, removes her penis, pees' and the simplicity of 'I try to hold her but she weighs too much' serves to emphasise the enormity and responsibility of his discovery. And so the final line, 'I'm so angry at Justine', makes us feel the anger of the poet at the unjustness of a society in which people feel they need to conceal their real identity.
'From the Other Side of Shooter's Hill' further explores the difficulty of expressing your identity in modern society. This poem, written in a single verse of forty-five lines, has a rhythm that mimics the pace of modern life in which everything is rushed. It is a poetic stream of consciousness which hints at the danger of losing that sense of self in the barrage of mundane distractions of everyday life:
In playback, I knew, not only would we appear to be talking
Comically fast, but it would be impossible to tell who was speaking.
In contrast, the rhythm of the poem 'Something' is much slower and reflective even when it is equally damning about modern life. The poet yearns for human connection but cannot fully engage with his partner because of the artificial distractions perceived to be important:
                     and it isn't right
morally that these images should
impinge on us when I want to be
listening to you.
In All this is implied, Harris is no longer 'lost down a technical rabbit hole' as he once said. Using free verse has allowed his thoughts to run free and the result is a collection of poems which is breathtakingly different. It will challenge your perceptions of yourself and of others. In the current political climate, I cannot think of a more pertinent theme to ask people to consider.