Tweet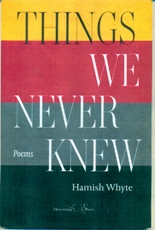 Hamish Whyte's short verses in his third book of poems, Things We Never Knew, are gentle and witty, sometimes laugh-aloud funny, and often poignant. They cover spatial points ranging from Edinburgh and Glasgow to the Australian Outback to South Dakota, and temporal locations as disparate as the present, his childhood, and the year 1876.
His poetry reveals an agile and probing mind and elicits a sense of discovery — both Whyte's and then ours, as he invites us to be participants in his mental wanderings.  'Berwick' can lead you to discover more about the painter Lowry and his relationship to the town on the Tweed. In other poems, he leads you into unravelling cryptic hints, such as in 'Grandpa's Boat' when he refers to a steamroller incident that tickles a memory just out of reach:
So the boat was scrapped
and the Campbeltown farmers got new gates
and good oak posts and Grandpa got ten pounds
back—like the steam roller that rolled
down the Rest and Be Thankful[.]
It elicits a phantom memory of the incident that no online search recovers.
The above lines are exhibitive of Whyte's free-verse. He makes plentiful use of alliteration (so, scrapped, go, gates, good, Grandpa, got) and assonance (here, primarily the 'o' sounds), occasional well-placed enjambment (pounds/back), with a judicious amount of repetition (got and got and steam roller that rolled.)
While there are only two rhyming poems in the book ('La Di Da' and 'Take Me to the North Star, Robyn'), effective internal rhymes appear sporadically. He makes a cunning use of near-homophones, as in 'Hypnagogic' where he is '…dozing in the garden/ private behind the privet[.]'
Many of the poems are homey, personal glimpses of Whyte's life as he grows older, becoming more like his forebears in little and important ways. For example, in 'Looking Out' he says, 'I say chook-chook the way my grandfather did/ to call the birds to his garden[.]'
In 'Can He Swim?' Whyte, who hosts each poem in the book in a non-invasive way, steps further to the side of the picture, even though he is central between his father and grandfather in the photo he describes. He achieves this in the first lines by focussing on the fathers:
There's that photo of my father and Grandpa
trousers rolled to their knees: I'm
between them, on some beach[.]
Whyte's life revolves around books, as librarian, publisher, and poet. I like to imagine his happy hours amongst the stacks. His omnivorous interest in the world surrounding him and within him bursts out through his poems. His abilities as observer coupled with imagination and wit produce gems, such as 'Lion'.  Did the flood defence worker enlarge the housecat himself, or did Whyte intuit the fantasy?
A cat pads past and the trill
turns to warning.
'That cat,' the man says to his mate,
'is a lion.'

With all its diversity, the structure of the book is hard to identify. The thread that ties all this together is his quirky and inventive mind, and his sense of 'Keeping Watch':
Keeping watch outside and in
Is the difficult thing
Poets do, trying
not to, like falling
asleep with your eyes open.
Relax, while Whyte keeps watch, and follow him through his day to day life, from garden to study to looking through old photos and meetings with old friends, to a journey south to Italy via Norfolk and Dover. Whyte imagines acrobats in scaffolders, the National Library of Scotland as the Forth Bridge, hauntings, cats like liquid, and kings with no clothes. This poet's mind is a pleasure and an adventure to attend.