Tweet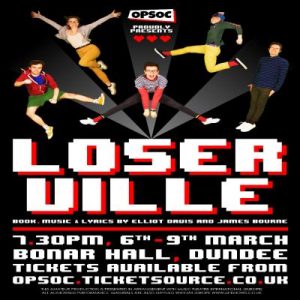 The job of writing a jukebox musical is never easy. It is hard enough to write songs to fit into an original and engaging story but harder still to write an original story to fit around popular songs that already exist. The early 2000s pop-punk band Son of Dork only released one album, and never reached the same heights as founder James Bourne's former band Busted. Thus it seems an especially unusual to see former receive the jukebox treatment when compared to, say, the immensely famous ABBA or Queen. But even if it seems an odd choice of show, OpSoc's latest production, Loserville , written by James Bourne himself and Elliot Davis in 2012, proves to be an entertaining night.
The songs are all invigorating, with catchy riffs and boundless energy. Audience members who were listening to Son of Dork back in the early 2000s will recognise favourites like 'Slacker' and, of course, 'Ticket Outta Loserville'. Both songs have been adapted into gigantic chorus numbers without losing their fast-paced punk drive. 'We're Not Alone', originally about aliens, takes on a double meaning as a love ballad. References to other songs that didn't make it into the 2012 musical will also be appreciated, such as the epic riff from 'Murdered in the Mosh' which opens the show, or the villain named 'Eddie', presumably after 'Eddie's Song'.  Calling Loserville a jukebox musical is in fact a slight misnomer, since original songs have also been written for the Bourne and David musical, all of which fit in comfortably next to the classics. So while the soundtrack offers nostalgia for some, it still packs a few surprises. Speaking with other audience members, it seems the sheer exuberance with which the songs are performed is infectious even for those who aren't already Son of Dork fans.
All of the singers in OpSoc's production have strong voices; unfortunately on the night I attended, microphone troubles meant that certain lines of both dialogue and song were lost. This was less a problem in the second act and hopefully will just be a case of opening-night technical difficulties.
Set and technical design is both clever and impressive, especially for an amateur production. The stage, divided into two levels, is framed by a border on which dynamic projections can be displayed – for example, flashing binary code or a game of Pac-Man. This allows OpSoc to show off their creativity and flair while keeping the stage itself relatively empty for their huge, tightly choreographed dance numbers. Another wise decision is to have computers, also part of the story, be represented by empty steel frames, thus allowing the audience to see the actors' faces even when they are supposed to be hunched behind a screen.
The weakest part of the show is easily its story. The plot feels like a stereotypical high school rom-com, and some of the characters –- the geeky loser, the mean jock, the pretty girl with hidden depths – come off as generic. Yet  such is perhaps the eternal curse of the jukebox – or, in this case, semi-jukebox – musical. However once again the passion of the performers comes through, and the enthusiasm with which the actors portray their characters breathes life into these otherwise stale tropes. What does work in the script's favour is the unabashed love for all things geeky – Star Trek, computer science –in the writing. Coupled with the actors' earnestness, the story and characters are elevated from tired to endearing.
Although the production can feel like OpSoc are doing their best with a lacklustre script, the real star of Loserville is so obviously its music.  If the end result is a show that feels tad predictable, it is still a fun musical romp sure to (re)awaken the snot-nosed nerdy punk teen in all of us.