An interview with Joel Hewett and Daniel Taylor, Fingerclick Productions
Tweet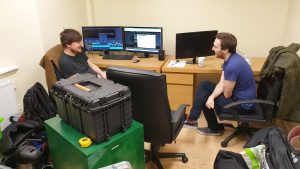 I meet Joel Hewett and Daniel Taylor, two filmmakers from Dundee, at their new office in the city centre. By new, they tell me, they mean days old. Most of the equipment is still in boxes. Parts of a shelving unit are stacked in the corner, waiting to be reconstructed. A computer is up and running, the screen showing a working edit of Taylor's new production, One Night Stand. They're working fast – the film will be screening, along with Hewett's Waterproof, at the DCA on the 23rd of March – giving the directors two weeks from my visit to finish and finalise the cut.
The films have been coming together for some time now, and since shooting One Night Stand in 2016 their company has grown solidly. Hewett and Taylor are two-thirds of Fingerclick Productions and spend most of their time producing video for business clients, with these films being made between contracts. "The two films were always passion projects," Taylor explains, "we didn't make anything off them and we don't intend to", but they certainly form part of the company's backbone. Hewett remarks on how "for an independent business, reputation is everything" and Taylor agrees, "we didn't make these films to gather potential clients or to raise the profile of the business but it's a nice side effect that people might go to see it and think 'the team who made this, I'd be interested in seeing what else they've done.'"
Neither are the first productions for the directors. Taylor tells me he "saw [Hewett's 2012 production] Closure and thought, 'I can do that,'" leading to his own project Location Scouting, in which Hewett played an on-screen role. The experience drew the two together as creators to form their current partnership. Hewett continues, "I don't know that it was ever meant to become a company as such," and Taylor finishes his thought: "it makes more sense to band together and offer yourself as a unit rather than three separate freelancers who happen to work together a lot."
If nothing else, the films have represented an opportunity for the people behind them to push their own limits. "I think we learn with each film," Taylor goes on, "I'm now looking at what the next project will be and I think 'what else can we do? What will be fun to do?'" New technologies have created more possibilities for filmmakers, but also more competition. Hewett mentions that "there's a really cool independent film scene that's growing around the UK," citing the options available now for those with zero budget, "I do think in the next few years it'll be huge for independent filmmakers because the access is there." Taylor comments that "fifteen years ago people would have had to shoot it on film and that would have been prohibitively expensive," whereas, as Hewett explains, "you see films being shot on iPhones now. You see films being shot on cameras that are probably less than a thousand pounds" which means it becomes harder than ever for a new director to stand out from the pack.
What does distinguish Taylor and Hewett is where they're from. Taylor holds his hands up: "we are Scottish, we're from Dundee and these films have that in them." Hewett agrees, saying "there's no way we could have made them in another city" but hastens to add that "with Scottish cinema there's a bit of an expectation for it to be grim and dark; I hope that these are the opposite side of that. I think there's a positive us being billed Scottish because [we're] doing something that isn't the typical expectation of Scottish cinema." Their connection to the city has aided them each step of the way, Hewett notes: "so many businesses jumped in and helped, so many people that were studying at the time jumped in and helped, we had people who had exams at the time but worked around them," having fostered a community for creatives to support one another. Taylor tells me that "there's quite a big network of creative people who wanted to be involved," which enabled them to build a 'favour system,' trading skills and contacts. "We've worked on one of their films as a favour, they hear that we're doing something and they'll come down for a day and be assistant director or director of photography for a day, if we need someone to fill in or lend equipment."
As to whether Waterproof and One Night Stand will grow beyond that community, the pair seem uncertain. Hewett tells me simply that "it's been a dream growing up to be screened at the DCA," but Taylor maintains the collective spirit, insisting that "getting it shown publicly is not an ego thing." Hewett agrees that, really, the screening is for the cast and crew as much as themselves, expressing hopes for applause and "thanks for all that hard work." These thanks sound well deserved – the production covered expenses but the cast and crew of these films worked for free. "Everyone," they tell me, is at a point in their lives that neither director would feel comfortable asking for that again. Taylor accepts that he's "got loads of dream script ideas" but doesn't know if they'll ever get made.
But after the 23rd, the films' qualities will be under harder scrutiny. "We just thought the plan was have this first public screening in Dundee," Taylor says "but then after that just try and take it around festivals and, in a way, tour it around the country." On the other hand, he says he is "being realistic with my hopes. I'm not getting too excited and thinking 'oh maybe it could get distributed,' we just want to show as many people as we can." Asides from funding, Hewett adds, future work depends on "an interesting enough idea" but crucially, they've "got a trusty group of people. That's so important."