Tweet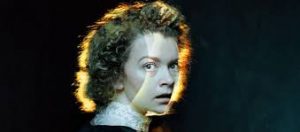 An ambitious Spring Season at the reinvigorated Perth Theatre includes Patrick Hamilton's 1938 play, Gaslight. The play, originally set in 1871, is a Victorian thriller in three acts which portrays the psychological manipulation of a woman by her controlling husband, leading her to doubt her sanity.  Gaslight enjoyed a long run following its 1938 première and inspired two screen adaptations; Thorold Dickinson directed a British version (1940) and George Cukor (1944) directed the MGM version, with an Oscar-winning performance from Ingrid Bergman.  After initial success, the play was rarely performed but has enjoyed a revival of late, particularly since Peter Gill's acclaimed 2007 production at The Old Vic.
The Perth production is directed and designed by Kai Fischer (Creative Associate, Vanishing Point.)  Fischer stages the play in the early 1900s.  His set reveals a large Victorian dresser, chairs and a central table; over which hangs a large adjustable gas lamp.  A diffuse yellow light also enters the room from a window; it is a fog-bound afternoon, which Hamilton notes as 'before the feeble dawn of gaslight and tea'.  A large, half-finished human sculpture appears in the background.  As the play opens, we see Jack Manningham, husband to Bella, preparing clay on the table-top. Bella is also on stage and is clearly on edge.
In the opening scenes, the audience is unsure where to place its sympathy.  Bella appears enervated, neurotic and somewhat hysterical whilst Jack presents as a man of endless patience and eagerness to please his wife. As everyday objects vanish in the house and pictures disappear from the walls, Jack suggests Bella is turning 'stark gibbering mad' just like her mother. His mask then begins to slip.  He flirts openly with the maid and falsely accuses Bella of mislaying a bill which she must find or be locked in her room. Whilst Bella stays at home, doubting her sanity and worrying about the flickering gaslight and noises late at night in the closed-off attic, Jack spends his evenings in town. Later we discover he 'has a taste in unemployed actresses he is at no pains to conceal.' The relationship between them is fraught and the atmosphere is tense, owing much to Matt Padden's clever sound design.
The plot turns on the appearance, whilst Jack is absent, of a retired detective called Rough, who is investigating a previous murder in the house and the disappearance of valuable rubies.  Rough will encourage Bella to realise that her husband is responsible for her self-torture in addition to incriminating Jack in the historical crimes.
Fischer adds a touch of modernity by casting a female actor as Rough, who arrives on set in Victorian motorcycling garb, complete with goggles and carrying a large leather holdall. As Rough, in strong North of Scotland accent, introduces Bella to the medicinal attributes of whisky, 'a cross between ambrosia and methylated spirits', the action borders on farce – more French and Saunders comedy sketch than suspenseful thriller.  And yet, despite our laughter, this juxtaposition of humour and horror seems to work. We believe in Rough's steely quest for the truth and paternal concern for the tormented Bella.
Meg Fraser is a witty, compassionate Rough.  Robin Laing gives a chilling and nuanced performance as Jack, becoming progressively more disturbing as the plot progresses. Esme Bayley portrays Bella's powerlessness and self-doubt with conviction.  We are cheering for her in spirit as she wreaks her revenge on Jack in the final minutes. Ruby Richardson makes a strong debut at Perth as Nancy, the opportunistic maid.
Rooted in Victorian melodrama, Gaslight has gifted us a widely-used modern term for a specific form of psychological abuse. It chimes with a current zeitgeist of malaise, where nothing is quite as it seems. Whilst downplaying any socio-political intent, Fischer acknowledges that his production can be interpreted on many levels.  This is Victorian noir with a wide contemporary reach.