Tweet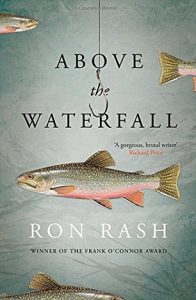 Originally published in the US in 2015, Above the Waterfall is the sixth of seven novels by award-winning American novelist, poet and short-story writer, Ron Rash.  Born in South Carolina, where he now lives, Rash grew up in North Carolina. He teaches fiction writing at Western Carolina University where he holds the John Parris Chair in Appalachian Studies.
Often compared to William Faulkner (with whom he shares a birthday), Rash's writing is shaped by the mountainous landscape, character and history of the Appalachians, his family home for over 200 years. The landscape is an overarching presence, casting shadows across the harsh lives of those residing in his unnamed mountain community.  Rash is intimately acquainted with this terrain; he is writing from the inside-out.
This story is told by two alternating narrators: Les is a pragmatic, art-loving county sheriff, who is three weeks away from retirement and Becky is an environmentalist, park ranger and poet. Both are loners; both are haunted by memories of past traumatic life events.  They share a personal affinity and love of nature. Les struggles to define their relationship, settling on 'accomplices' as the best fit. His last weeks as sheriff are marked by escalating conflict between two local individuals over trout fishing rights; a criminal act of environmental sabotage ensues, the effects of which extend deep into the community and beyond. Mutual loyalty between Becky and Les is tested.  So, too, are Les's ethics as a sheriff who might 'bend the law for no other reason than what was the law and what was right sometimes differed.'
Ostensibly, this is a crime novel.  However, the real story lies in Les and Becky's awkward interactions and the fractured lives of those around them. The area has been hit hard by economic recession; moonshine stills have been replaced by crystal-meth dens, a treasured son has been killed in the Gulf War. A baby is discovered in a microwave, a pawnbroker's shop is guarded by a rattlesnake. Bodies are ravaged by drugs:
Television glamorized meth, even when they tried not to. You didn't smell the moldy food, or the vomit, shit or blood, the meth itself burning your nose like ammonia, or how, once you'd arrested them, you turned your face so you didn't smell their rotting mouths.  No, TV couldn't give you that.
This community is a goldfish bowl and Becky knows there can be no secrets here: 'In a county this rural, everyone's connected.  In the worst times the county was like a huge web. The spider stirred and many linked strands vibrated.'
Rash explores the inter-relatedness of people and landscape, principally through Becky's narrative, which is packed with references to Appalachian flora, fauna, geography and wildlife. A poet like Rash, she relates to the natural world through poetry, particularly that of Gerard Manley Hopkins. She also finds self-expression through her own poems:
                        the hummingbird nest at the meadow edge – a strawy

thimble

                        the hummingbird's wings – stained glass alive in

sudden sunlight shimmer

                        wildflowers sway in their florabundence

the grasshopper's rasping papyrus wings

I take out my pen, remembering what I felt like when Les came and placed his hand firm on my shoulder.

            Even the hermit thrush calls out to the world.
Rash is a skillful storyteller. He shifts between the poetic, contemplative narrative of Becky and the spare, dialogue-driven and colloquially nuanced narrative of Les, creating two radically different voices.   His exploration of the issues of overfishing and river pollution echoes a similar exposition of environmental concerns in an earlier novel, Serena (2008.) Themes of rural decline, corruption, family tensions, trauma, depression and guilt are also scrutinised through his troubled characters. But beneath the apparent bleakness, Rash affords the reader a tiny window of optimism for his struggling community.  New beginnings are promised, scores are settled and dues paid. These are the tiny redemptive gems from which we must salvage a little hope.