THE PISCES (LONGLISTED, 2019 WOMEN'S PRIZE FOR FICTION)
Tweet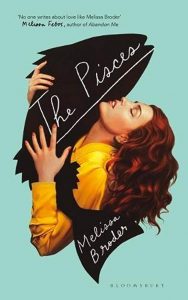 Melissa Broder is an accomplished poet, essayist and columnist. The Pisces is her first novel and it ventures between the realms of history, myth and the personal traumas that her protagonist faces: men, relationships and sexual encounters. The protagonist, Lucy, is a PhD student in Arizona studying the work of the Ancient Greek poet, Sappho. Her incomplete dissertation has so far taken over nine years and she is in jeopardy of losing her funding. Lucy has low self-esteem and subconsciously pushes people away, resulting in the break-up of her long-term relationship, but her reactions result in the police becoming involved.
Lucy is given the chance of an escape to her sister's home in Venice Beach, Los Angeles. She reluctantly takes up this opportunity and house-sits for her sister while she is in Europe. Whilst there, Lucy attends a therapy group, made up of women with varying sexual and relationship issues, and unusual friendships are forged in the process. It becomes apparent that the protagonist is mentally disturbed and suffers from depression. The sensitivity and language used to describe her illness floats and glides over the 'nothingness' and this is eloquently expressed:
I returned to the rocks. I knew I belonged there. If there was going to be desolation, no number of terrestrial men could fix me. I needed to go to the ocean, the primal tap, where the catalyst of my illness swam freely. If I was going to be alone and full of despair, let me at least be desolate here.
Broder weaves tales of Greek mythology and Sappho into the novel and refers to her poetry, of which only 650 lines survive. As Sappho's poetry was meant to be sung, Lucy reflects on whether the missing lines are intentional, or if these have accidentally disappeared over the years. This notion is mirrored in the lives of modern-day characters, questioning if there are gaps in our lives, whether these need to be filled, or whether it is better to have some elements of 'nothingness' there:
'Sure, compared to the greater nothingness – the void, the lack of explicit meaning in life, the fact that none of us knows what is going on here – it was at least something.'
Broder introduces many erotic and sexual scenes into the novel. These scenes and the vocabulary used are less sophisticated than the rest of the text. There is a stark contrast between the almost animalistic sex scenes and the intellectual ones. Broder frequently uses harsher words for the anatomy than you would expect from a book of this calibre, which may seem derogatory to the sensitive reader. Perhaps Broder's aim was to shock the reader by describing rough sexual encounters in the way that she does. Conversely, there is magic in Lucy's relationship with the Merman, which is enhanced by their meeting at dawn, dusk or night-time. When they meet under the moonlight it is mystical and alluring:
When Theo swam up to the rocks I saw there was a full moon hanging low over the ocean like a big fish egg… As he crawled up, tail slapping against the rocks, I felt like I was seeing him again for the first time…but more beautiful than anyone else and in that way not human like I was human. How much beauty was I projecting on him, and how much was the moon?
This novel is about needing love, whether through friendships or more intimate relationships and the innermost battles that are often faced when addressing these themes. It is a battle to find and accept oneself. I have mixed views on The Pisces; some of it is a trial but at times it touches heavenly heights in the exploration of the soul.