Normal People (Longlisted, 2019 Women's Prize for Fiction)
Tweet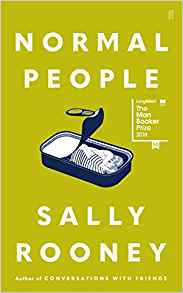 In her second novel, Sally Rooney delivers a compelling love story set in the West of Ireland and grounded in the political realities of recent times. Normal People was hotly anticipated, well received, and continues to see Rooney lauded as a generational writer. Nevertheless, the passivity with which the millennial label is applied within critical praise threatens to haunt her work, insinuating that it is merely of the moment rather than possessing the gravitas of a future classic. Rooney's mastery within this novel lies in updating the contextual concerns and stylised prose that can encase the human connections which have long lived in literature, with Jane Austin an obvious forebear, and, as such, is worthy of consideration as an accomplished novel independent of era.
The plot follows the lives of teenagers Marianne and Connell in an emotionally compelling entanglement of hearts and minds, from their awkward school days through their early adulthood at Trinity College Dublin. Though an on-again, off-again premise may not sound deeply compelling, the simplicity of the double protagonist staging ensures full focus on the emotional exertion caused by the disparities of power within their relationship, and how fragile and dangerous that can be. The storytelling is linear, but with each lurch forward in time the gaps are satisfyingly filled in: 'This is the thing that happened.'
The pairing is presented as a dichotomy: one relationship, one story, but consisting of two contrasting partners. Marianne is initially a socially outcast at school compared to the popular football-playing Connell, although he lives alone with his mother who works as a housekeeper for Marianne's wealthy family. Their relationship emerges as something secretive and sexual, starting an endless exploration of why we choose to love and what control we have over that choice. The first pain comes when Connell asks a more popular girl to their senior dance, effectively ending the relationship with Marianne, and foreshadowing a series of miscommunications and failings in emotional commitment that separate the couple, despite their apparent interconnectivity.
Underlying themes are revealed through these events. The power balance shifts when they attend College; Connell now adrift within an elite class structure and Marianne proving to be popular within a cultured crowd: 'That's why it's easy for you, by the way, he said. Because you're from a rich family, that's why people like you.' So the dichotomy remains, but is reversed, and Rooney continues to play purposefully with the distribution of social, economic, and human capital within the relationship, shifting the balance back and forth between the lovers and causing disturbances that both break and cement their togetherness. Rooney creates an exploration of socialism within the microcosm of a relationship, backgrounded by the bigger, unsolvable, capitalistic crises of the world.
The couple's attempts to right themselves as individuals is exposed through their opposing choice of alternative partners, Connell dating a woman with perfect credentials and Marianne drawn dangerously towards consensual subservience: 'There's always been something inside her that men have wanted to dominate, and their desire for domination can look so much like attraction, even love.' Her behaviour runs deeper than sexual exploration, and the abusive damage of her childhood is slowly revealed as a link to her emotional needs. For Connell, the anxiety of class status pulls him towards a debilitating depression. Normality is therefore a quest for both characters, which Rooney achieves on their behalf by keeping the cleverness of these two accomplished young intellectuals hidden on the page, letting the reader connect with them as normal people onto whom personal reflections of life can be directly mapped. Written to be consumed, the lack of punctuation exemplifies the poetic choices that force a pace within the writing.
Modern dilemmas and a fresh writing style may embody Rooney's appeal to a generation of readers, but her deeper thematic thinking around the politics of love may be what millennials and non-millennials alike continue to analyse in years to come.
Hannah Whaley