ORDINARY PEOPLE (SHORTLISTED, 2019 women's prize for fiction)
Tweet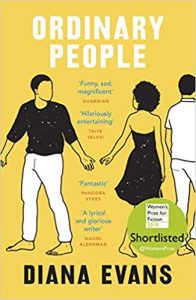 Diana Evans' third novel, Ordinary People, dives deep into the domestic. It revolves around the struggling marital lives of two thirty-something couples living in London with their children. Melissa and Michael were once electric together, full of adventure. Stephanie and Damien were perfect opposites. However, as time passes the couples find themselves 'living in the shade of each other'. Evans lays everything bare: existential anxieties, struggling sex lives and straying loyalties.
Ordinary People begins at a party in Brixton in 2008: a celebration of the inauguration of Barack Obama. Immediately, themes of race and identity are established, which are then threaded throughout the novel. Evans, who is half Nigerian, explores what it means to be black or mixed race in today's metropolitan capital. When Michael attends a work event, he finds himself 'wondering as usual whether he would be the only black person in the room.' Evans does not do sweeping social statements, rather she uses the prism of race to understand the psychology of her contemporary characters. Ordinary People may be concerned with the ordinary; however the writing is anything but. I could pick out any line from the book and you would be able to see Evans' flair for descriptive prose. Here, she describes children playing with bubbles:'Warm cherubic faces lifted. They stared, spellbound, as round air danced before them, fleeting and translucent and suddenly bursting, all by themselves like happy deaths.'
Although Evans shows a preference for long anecdotal sentences of several clauses, the cadence of her writing shifts throughout the novel. The sections detailing Melissa and Michael's early romance, for example, are languid and voluptuous: '[…] it was a kiss that needed no input, it operated by itself, was fully formed, intrinsically euphoric yet nonchalant, has its own psychology and personality, could be called Franklin or Desdemona or Angelina.' This differs dramatically from the sparser sections, where the aforementioned 'Desdemona' is diminished to texts asking for 'bog roll pls?' with no kisses. This differs again from the darker gothic-like tone of the sections detailing the apparent haunting of Melissa's house, and again when she writes about a heart-wrenching gang-related murder. Evans melds disparate registers together seamlessly. The result is a layering of tones and textures, comparable to a piece of music. Fitting, since music is central to the novel. Its range of sound is eclectic: Bobby McFerrin, Faith Evans, Kriss Kross, Jay Z, Shuggie Otis, Dolly Parton. The title Ordinary People is a John Legend song, from the 2004 album Get Lifted. Songs from this album feature throughout the novel and become metaphors for the different stages of a romantic relationship.
Ordinary People's exploration of motherhood is fiercely honest and beautifully put. Evan's handling of the universal expectations of mothers, and women in general, makes it easy to see why her novel is shortlisted for The Women's Prize for Fiction 2019. The emotional spectrum is dizzying. Evans isn't afraid to show that parenting comes with as much tribulation as it does triumph: 'At some point between ten and eleven, Melissa would begin to experience that dubious emotion made dubious by its association with one's own precious child: boredom. A deadening, soul-destroying listlessness.'
Evans' debut novel 26a, which won the Orange New Writer's Prize in 2005, was a tragic comedy. Ordinary People also uses humour to cut through emotion. For example, the intensity of the writing surrounding the birth of a child is relieved by moments such as: 'She walked elephantine up and down listening to Jeb Loy Nichols, thinking of the good things ahead such as when she could go back to Zumba and when she could resume size eight.'
Throughout this raw and humorous exploration of life as a partner and parent, Evans' depicts the dissatisfaction which modern life can ignite. Ordinary People is a novel about what we know, written with such beauty and clarity that it feels brand spanking new.