A Master of Balancing acts: AN INTERVIEW WITH DUNCAN MCLEAN
Tweet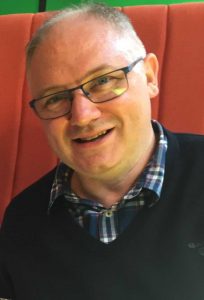 We step out of Tonic into the stream of pedestrians on Nethergate looking for just the right place to talk. By tacit agreement, we pass up Dundee Contemporary Arts and look in on the Phoenix; but Duncan McLean tows me along. I'm conscious we are drifting too far away from the engagement McLean needs to attend in less than an hour. The last place possible is perfect: a window seat like an oyce tucked in a corner of the Nether Inn.
We have been chatting on our walk, the talk about things that connect us. About running small food shops, which he does, and I've done, and the food chain and farming. Because we've already spent four hours of the day together in a masterclass on playwriting and a Writer's Read at Tonic, anything awkward has rubbed away and left a comfortable affability.
People meeting this twinkle-eyed Everyman feel immediately at ease. He talks about his achievements with self-effacing good grace. He doesn't look like some romanticised image of a winner of the Somerset Maugham award, or an accomplished playwright, or the man who 'discovered' Irvine Welsh. He looks like the chap with whom you might discuss the merits of a fine wine or the tang of a redolent cheese, right before purchasing it from him. Yet what he is, is all of the above and more. He is a successful wine merchant and deli owner. He's an accomplished musician, comic, and a publisher twice over, a family man and one who lives his literary ideals. He speaks for people whose stories might otherwise be lost. When Duncan McLean sets his mind to a task he does it well.
Once the digital tape is rolling, I turn to my questions, feeling as if this will ruin the crack. He has places to be, though, so we get to the business of the meeting. I mention his first novel, Blackden, which I'm ten pages away from finishing, and he laughs and says he must have spoiled it for me when he revealed the ending earlier in the day.  His capacity to recognise comedy everywhere makes me suggest humour in writing is a good way to gain common ground with people, and he agrees.
When I'm writing I find myself wanting to get humour in a lot of the time. I've seen it in life, every day. I mean, even the most miserable situations…you know, in all but the most horrendous personal tragedies there's always humour in everything.
In McLean's plays and fiction (novels and short stories alike) a sense of levity is interlaced with serious themes. There's something Shakespearean in the appearances of stand-up comedy act-like scenes during Julie Allardyce.
Following on from the discussion of humour, McLean, who advised earlier in the afternoon that a play should open with an 'edge' expands on the concept:
What I often do in a play is I consciously try and alter the mood, tone, very dramatically, so I might start a play with a song! Ha, come to the show, da da da! Oh! Everyone's tapping their feet, and then kapow, change to a scene of somebody being suicidally depressed. Kapow, change to stand-up comedy routine….

[My plays have] a constant series of edges… one edge after another. I don't want to start with—you know, I'm not Beckett — I don't want to start with a miserable dialogue between two people and carry that on for the next three hours. I want to constantly surprise the audience, challenge them, wrong foot them.
We talk about his quest to celebrate local voice. He has devoted his writing life to speaking truth in the language of place. Those places have been Aberdeenshire, Edinburgh, and Orkney. McLean writes using local slang and dialect, which is part of what makes his works live. Thirty years on, the life he reflected in the '90s is now history, a fact he ponders on during our dissection of Blackden.
…I tried to be contemporary, but at the same time it was set in rural Aberdeenshire. My childhood was pre-oil, pre-internet, pre-commuting and now that is gone. I didn't set out to [preserve it] but seem to have done. The irony is people who set out to preserve something by writing how their granny spoke, or how they imagine their granny spoke, they don't preserve anything. It's not really anything they're writing down. You have to write the language of your own day.
I guide the conversation toward his new undertaking, which is writing a script for His Bloody Project, the Graeme MacRae Burnet novel shortlisted for the 2016 Booker prize.  McLean tacks away from it, however, perhaps because he is still formulating how he'll bring it to the stage. Instead, he continues talking about Blackden.
If you grow up in Aberdeenshire, you have to grow up—you have to deal with the shadow of Louis Grassic Gibbon looming over you. So, my first book of stories, Bucket of Tongues, was set in Edinburgh, maybe Fife, maybe the northeast coast, but it was all eastern. But for my novel, Blackden, I knew I wanted to do something in rural Aberdeenshire, so I thought I've got to either accept Grassick Gibbon, or I've got to argue with him. So, he has a famous short story called "Greenden," about a farm of that name, so I came up with Blackden. Black because it's gloomy in some ways, but black because of oil, as well. See, it's set in the black black oil, and so, that's where the name comes from.
He goes on to say he'd read Catcher in the Rye only shortly before writing Blackden and that Salinger influenced him to 'boost' some of the structure of Catcher, such as protagonist Patrick's parentless condition and its weekend time-frame.
McLean's dialogue, like that of Kelman, Grassick Gibbon, Sargerson, and Joyce before him is free of quotation marks. He talks of being motivated by Kelman's example.
The Kelman philosophy, which I more or less share, is that there should be no separation between the characters and the narrator, because as soon as you mark them off from each other, you prioritise one over the other or valorise one over the other, and the narrator becomes somebody who's superior to the characters…. In other parts of that I interviewed people who knew him and found that point [writing the essay without quotation marks] challenging, because I couldn't, like in fiction you can phrase things and lay them out to make it very clear when it's speech and when it's not, but when you're interviewing somebody and they're rambling on, you can't really play about with that they say. I's got to be truthful to it, so I…well, I think it worked out in the end, but that was quite challenging.
I ask him why he chose to make the lead character in Julie Allardyce, his play set in Aberdeen, Fyvie, and the North Sea, a woman. Julie Allardyce is a memorable character of her era with her focus on career and the heart-felt desires she tries to deny. She faces up to men behaving badly in some of the various ways they can and, wins through to what's best for her.  Was her gender part of the commission he'd received? He remarks,
No, that was my idea. I wanted to do that. You said something yourself [before the interview started] about that you'd been annoyed so you'd written something. And one of the things that really annoys me is sexism, you know, so I consider myself a feminist as a good lefty and child of the eighties. Feminist.
For the first and only time in the interview a sliver of pain creeps into McLean's voice as he talks about his second novel, Bunker Man.
And so, to give you a couple of examples, I wrote this novel, Bunker Man, which was about a man behaving very badly towards everybody, but especially towards women, because that type of behaviour appalls me, and I wanted to reveal it and condemn it. And…It's a dangerous thing. It's a dangerous thing to do… in a novel because novels are open to interpretation… some people took it because I made this central character of the book a monster in his treatment of women and children that I approved of this behaviour. Of course, I didn't! I hated his behaviour! It's a danger. So, Julie Allardyce is a slightly safer route. Lots of women work in the oil industry, but the image of the oil industry is of macho roughnecks covered in oil with their hardhats on, so I thought I'd write about the oil industry because this play's going on in Aberdeen, but let's balance it by having the central character be a woman.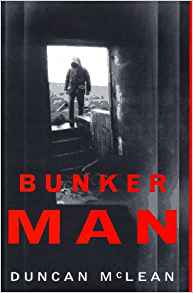 The danger McLean speaks of regarding Bunker Man is an extreme result of the phenomenon of a writer giving up possession of his or her book upon publication, when it becomes the imaginative world of its readers. Does he feel energised or exhausted by writing?
Ha! Em, it's enormously hard work when you do it, as you know, because you can only do it If you're concentrating 100%. You know, it's like brain surgery; you can't let your mind drift and you know, 'I feel a bit dreamy today, I'll just…daydream.' You can work in a shop or be a cleaner or you can drive a tractor and have your mind wandering and still be doing you job pretty much as well as it can be done. But, you can't write a sentence if you're thinking about something else, so it's…exhausting. But…it is the most rewarding thing that I do.
When he explains that he's struggled to find time to write for the last twenty years, since taking on his wife's family's business, I mention a little wryly that he's added to his load by starting a new press to go along with everything else. He comes a even more alive:
Oh, yeah, I have this philosophy now, which is, set yourself impossible lists of task to achieve and commit to them publicly…and if you do that…you have to do them! […] If I was sitting here now saying, Will I start a small press and seek out Orkney writers and cajole them into it? If I'd asked myself that, I'd have said, Don't be ridiculous, you don't have time for that. But, I didn't do it that way: I just said, Right I'm going to do this! […] I told all the writers. I sent them emails, said, Hey guys, you want to be in a booklet? Let's do it. I'll bring it out next month. I love writing myself, but I also love seeing, you know, an up-and-coming writer, and they've got great voice, they've got great ideas, they've got stories to tell, and they're almost there, but if I can just go, hat paragraph's not necessary and don't call one character Rhona and one character Rhoda because the reader will get confused. Just change that and….

You know, I love doing that. Give 'em a wee nudge.
It's clear Duncan McLean is master of balancing acts, between writing and publishing and workaday working. I think of the booklets from his Abersee Press in Orkney in my bag, including one by him and the other an Orkney/New Zealand compilation.  I am realising again this Everyman is much more than he appears.
He mentions his band, Driftwood Cowboys, and wants to tell the story of its name, which is also a tale of devotion to literary ethos:
I've always loved American music: jazz, country, blues. That's what I've always tried to play.…I've always loved that music. And, what I realised, after a certain point is, Hmm, I wonder if this fits into the whole local voice thing? If you come from Scotland, no matter how adept you are at an instrument, no matter how good at singing you are, if you play Country Music, you never sound like Hank Williams or Bob Wills.  You sound a Scottish band doing a slightly off-beam version of the music. And, I've had the experience the other way around when I've been in the States [when they play Scots music:] they are singing the right words and the tune's right, it just doesn't cohere. And, so this bugged me for a while, you know, I thought I've put all this time into being in this band and playing these songs and it's like Madame Tussaud's, you know, it's not—so, then I realised the metaphor: living in Orkney, bits of musical driftwood land up on the beach. A bit of jazz, a bit of blues, and, so what we do, we go around and pick up these bits of driftwood and we build our own music out of that.

So, the songs I write often have the structure of Country songs, or blues or even jazz, but they're about life in Orkney, life in Scotland. So, I'm no longer trying to sound like Hank Williams. We're speaking with our own Orkney voice about Orkney things. It just so happens we're using sounds that were developed first in the States.
We've navigated a good portion of McLean's creative life in just short of forty minutes, but now, it's time for him to go. We part at the door of the Nether Inn, he to repair upstream to dinner, and I to float the other way. As I go toward my bus, I muse what an extraordinary ordinary man Duncan McLean is. He's made his life right, found ways to live his philosophy of locale in his music, in his writing, and in his publishing career. Born in fish-rich Fraserburgh, and growing up in the agricultural village of Torphins,  he's settled in Orkney where 'farming and fishing combined' has offered him a sort of return to his origins. There seems some cosmic rightness in this, as if Duncan McLean is truly home and truly complete.