Circe (Shortlisted, 2019 Women's prize for fiction)
Tweet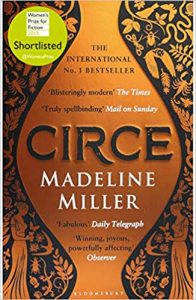 A modern revision of a classic Greek myth is no longer a unique concept. Perhaps this is thanks in part to Madeline Miller's bestselling debut novel The Song of Achilles, which helped to popularise the idea. Nor is it especially original any more to give maligned women from popular stories 'the Wicked treatment', painting them not as villainesses, but misunderstood, tragic heroines. The triumph of Miller's latest work, Circe, is that it manages to use both of these tropes and still feel fresh.
Circe tells the story of its titular protagonist, the witch most famous for transforming Odysseus' crew into pigs. For fans of the Greek myths, the story is rich with references: Circe encounters Hermes, Jason and the Minotaur, amongst other characters. But readers less familiar with the story of Circe, or any of the myths, won't find themselves alienated by Miller's novel. This is achieved thanks to Circe's narration; for her these legends are not academic texts to be studied, but personal, often familial conflicts. Circe narrates with the benefit of hindsight whilst keenly recalling her thoughts, feelings and reactions at the time. Readers who know – or think they know – what will happen next can appreciate the reflective, sometimes wry voice; readers who don't can relish the story's tragic twists and turns, and both can find themselves swept up in the power of Circe's emotions: 'My skin was glowing, my teeth set. My lioness lashed her tail.Does no one have the courage? Will no one dare to face me? So you see, in my way, I was eager for what came.'
Also adding to the magic that keeps Circe so engaging is Miller's rich imagery. Her descriptions bring to life the natural, vibrant beauty of Aiaia, Circe's island home, and the herbs she uses for her witchcraft: 'I climbed the peaks where the cypresses speared black into the sky, then clambered down to the orchards and vineyards where purple grapes grew thick as coral.' But they also capture the splendour of the gods and horror of the monsters Circe meets, making the stakes clear. An example of this is the introduction of Athena:
She struck the room, tall and straight and sudden-white, a talon of lightning in the midnight sky. Her horsehair helmet brushed the ceiling. Her mirror armour threw off sparks…She was burning certainty, and before her all the shuffling and stained dross of the world must shrink away.
And another is the description of Scylla:'She was grey as the air, as the cliff itself…Her necks were longer than ship masts. Her six heads gaped, hideously lumpen, like melted lava-stone. Black tongues licked her sword-length teeth.'
However, Miller's novel remains strongest when it is not being an epic. 'A god with a mortal's voice', Circe is continuously overlooked and underestimated by gods and mortals alike, viewed as a pawn or plaything by most men, and as competition by most women. Yet while the gods remain eternal in their petty cruelty, Circe finds understanding in a few mortals, a quiet implication of progress. And Circe eventually discovers her own distinctive strength; unlike the other gods, she is capable of change, a mortal trait. She grows not through grand adventures, but through much more common experiences: heart-ache, toil, and, above all, motherhood.
A strong feminist theme cannot be denied in a story about a nymph – nymphs were often the victims of assault in Greek myth, who Circe's own brother asserts have no 'value' without 'beauty' – harnessing power and freedom through mixing herbs, a stereotypically 'womanly' pursuit, or in the way she comes to be vilified for harnessing said freedom. But Circe's matter-of-fact tone stops the moral from ever feeling heavy-handed: 'I was not surprised by the portrait of myself…Humbling women seems to me to be a chief pastime of poets.'
Ultimately, Circe proves a captivating read. It delivers not just a thrilling plot, but a complex, nuanced protagonist, and thus Miller makes an ancient legend brand new.