'Authentic characters in an authentic place': An interview with Hania Allen
Tweet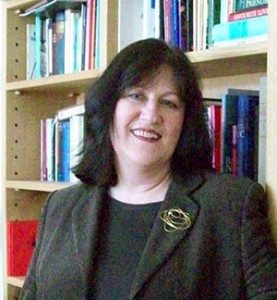 From Lapland to Dundee (via London and Edinburgh), Hania Allen is well-travelled – in terms of writing at least. Her first novel,  The Ice Hotel (2005), takes place in an ice hotel in Swedish Lapland; her subsequent books starring the detective Veronica 'Von' Valenti are set in London and Edinburgh and Hania's current series, featuring the upbeat Polish detective Dania Gorska, is set in Dundee. This is where I meet with her today.
She is waiting for me at the entrance to the recently opened V&A Museum. Sitting in one of the layered wooden seats, she is oblivious to two young boys jumping competitively off the stairs to her right.  You can sometimes get the measure of a person  when you catch them unawares. I am encouraged by what I see; Hania is perfectly at ease and in a world of her own. It is a world I am immediately welcomed into with a hug. Addressing me by my first name, she guides me towards the café where she tells me to choose whatever I want. I feel like I am back in my student days and I have met my auntie for tea.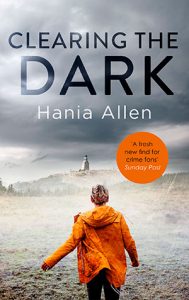 I should explain that this is not the first time we have met. Miscommunication at the book launch of Hania's latest book, Clearing the Dark, at Waterstones the previous Friday led to us rearranging the interview for today. She insists that I take a seat and it feels slightly surreal to be sitting in this grand museum waiting for her to bring the coffee and cake. Hania puts me at ease and is keen to know about my background and in telling her, I relive my first job interview in Dundee in 1987. . This must be one of the most enjoyable pieces of coursework I've had to undertake.
I have, of course, researched Hania's background so know that both her parents, who are Polish, came to the UK permanently after the war as political refugees. She was brought up in Liverpool but was drawn to St Andrews where her father was stationed during the war. She went to university there to study Physics and Astronomy and went on to become a Maths Teacher. Latterly, she worked in IT and joined the staff of the University of St Andrews on the Senior Management Team so inevitably my first question to her was how, given such a scientific background, did she came to write novels?
It started, it seems, with her own travels. Whilst on holiday with a friend in The Ice Hotel in Lapland, and lying awake in a room with no door, an idea began to formulate:
How easy it would be to murder someone here? And how would you find the culprit? After all, everyone wore the same parkas, the same boots… Not only that, the snow was pressed snow – very dry, like sand so there would be no fingerprints. But best of all, the hotel is built every year in autumn and melts in the spring so not long to figure out who had done it. What a fabulous place to set a crime novel!
Hooked, Hania wrote The Ice Hotel on her return. Although responses to her manuscript was positive, she couldn't find a publisher so turned to the new Amazon Kindle platform. Encouraging reviews here led to her beginning a new series of books featuring Volenti. Enthused about writing, Hania signed up for an Arvon Course because 'An Arvon course opens doors', and it did. Her work was read by Alan Guthrie, then an agent for Jenny Brown Agency in Edinburgh, who encouraged her to finish her first "Von" Valenti book.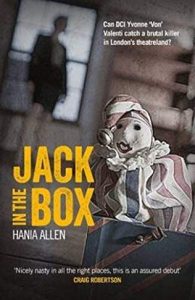 Jenny Brown liked the manuscript and secured publication with Freight Books. Only the first of three in the series of Valenti books  have been published due to the publishing company Freight Books going into liquidation. 'As if the writer's life is not difficult enough!', she laughs. The first two books were well received.  Hania, in a different interview, has described how she enjoyed having  her protagonist, Valenti,  becoming a Private Investigator after leaving a corrupt police force. I wondered then, what had made her create a new character, Dania Gorska, who is a Police Detective?
'This was my agent's influence,' she said, 'She was looking for someone who would write about a Polish detective and I seemed the obvious choice.' Originally, Hania wanted the detective to be male – someone tall and fair-haired who epitomized an old-fashioned Polish gentleman with old-world courtesies – like her father, in fact. She was over-ruled by her agent, so she decided instead to give this role to her detective's brother, Marek, who is an Investigative Journalist in the novels. This also gives her a character who is outside the law and is therefore able to break the rules.
As it turns out, the detective Dania Gorska is an extremely likeable and engaging character. She is upbeat, knows her own mind and has a great sense of humour. I ask Hania where she came from. She laughs, as she often does throughout the interview, and I think I already know the answer. Dania enjoys playing piano like Hania (a remarkably similar. sounding name) and she enjoys problem-solving. Hania has just returned from a visit to Camperdown Park to work out some logistics for her latest novel.
That makes me think about setting, 'Why Dundee?', I ask. She replies,
Well, I thought about St Andrews but thought that would be quite limiting. It is small with just a provincial Police Station. Dundee has so much going for it. It has two universities, one of which has CAHID (Centre for Anatomy and Human Identification) which features in book two. It has a great history of whaling, jute, journalism as well as lots of green spaces. It has CCTV cameras in the city centre but also small villages in the suburbs where there is none.
These are all elements I recognize in her books. There are also places mentioned in her book that I have never heard of, like a Cat Café.'Oh, I made that up', she laughs, 'if there is something I need for a particular plot point, I will add it in. Nothing major. After all, pubs and cafes open and close all the time.'
Now that the interview is well underway, I feel I can ask my most important question: 'Do you plan? Do you have all the threads of your plot first or do ideas come into your mind as you write? This is the aspect of novel writing that perhaps new writers struggle with most – how to structure their work.'
For Hania both are important. She does some planning; however she also has other ideas as she writes. To ensure there are no inconsistencies, she notes all the incomplete plot points at the end of each chapter. Then at the end of the novel she goes back and checks they have been resolved. In addition, she makes a careful note of who knows what in the form of a file for each character.  I find it reassuring that not all is planned and her advice of 'if it feels right, go with it', makes a lot of sense. That is the joy of creative writing – when the characters take on a life of their own.
Hania's seem to do just that. We applaud her protagonist's response to the lecturer who assumes that she will go to dinner with him in Clearing the Dark; 'We'll have dinner, Professor, but not together', she says.
Humour is omnipresent in her novels and I quote Hania a couple of examples that I particularly enjoy, 'The reason God had invented sat-navs was because of hilly streets in Dundee's city centre', and  the description of the University of Dundee's Computing Centre being 'like a Victorian institution for young offenders'. I ask her where the humour comes from: "Is it you? Are there similarities between the sense of humour of Polish and Scottish people? Her laugh confirms her answer. 'There are. That it is a way for me to create real people but, on a more serious note, that humour is what is needed to get us through dark times and there are definitely lots of those in a crime novel. Some light relief is essential.'
At this point, the lovely woman who Hania had invited to join us earlier, gets up apologetically to leave.'You have lightened up my afternoon', she says. As Hania replies, 'Thank you', I reflect that she is right. This afternoon has been enlightening.
Knowing that Hania had been conducting research for her next book prior to our meeting, I ask about any difficulties that she encounters with this. 'People are generally well-disposed to writers', she says, and goes on to tell me the story of the caretaker of a church in Liff who was more than happy to open it up for her so that she could get all the precise details she needed. She mentions him in the acknowledgements as she does everyone who helps in her books. I imagine that this is quite a long list.
Hania likes to visit a place that she is using in her novels and it occurs to me we are in the perfect place to set a novel. I ask her if she has considered the V&A as a setting and she becomes animated. She has clearly given this a lot of thought and reveals that she would "love to set an Agatha Christie type murder here, maybe along the lines of "A murder is announced". I think that this is a fantastic idea.
I wonder about the future for Hania. More Dania Gorska novels? Will her protagonist stay in Dundee?She imagines all sorts of possibilities for her character. One of these is having Gorska investigate a crime in Poland, which would allow Hania to write about some of the fascinating history of the country, as well as giving her the perfect opportunity to return. She tells me some of the fascinating history of her own family. Her grandmother was in the resistance movement during the war and her parents were in the solidarity movement of the 1980s. I begin to understand more about where her protagonist has come from.
I have learned so much already from Hania that I worry my penultimate question is redundant, however not wishing the interview to end, I ask it anyway:'What advice do you have for aspiring writers?' 'Think of writing as a sculpture. You have a general idea of the shape, but you will mould it and change it as you go along.'
This concrete image is helpful for new writers who are perhaps struggling to start because they cannot see what they are trying to create. But the idea that it is an organic process. Hania goes on to explain that it must be something you enjoy You need to experiment to find what works for you.
My final question is tongue-in-cheek. Despite her Polish upbringing, Gorska loves nothing more than a good fry-up for breakfast. "What do you eat for breakfast?" Hania laughs heartily and reveals that she eats a healthy breakfast of porridge and banana but that she loves all the details about Polish food she is able to include in her books. It is only one of the elements that make her books so authentic.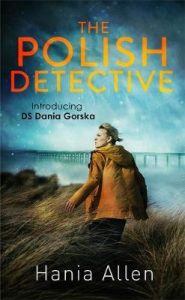 For me, Hania Allen creates authentic characters in an authentic place, even though you might not find every café mentioned in her books. The Polish Detective, my first encounter with her writing, introduces a character who is as refreshing as Hania to meet. Unlike many detectives in crime fiction, Gorska, is a cheerful and upbeat, sociable and community-minded. She isn't troubled by a tortured past like other fictional detectives. Unlike a character such as Inspector Morse or John Rebus, she doesn't sit at home alone listening to melancholic music; instead she plays piano in the local shopping centre for all to enjoy. In Clearing the Dark, the second Gorska book, Dania has been promoted and quite rightly so. She is efficient and hard-working, and has a strong female side-kick, Honor Randall, who thrives under her mentor's leadership and guidance. Both are refreshing and vibrant characters that the reader wills to succeed.
As we prepare to part, I reflect on the front covers of these novels and sneak in a supplementary question: 'Why does Dania wear an orange anorak on the front cover of both novels?' I have nothing against the colour orange but can't recall her wearing any such garment in either of the novels. In fact, I'm sure she dresses mainly in smart suits from Debenhams. 'Ah, that was the illustrator who came up with the design. I had no say in it'.It seems a pity to me to get such a detail wrong and I make a mental note that when my first novel is published there is no way my protagonist will be wearing such an out-of-character garment whatever the colour. I have spent the most pleasurable 45 minutes with Hania and could easily talk to her for much longer. But she is a busy person. Tonight, she is off to a pub quiz. She tells me her team 'do quite well.' No surprises there. I have learned lots;  I also feel re-enthused about my own writing and head home to take some of those dusty manuscripts out of the drawer.