BOTTLED GOODS (Longlisted, 2019 Women's Prize for Fiction)
Tweet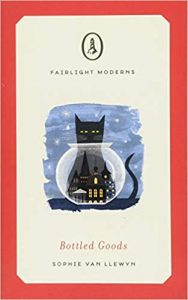 Called on its cover 'a novella in flash', Bottled Goods follows on from Sophie Van Llewyn's award-winning flash fiction pieces. This seems a clever move, allowing the author to mix different voices, tenses and forms, never allowing the reader to settle, and mirroring the increasingly jittery and fracturing nature of the life of Alina, the main character. We can read a chapter in present tense in the voice of Alina, then we meet her in third person, past tense.
Some chapters are several pages long, others less than half a page, and one notable piece has the title 'In Which Alina Comes Home Early From School on a Wednesday Afternoon and Finds her Mother at Her House, Sitting in Front of the Desk Where Alina Normally Grades the Pupils' Papers, Going Through a Bunch of Letters and a Notebook with a Red Leather Cover', and the content 'Mum! Is that my diary?' Other chapters are written as diary excerpts and letters, and some as lists, such as 'How to Attract (Unwanted) Attention From the Communist Authorities', which starts:
1. Linger in the classroom, leafing through the class register- though you could do this just as well (even better, for all the lack of interjections and other noises of eight-year-olds) in the teacher's break room.
2. Insist on lingering, even when noticing the first signs of trouble.
Calling them chapters is a nod by me to traditional novel form – several 'chapters' have previously been published as single flash stories. The writing itself is not complicated and reproduces a voice it is easy to imagine as Alina's – no extended metaphors, flamboyant language or deep introspection, but instead simple description of the life of a woman trying her best to survive terrifying changes amid relationships that are unfulfilling, like that with her husband, or as toxic as the one with her mother.
The story is set in Romania, birthplace of the author, in the second half of the twentieth century, when it is a country under the painful communist rule of Ceaușescu . Alina marries, and her old life is soon obliterated when her husband's brother defects to the West, and the whole family is implicated, falling under the eyes of the secret police. The story is difficult to fathom for those of us who have only heard these stories from afar, but through Alina's eyes we are shown how a seemingly trivial event – a young child bringing a forbidden magazine into school and Alina denying all knowledge – can, under fraught political conditions, grow huge, pulling her into the dark and dangerous world of the secret police, where someone from a previously normal background suddenly finds herself at threat of torture or imprisonment.
Throughout, a thread of magic is woven, as Alina's auntie practices the folklore of the old years. This is introduced in a way that seems strange, possibly the imaginings of a child, and an understandable return to the old ways by the older generation when religion is 'not quite forbidden but it's something you don't practice in public, nor speak of. Just like sex'. It takes a macabre turn, though, when Alina's mother threatens the plans of her and her husband to escape to the West and safety. Alina foreshadows this with the phrase 'Only magic, only a wonder could do this', and the magic that follows breaks the illusion of realism so that everything from then on seems to be built on shaky ground for the reader, and what has gone before has new implications.
Longlisted for the 2019 Women's Prize for Fiction, the book highlights how the personal is political, and how easily we can lose control of our lives. It is a sobering and somewhat frightening read, but one where control is fought for and ultimately regained.