DJCAD DEGREE SHOW 2019: ILLUSTRATION
Tweet
Crawford Building, Level 2
18 – 26 May, DJCAD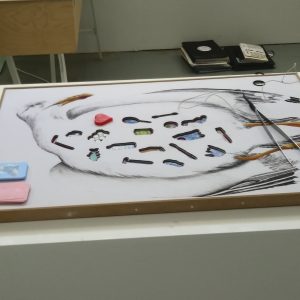 An idle broom, a pile of sweepings and a dented paint can lie discarded by the gallery entrance, a visual narrative, signaling that for this year's students of Illustration, the hard work is over. On entering the gallery it is immediately apparent that the resulting show is a clean sweep of fresh, compelling, and dynamic visual images, including print making, interactive media, drawing, painting and 3D images of mixed media.
As I expected, many students have produced illustrated books and comics, and several have taken inspiration from the past. Scott Croager's illustrations retell some of the Greek Myths.  Mairi Laird's delicate green risographs in a hand-bound concertina book, Folklore of Flowers, include ancient folk tales about wild flora and fauna from many different cultures.
Other students have focused on present day concerns – nature, wildlife, family, the environment, as well as the importance of self-care and wellbeing.
Plastic Surgery is a board game developed by Claire Corrigan complete with a set of large tweezers: it's reminiscent of the children's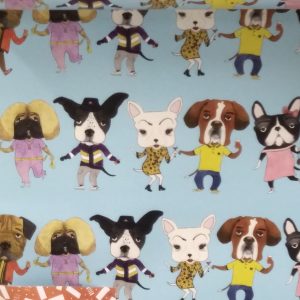 game Operation, where players surgically remove plastic body parts from a cartoon patient on an operating table.  Corrigan's patient is a distressed looking sea bird with a stomach full of plastic waste. It instantly brings to mind recent images in the media of birds and other marine life that have ingested plastic. A set of red playing 'Ideas' cards give tips on how to reduce plastic waste, a set of blue cards reveals hard hitting facts about our consumption of plastics. It's disquieting and uncomfortable to view.
Hannah Clare Patterson has created a humorous giftware range Scallywags. Her characters have animal faces and were inspired by Dundee's nightlife, developed from close observations of people she met on the dance floor. Visual light relief, with characters that could so easily be prompts for creative writing, for imagining the narratives of their lives.
Molly McCammon's picture book for young children, Feathers, is a gentle modern tale of a young child who imagines what her beloved grandfather gets up to during the day whilst everyone is out of the house.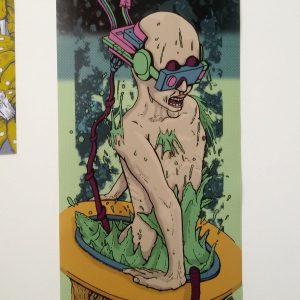 Other students have entered new territories and created wild imaginings of future worlds. Cameron MacNamara's speculative image, Leaving Reality, depicts a distressed looking man with a naked torso wired up to a virtual reality headset amidst a bath of green liquid or slime, the world around him denuded and grey. MacNamara's image is a skillful combination of hand drawn elements and digital techniques. With rapid advances in virtual reality, it invites consideration of the potential impact of future technologies, not just on our environment, but also on our physical state, and physiological wellbeing. It's unsettling.
In Unorthodox Relationships, Aimee Adam has created three colourful and bold life-size imaginary couples – in each pair, one partner is human and the other is a "non-human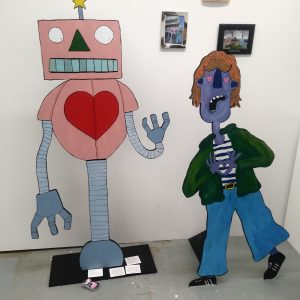 entity," – and accompanying each pair is a short story about their romantic lives. At first sight it's easy to view these images as simply being playful and humorous, but I was struck by the tenderness between the couples, and on reflection, they proved to be surprisingly thought-provoking.
Illustration is about narratives, about visually communicating ideas. At a time when we are so challenged by what is happening now, and by dire forecasts for the future, there is comfort to be gained from these talented communicators finding new ways to engage us, enabling us to value the good things in life, and reflect on the challenges that face us all.
Jane Swanson