DJCAD DEGREE SHOW 2019: DIGITAL INTERACTION DESIGN
Tweet
Matthew Building, Level 5
8-26 May, DJCAD
Digital Interaction Design is presented as part of the Social Digital '19 exhibition space exploring the wide-ranging connections between people, products, services and experiences. Although the group is relatively small with only 15 students, the exhibits are interspersed amongst 38 other Product Design student displays spread throughout the room. The Digital Interaction Design projects are oriented towards websites and apps as well as complementary physical products.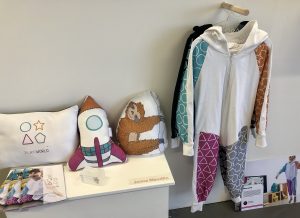 Jenna Maudlin's play.world is one of the clearest examples of combining both physical and digital to achieve a thoroughly modern design outcome. After researching why only 20% of children meet the national recommendations for daily activity levels, Maudlin explored the ways children play and how they differentiate between screen based and traditional toys. Her exhibition piece, although partially hidden around an end wall, includes attractive, brightly coloured soft cushions and interactive play outfits for children which are each heat printed and hand finished. These combine with creative and cognitive screen games for children aged 5-8 who engage by using their whole body to play, reducing concerns about inactivity for parents who can monitor progress and set goals on a dedicated app. I found the overall feel to be playful and modern and Maudlin's designs are polished enough to be considered ready for market.
Browsing, it becomes clear that these designers intend to make an impact on the world, with many turning their skills towards health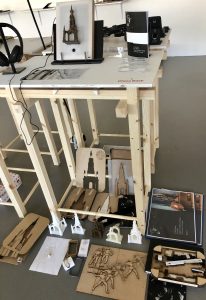 and disability challenges. Blair Gibson's Stride app acts as an enabler to get people back into outdoor spaces for walks, while Beth Shannon tackles the isolation of dementia by integrating music and cultural references into an interactive form of reminiscence therapy. I was attracted to a display by Chloe Nash featuring a 3D printed model of the Scott Monument, surrounded by other prototypes and design models. The instructions encourage visitors to touch the printed models, and by combining lights and audio with tactile three-dimensional objects, Nash has designed an enriched participatory experience for blind or partially-sighted museum visitors.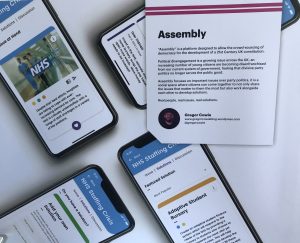 Gregor Cowie's Assembly platform confidently tackles a different societal challenge of younger people disengaging from political discourse. By shifting focus away from party politics towards shared issues of importance, Cowie's project aims to increase engagement by facilitating collective problem solving. As well as the online platform, the exhibit includes a newspaper format and a towering box information stand with strategic taglines like 'A digital democracy' and 'Politics isn't Black or White, or even Shades of Grey…'. Colours, fonts, physical space and visual signalling all combine toward a powerful effect. Considerate application of research driven design could hold fresh potential for encouraging political engagement from new generations, and Cowie has ably demonstrated a vision for the form that could take.
There is significant expertise in creating online and app-based solutions for a digital age, yet it can also be observed that a number of
designers appear cognisant of the increasingly problematic aspects arising from excessive social media use. Sarah Barr, for example, has turned her focus to the management of screen time for children and how families can engage together to reduce it, while Frazer Grant's Notifi exhibit is an intriguing wooden box which raises physical indicators when social media messages arrive, devaluing the power that screens have to claim our limited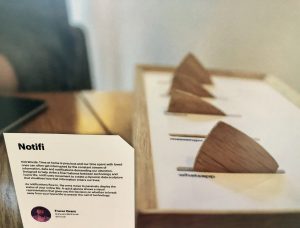 attention. Christopher Curran's Memorize platform recognises the transient nature of social posts and merges polaroid prints, audio, and even other people's comments to add value to content posted socially online.
We should be excited by the emergent thinking shown by the Digital Interaction Design group because the wide applicability and appeal of their solutions reminds us that we all interact with digital services and experiences throughout daily life. The detailed level of research and inspired designs suggests we are in safe hands for the future.
Hannah Whaley