DJCAD DEGREE SHOW 2019: TEXTILES
Tweet
Before the DJCAD Degree Show, I'd thought the textiles department would somewhat lack the variety and excitement of, for example, fine art. I couldn't have been more wrong. The textile exhibitions, which span three rooms on the third floor of the Crawford building, surpassed all my expectations.
The first of the three studios is a vast, bring space. Sunlight floods in from several wide-open windows. The first instalment, damaged by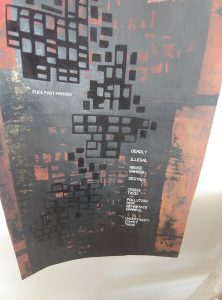 Eilidh Parker, combats this setting dramatically. Its dark and grungy aesthetic packs an immediate punch. Parker provides a social comment on 'fast fashion' by lining the walls with stark patches of sustainable materials, such as vegan leather. Stripes, grids and block patterns add intrigue – but not as much as the words printed within: 'deadly', 'illegal', 'toxic'. The textile students at this year's degree show all have something to say, and their exhibitions make you stop and listen.
Going forward, I can see that environmental and humanitarian concerns are at the heart of the exhibition. Also in the first studio is Victoria Pott's instalment GAIA, which is concerned with combatting the detrimental effects of plastic waste on our ecosystems. Potts has created a wealth of beautiful reusable household products, from produce bags to beeswax food wraps. I was taken aback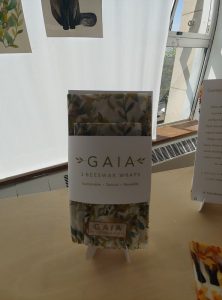 by how refined and polished these products were, from the display to the packaging, they could easily be placed in a high-end store. Potts has printed realistic animals, flowers and leaves on natural bamboo fabric in greens, browns and yellows, creating a soft, brand-defining look reminiscent of water-colour.
Walking into the second studio, I am hit with a phantasmagoria of colour and pattern. I am drawn to Katie Scott's lively instalment, named Kidleidescope. This title playfully nods to her line of children's play clothing. Large squares of cotton, denim and jersey display an array of patterns, from spots and stripes to spirals and more. Bold and opposing colours stand starkly next to one another, in a series which is carefully chaotic. Next to the samples there are photographs of children wearing the designs.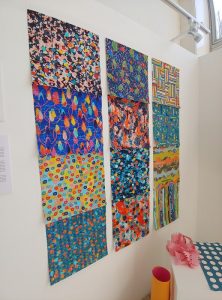 They are not stiffly posing but hula hooping, jumping and generally being children. Scott uses textiles to create a line of gender-neutral clothes which invite sensory play, creativity and imagination in a technology-obsessed world. They are clothes which capture the sheer joy and creativity of childhood.
On the other side of the room is Ellie Donnan-Thompson's instalment Blue Mind. This is a refuge of calm amidst the vibrancy of the studio. Streams of thin, floaty materials in different shades of blue hang elegantly. Light transforms within the fabrics, which themselves ripple as if made of water.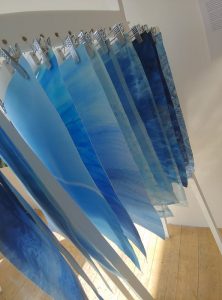 Thomson's fabrics mirror the sea in an exploration of colour psychology. It is easy to imagine her pieces in spaces which require a soothing or meditative atmosphere, as they perfectly capture the serene pull of the ocean.
A large portion of the third studio is taken up by portfolios. This provides a glimpse behind the curtain if you like – at the thinking and creating that led to each exhibition. However, this room also holds the final instalments, including the work of Kristina McIntyre titled Juxtaposed. The intrigue here comes from the unorthodox use of contrasting materials. Kristina experiments with wool, reclaimed elm wood, metal and the composite material jesmonite. The result is a beautiful but minimal display of originality, filtered through the artist's Norwegian heritage.
Although I have focused on a few of my own personal highlights, all the textile instalments at this year's degree show deserve a visit. The students aren't afraid to tackle a plethora of environmental and societal issues in their work, but they do so with a fresh and sensitive approach. The variety of strong creative talent and the amount of sheer hard work squeezed into these three rooms is something to marvel at.