DJCAD Degree Show 2019: Fine Art (Crawford Building)
Tweet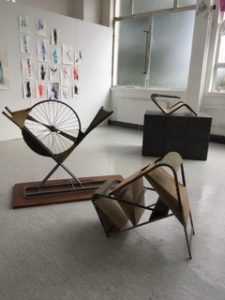 'Ideas are to objects as constellations are to the stars' is a quote from Walter Benjamin's Trauerspiel explored by duo-team, McLoughlin and Williamson, in their mesmeric multi-media installation exploring space – words which could just as easily be interpolated for all of the Fine Artworks on display on the sixth floor.
Sophie Hymers' postcard landscapes in blues and greys are edgily eyecatching and a gentle preamble to Mari Tveiten's 'exploration of chaos and confusion within the human mind' that uses an abstraction of human and animal forms. Both are echoed by Hope Carolan's jute-woven heritage sculptures using functional objects to create imaginative links of craft with Greek mythology, work which is mindful of Barbara Hepworth's 'pierced sculptures'. Kirstie Behrens knits together a profound sense of place in her thematically linked artworks depicting accretion and entropy, reminiscent of Henry Fox Talbot's 'weathered' calotypes from his Borders' excursion. Poetic resonance is lent by a video installation layering sounds and images of land and sea, and a box frame of tiny, exquisite handmade broom-like brushes.
'Themes of sensibility, energy and voice' are offered by Cecile Bec whose strong yet delicate sculptures capture the flight of birds in continuous metal bands, curling like wind-caught ribbons. Totemic and ornamental, Dulcie McConville presents organic-shaped sculptures in creams and mauves and other light colours to calm the soul (especially one in glass reflecting aqua-marine). Courtney Szabo's largescale canvases are vibrant, bold and liberating in their expansive use of pigment, contrasting with the canvases of Hannah Benassi whose 'soft, raw and concrete like textures' are suggestive of her native Italy, and serve as apertures into the imagination.
Phrenology and modelling of facial coordinates with associated graphical depictions and sculptural representations is the focus of playful and imaginative renderings by Jacob Scott. Ideas expressed here chime with Emma Twaddle's three giant-sized heads transcending reality with their representations of the fantastically creative, gross disfigurement, all with partially reconstructed and an eerily enduring vision of transhumanism.
Elena Cheltsova's aesthetic is explored in wooden pebbles in different grains and restful glade of tiny tables, in addition to a finely crafted circular light-wood dining table, on which are placed an assortment of porcelain curios reflective of their eclectic and functional natures. Themes of identity and intersection are explored in the large canvases of Maia Aitken with a particularly striking tripdych of colourful geometry. Jennifer McKenzie's landscapes are both real and imagined. Several consecutively hung frames extend the viewing and are reminiscent of how Japanese art urges you to look at the landscape in different ways. The accompanying pen and ink drawings create a panorama of sea, rocky terrain and pine trees that work assiduously together to reveal another Scottish-inspired landscape whose inner workings of space are reflected in the repeat rhythmic patternings of the rock.
Moods are raised and ideas examined, albeit abstractly, in the paintings of Carol Armstrong and Chloe Alexander, their vibrancy of colour and control of line enact different things: for Chloe it's the 'focus on captivating structures and taxonomies while contemplating the impact of colour'; for Carol the focus is the curation of memories relating to the artist's journey.
Aine McFadden remembers what is missing from our High Streets with her artfully constructed shopfront of a bakery presenting screen-prints of arrays of cakes and other dainties – this made me nostalgic for the lost bakeries of my own west coast childhood. From preoccupations about cakes to Jakub Stepanovic's offering of a new spin on Cartesian philosophy with Duality and his dark room of contradictory ideas projecting onto either side of a translucent screen while coordinating sounds emit from overhead speakers. The thrilling ultimate in contrapuntal experiences.
If it's innovation of form and genre with a good measure of drama then look no farther than here for artists who have transcended the conventional boundaries of their discipline.