A Voyage at Anchor: A collage essay by Craig McLean
Tweet
A name is a fickle thing. For me, it's a way for people to get my attention; for others, it is me. For my part, I don't think of myself as 'Craig'. I answer to it, but I don't like it. I've heard it remarked that it is a 'good Scottish name', but I simply find it boring, too short and bland to have any personality.
I don't know what I'd have liked in place of 'Craig' –but I do know that having a one-syllable name is problematic. You don't have the same luxury as those with longer, fancier names, whereby if the first syllable is misheard, the listener will still have one, two or even more opportunities to salvage the situation and… deduce the correct name purely from the context of the rest of the word. For Craig, it's do or die – if you don't get it from the off, you're not going to.
The first night I ever spent in America, I went to a mall near my hotel to grab something to eat. I chose a simple sandwich bar and adventurously ordered the cheapest meal they had. As I made to step back, the man serving me asked for my name so he could let me know when it was ready. I gave it, momentarily forgetting how important that one syllable was, and it came out quieter than I would have liked. He nodded, turned and prepared my sandwich, and after a minute walked up to the bar, looked me dead in the eye and said: 'I gotta sandwich for Drake.'
That said, I also harbour a resentment of being called something longer: 'Craigor Duncan.' This is a name I only hear on Bute – a small community doesn't get many sets of twins, and this dichotomy defined much of my first eighteen years.
There was little separation between my brother and I – we had many of the same friends, mostly overlapping interests and a similar taste in music. Because of this, we often came as a pair, which made it difficult to stamp my identity on anything. In youth football, we played for the same team, and my coach – who couldn't tell the difference – simply assumed my brother to be the better player. I spent three years as the bench boy, the butt of the joke, while Duncan got to play the game he loved (ironically, this regular game time and experience did make him a markedly better player than me).
The greatest slap in the face, however was not when someone couldn't tell me from my brother, but precisely because they could. That was the moment I knew I had to get away to forge a life of my own as soon as I could. Aged eighteen, I was shocked and startled to realise that, one night not long after breaking up with his girlfriend, my brother had 'gone along to Faith's.'
Faith Harding was a girl who lived at the end of our road. She was the only person I had ever referred to as my girlfriend – a month-long 'relationship' when we were fourteen, featuring some light hand holding and a single kiss – and I did not still pine after her as I had done in the past. Yet the knowledge that she had chosen him over me, when many of the girls I took a liking to did not even know if I was Craigor Duncan, induced a burning self-loathing, the fires of which could only be put out by self-ruinous exercise. The following day, I laced up my football trainers – I had never needed a pair set aside solely for this purpose – and ran until I did not know who I was.
Returning to port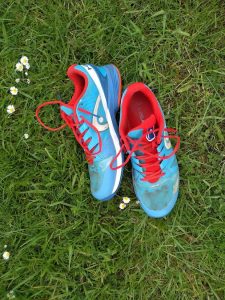 I love running and Bute, where I come from, is a tremendous place to be outdoors. There are over 30 miles of trail on the 'West Island Way' alone. And yet I know that when I return I will treat running as a chore.  I will run the same old short routes I used to, not venturing far enough out of town to find the trails which would freshen things up. Instead, I will retreat into my childhood and I will play video games or sit in front of the television all day with my father
On Bute, you cannot know everyone, but in certain circles information travels extremely fast. This phenomenon is locally known as the 'Rothesay rumour', and the old saying goes that you could 'fart in town, and by the time you get out to the port [Bannatyne] you've shat yourself'.[1] Facts grow arms and legs there, jokes among friends or arguments between two people become community-wide discussion points, and with very little turnover in residency there's no getting away from a reputation once you've acquired one.[2]
I swore I would never be unsociable like my father, yet found myself staying in to avoid getting caught talking to people I disliked. Richie Gordon, for instance, seemingly in every pub I visited on the weekends, telling me from the bottom of his pint glass what a footballer my father had been – 'He was like a leopard!' – and proceeding to repeat it as he passed me on the way to the toilets, smiling the witless smile of an alcoholic and making some strange front-crawl motion, as if my father played football like he was swimming.
Reputations and expectations stick in small communities, I have no more ability to escape comparisons with my father than I do with my brother. For some people, this familiar environment suits them, and they are happy to live for the weekend, carving out a reputation as being a good laugh in The Grapes on a Saturday night. For me, this small-mindedness was suffocating.
Yet the fact I will never reach the fork in that trail and take the path I have not travelled before does not stop me looking forward to returning home.
I sometimes wonder if my father enjoys life. A bricklayer by trade, he works as a project manager in Rothesay. He leaves the house at 7.45 every morning and returns at 4, if he's not working late. He'll often come home soaked by the near-daily west coast rain or covered head to toe in cement dust. Once his feet cross that threshold, he wants nothing more than to light the stove and sit down in front of the television immovable. My friends used to remark that he was made of stone.
When he speaks, it's very often to complain about his work, or to express the stresses of supporting Rangers and the discrimination that protestant unionists like himself have to endure. Whenever I'm home from university I'll be briefed on all the conspiracy talk from followfollow.com, and what the Catholics pulling the strings in Glasgow are doing to marginalise 'us'.
He has never gone to church except for a wedding, christening, funeral or nativity play and informed me with certainty that God does not exist. He also voted in favour of Scottish Independence in the referendum of 2016, and has never lived in Glasgow. He has been told numerous times after his health assessments at Bute's part-time Fire Brigade that he has high blood pressure.
This information makes me wonder whether he perhaps needs to get out more. Further, however, it makes me wonder what it is that can make a person's perspective shrink so that such issues have an exploded importance. Chris Arthur remarks that:
People say you have to travel to see the world. Sometimes I think that if you just stay in one place and keep your eyes open, you are going to see just about all that you can handle.
Arthur goes on to confess that watching his young daughter leave for school in the mornings sometimes stirs that feeling within him, and in both his case and that of my dad, I think that at twenty one I must simply be unequipped to view such inconsequential issues in the way they do.[3] Is it the case that the wisdom of age provides some tool I am unaware of, the cost of which is a diminished sense of what should and shouldn't affect us deeply? Or is it when one starts a family and works purely for their benefit that the little distractions become ground breaking?
'God gave us memory that we might have roses in December.' – J.M. Barrie.
Emily St. John Mandel asserts that: 'The more we remember, the more we've lost.'[4] This provocative quote from her work of fiction is supported by a study published in Science Magazine, which tells us that the more clearly you remember something, the more likely it is that your brain has fabricated that memory.[5] While it's perfectly possible to remember information to the letter, it's not quite so easy to recollect images or events exactly as they were or as they happened. Ever noticed that a long-gone pet or a relative looks slightly different in photographs from the way you remember them yourself?
It was our tradition in years past to visit the grave of my Great Grandpa Pops and my Great Granny on Christmas morning; to take some time out of the festivities to lay a wreath and reflect on what we wanted most that day but could never have.
At the foot of their shared headstone sit December's roses, their red not reminiscent of Christmas but loud scarlet across a serene backdrop, seem somehow ill-fitted to the season; their green too dark and making even the struggling grass seem full of life. On closer inspection, one can pick out the frayed strands of material at the perimeter of each petal, the sheen of the light on the stems of the plants where the air carries only the scent of sodden grass. These plasticky roses are an affront to those of summer, grown and nurtured in warmer times.
December's roses are hollow, arbitrary and lifeless, fabricated as the clearest memory we have of our loved ones. I do not want December's roses. Memory is as nothing when faced with life, as hollow as my great grandparents' house now both of them are gone.
Home is where…?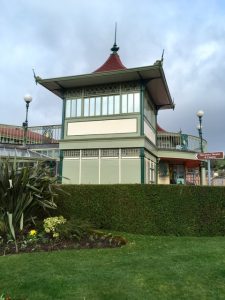 I usually come home during breaks from university, but if I come for only a weekend, it is because I know it has been too long. Sometimes, if I sail solo for too long, the rope will go taught, compelling me to return to anchor and renew the slack.
When I disembark, I look out on Rothesay and see the blooming Winter Gardens on my right, families halting their putting game to reapply factor-50 sunscreen in the blistering Scottish heat. To my left, the main moorings bob along with an assortment of boats, from tall yachts to a handful of bedraggled langoustine trawlers. Ahead, Victorian-era buildings recall their former glory with hazy memories, their brown and white flaking paint and the small chain stores beneath them epitomising the town's lukewarm economic and social climate.
In late 2015, the Isle of Bute welcomed twenty-four families of Syrian refugees, possibly to try and stem the population haemorrhage. They left home for reasons entirely different to mine, and many were unhappy to be placed in such an out-of-the-way location.
Edward Said defined exile as: 'the unhealable rift forced between a human being and a native place, between the self and its true home.'[6] While my situation is incomparable to the horrors experienced by those families who left their war-torn homeland to go wherever would take them, it could be said that we are exiled in different ways. Unable to return, at least for now, to Syria, they have carved out a fresh existence for themselves in the drizzle and cold of Scotland's west coast. I, on the other hand, left their safe haven out of choice, free to return but loath to stay. We both experience this 'rift' that Said defines, but in greatly differing ways.
Leaving the Isle of Bute to go to Dundee, where I knew no one, provided me with the fabled 'clean slate' I needed to make the best of myself. I was free to make mistakes without the shame of everyone I know – my mother included – finding out. I will not deny that I miss some of what I left behind, but I could never have experienced the personal growth I have had I stayed. I may no longer spend as much time 'at home', if Bute is where that is, but I certainly feel more at home in my own skin after four years away.
[1] Port Bannatyne is an offshoot village of Rothesay roughly 2 miles from its town centre.
[3] Kirsty Gunn and Gail Low, The Voyage Out, 1st edn (Dundee: The Voyage Out Press, 2016), pp. 28 – 34.
[4] Emily St. John Mandel and Gérard de Chergé, Station Eleven (Montpellier: Éditions Gabelire, 2018).
[5] S. Ramirez and others, 'Creating A False Memory In The Hippocampus', Science, 341.6144 (2013), 387-391 <https://doi.org/10.1126/science.1239073>.
[6] Edward Said, Reflections On Exile And Other Literary And Cultural Essays (London: Granta, 2000),  'Reflections on Exile'.
(Ed – with thanks to Loretta Mulholland for the images of Bute.)