Lost Children's Archive: A Novel (Longlisted, 2019 Women's Prize for Fiction)
Tweet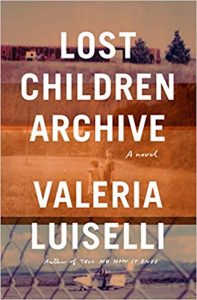 In a recent interview for The Guardian Valeria Luiselli complained that we demand too little of the novel as readers or as students of the form. In upholding "relatability" and "empathy" as praiseworthy qualities, we mistake what are  entry level virtues for the high bar. It goes without saying then that this is an ambitious book. Born out of specific contemporary crises, particularly those of Latin American refugees who make the journey towards the United States and with great personal costs only to be turned back, this is fiction that takes seriously not only its ethical but also its literary responsibilities. But can her novel do both equally well?
Lost Children's Archive starts with a marriage at the point of breakdown, and with a family who seem to be embarking on one last road trip together. The details of the journey are narrated in present time but interwoven with a past recalled; the conversations, domestic details and the drama of relationships are thus always fresh even when about the past. The car journey across America acts as a protective temporal bubble for the family even as we – and they – feel presentiment as a long shadow. How will each family cope with changed circumstances? How will we survive our own disasters? One way seems to lie in archiving: to create a place where texts, images and objects can be lodged that speak to and resonate with that past so as to learn, and not to forget. The narration builds such a strategy into its own bricolage, with allusions to sounds, maps, quotations or reworked literary texts, and also within the inclusion of photographs. In addition, the novel is narrated in episodes, employing sectional divisions and subtitles. This constitutes an assemblage of fragments heightened also by a sense of a discursive collage.
While we know very little of the mother's back story, we do know that, as a political journalist, she feels the task of bearing witness to undocumented refugee lives, to record these tales before they are erased from consciousness or dehumanised, a personal responsibility. Her husband, working on retracing the history of the Apache's last stand, also shares her ethics: how to make fading sepia-tone histories real again. In this way we see loss writ small and personal, and also large and historical. None of the family are given personal names. The first person narrator for two thirds of the novel is simply 'Ma'; equally, her partner is "my husband", the children ‒ 'the boy' or 'the girl'. Just as in Cormack McCarthy's The Road, such generic references do not to diminish tragedy or affect but reach for the mythic; deeply personal and also curiously impersonal, you might say.
The last third of the novel is written by "the boy", sometimes in a more child-like discursive register and sometimes morphing into a more distinctively lyrical and literary voice. Here the gravity of the novel's political concerns are understood or misunderstood in ways that are emotionally illuminating (does one have to be lost in order to matter the boy asks of his parents?) as well as politically relevant. The counterpointing of adult and child perspective is part of the novel's preoccupation with myth-making as mark-making to make sense of the world.  In these sections, myth-making is personal and immediate; the boy's storytelling carries him and his sister through awkward times. But his child-like register also morphs meta-discursively into poetic prose, freighted with philosophical insights, some of which contain reworked sentences and phrasings from canonical works, for example, TS Eliot's The Waste Land (all acknowledged of course).
That Luiselli read philosophy at University shows in the seriousness of the novel's concerns, but occurring here in lyrical, luminous prose and aphorisms, and in meditative, enquirying tones. Having thrown down the gauntlet in response to the age-old question ‒  what is a novel for ‒  Lost Children's Archive takes dizzying risks, pushing the novel into essayistic territory where writing becomes wonderfully porous and elastic: writing as thinking and thinking writing. This is a literary equivalent of slow food, but what nourishment it offers.