Tweet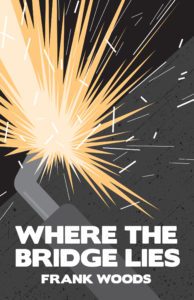 At its simplest, established writer Frank Woods' debut novel Where the Bridge Lies is a melodramatic detective story. It features revelatory deathbed confessions, long-lost relatives, a femme fatale, a mysterious commune and even an investigative journalist for a protagonist. But beneath this sensationalist exterior lies a deeper rumination on time, trauma and the ties that bind.
The plot alternates between two story threads, one set in the 1940s and the other in the 80s. In the 40s, Nessa Glover loses her family in the Clydebank Blitz and finds a new life as a shipyard welder and unionist. In the 80s, Australian journalist and Vietnam veteran Keir Connor travels to Scotland seeking information about his biological parents. His investigations lead him both to Clydebank and to Laggandarroch Castle in Perthshire, a specialist school which was once the site of Harmony, a commune based on the philosophical writings of Charles Fourier. The themes of the two stories become increasingly tied: war trauma; familial identity; idealism versus hypocrisy. Through this,  Woods is able to demonstrate the theory of 'synchronicity'. In other words, he wishes to show how the past, present and future are not necessarily linear and separate, but rather interwoven. According to this theory, connections can be drawn from 'meaningful coincidences'. In the novel this manifests, for example, in the way a bloodied Keir emerges from the rubble of a caravan crash near the end of the plot; much in the same way as Nessa struggles to climb over the Blitz debris at the book's beginning:
Chaotic piles of rubble reduced her run to a frantic scramble…She slithered and scrabbled up its unstable surface, grabbing support where she could and scarcely noticing when she ripped her hand open on a broken window frame.

He pushed back against a piece of white panelling that was pinning him down, then crept out from under it. He wiped at the wetness streaming down his face and found it was blood.
Across decades and continents, Nessa and Keir are connected. Not only does the past impact Keir's present but, as he investigates it, Nessa's experience is recontextualised. The most powerful metaphor Woods uses for this is the Clyde, the inexorable force running through both of their lives: 'He was struck again by how the river beneath his feet seemed to tie worlds together, to connect lives, unite past and present.'
Moving between points of view also allows Woods the chance to experiment with voice. Entire chapters are written as stories being told aloud by different characters, for example an aging ship engineer who uses the metaphor 'the point of no return was far astern.' Meanwhile Keir reads extracts of extravagant prose written by Harmony's founder:
The chapters that follow will, I trust, uncover to the attentive reader where I now stand on these issues of social organisation and why I have arrived at the conclusions I have. My aim in this Introduction is to help that reader understand the inner journey that lead me to write The Reluctant Capitalist.
Woods demonstrates in this novel an in-depth knowledge of subjects ranging from ship welding, to the historical geography of Glasgow, to Chinese I-Ching. In particular, his 25 years of experience as a psychologist allows him to depict war trauma with competence and understanding, and the challenges such experiences may pose to one's sense of identity or ideals:
He tries to escape the growing inner turmoil, to find safety outside, in his surroundings…From out of the sun's glare a patrol boat scythes towards him.

I shot at the Vietcong as a conscript, then couldn't wait to get back as a reporter…I had lots of noble ways of explaining that to myself, but now it feels like I was addicted to some foul drug.
Overall, Woods' debut novel is a tight and engaging mystery. Arguably, however, it is the book's deeper themes and experimental flair that elevates it from entertaining pulp fiction to a more meditative experience.