Tweet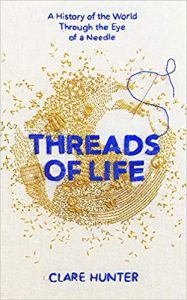 Do you ever read the last page of a book first? I don't know why I did with this book, because I wouldn't usually. Yet I am so glad I did. I know nothing about needlework but this is how the final paragraph begins, 'Sewing is a way to mark our existence on cloth: patterning our place in the world…' I realised then that this is a book about people, about communication, and I was hooked.
Clare Hunter has researched and brought together stories of needlework from times past, from other cultures, and from her own life to show that 'Sewing is a visual language, it has a voice. It has been used by people to communicate something of themselves, their history, beliefs, prayers and protests.'
Although no stranger to the craft of writing, having been a finalist in the Aesthetica Creative Writing Award, this is Clare Hunter's first published book. Extracts from it have been broadcast on Radio 4's Book of the Week. Pieces from the whole; that is how this book works. I imagine Hunter collecting stories and sorting them as she would pieces of coloured cloth. She has arranged them by tone and theme under chapter headings, Power, Frailty, Connection, Work, and more. These are the threads she has used judiciously to draw the reader into the history and messages of needlework.
Hunter's voice is strongly connected to the subject matter, whether it is raising our awareness of the lack of credit given to the individual embroiderers of the Bayeux Tapestry or writing about the fatal fallout from secret messages stitched into cushions by Mary Queen of Scots. Hunter herself is a banner maker, a textile curator, and a facilitator of needlework projects across Scotland, and abroad. Her knowledge of textiles and the extent of her research in this book create a variety of routes to the heart. In the chapter 'Captivity' Hunter describes the incomprehensible horror of conditions in Changi prison in 1942, where, remarkably, women worked on six inch squares depicting their individual thoughts and hopes to create patchwork quilts. Hunter brings us closer to these women when describing seeing a quilt, now archived in London, with the son of Ethel Mulvaney who had inspired, encouraged, and worked on the project.
Hunter acts as witness to and recorder of the stitches of silenced voices; she writes, 'One of the most poignant needlework relics of POW stitching is also the simplest: a small white handkerchief embroidered with the signatures of seven girls.' These girls had suffered atrocities at the hands of the Japanese in 1944. A book review is no place to describe their suffering, but Hunter has placed their testimony very carefully within the pages of her book. The chapter, 'Connection' is written with empathy and compassion about the children left by their mothers to be cared for in London's Foundling Hospital. Hunter describes the pieces of cloth cut and left at the time of separation as tokens which were attached to the child's written record: 'The tiny tatters of cloth spoke as regretfully as they were meant to do when a mother chose them'. But there are joyous stories here too with Hunter weaving her own experiences through the text, learning to sew as a child, and finding textile treasures in a relative's attic. My favourite is her telling of spending Christmas Eve with a Maio woman in South China with whom she shared no language other than a love of embroidery.
Threads of Life is so considered in its construction that pieces of history, social commentary and memoir butt against one another seamlessly, under stitched by a knowledgeable hand. It celebrates those threads which bind us together and remind us of our common humanity.