Tweet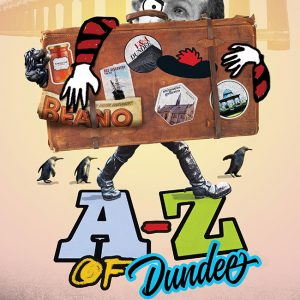 Have you noticed Dundee audiences love to laugh? The Rep Ensemble's second offering in their twentieth anniversary production line-up caters perfectly to this characteristic. A-Z of Dundee is a brilliant evening of tales, jests, history, and even a quiz, during which there are plenty of opportunities to giggle, chortle, chuckle, and guffaw.
Opening with an alphabet list of Dundee related words, the cast races from A to Z in record time and prepares to go home from a stage that holds more than a passing resemblance to an eighties' Top of the Pops set. The conscientious younger members of the ensemble, Leah Byrne and Bailey Newsome, persuade their castmates to revisit the alphabet list in more depth.
From there, we witness the 9th century tale of the Dundee Dragon; the stirring story of Winkie the wartime pigeon, responsible for saving the crew members of the bomber she was attached to when it went down in the North Sea; we meet the panoply of strong women which Dundee has given life to by birth and by association; we learn about Captain Kidd and William Wallace and Willamina Fleming; travel to London and back with a wheelbarrow; and much, much more. Every bit of these lessons is entertaining and interesting.
The six-member cast are on stage during the entire two-act performance in their high-energy multi-faceted roles as ghosts, ghoulies, pirates, pigeon, rogues, rector, and scientists, to name but a few of the persona they assume before our eyes. Barrie Hunter on the guitar and co-writer John Kielty on the keyboard fill the auditorium with music, which sometimes over-powers the rest of the cast's speaking voices (my single reservation about this excellent performance).
After the interval, the audience has a chance to shine in an interactive quiz on Dundee landmarks and minutia, as hosted by Barrie Hunter. Throughout, Irene MacDougall and Emily Winter lend equilibrium to the proceedings. Leah Byrne's performance as the City of Dundee and Bailey Newsome's as an exhausted but victorious pigeon are not to be missed.
As mentioned, the set is deceptively simple, being a stage upon the stage. Blocking is finely choreographed. Props are minimal and costumes are cleverly simple, with just enough detail to suggest place and character, but it is the force of the actors' performances that fills in the scenes.
One of the beauties of attending the Dundee Rep is the sense of camaraderie amongst the audience, and easy interaction between them and each cast. A-Z of Dundee does bring out the laughs, but it also wears its heart on its sleeve in its pride in Dundee as a place of discoveries and creativity, of strong women, and characterful men. This production clearly knows how to poke fun at itself, yet at the same time, it celebrates a town of achievements and ability to recover from bad fortunes.
Jokes aside, there are moments of pathos and opportunities for reflections on one's own relationship to Dundee. Whether you're a born Dundonian or a transplant, the heart swells with pride to be associated with such a special place.