Tweet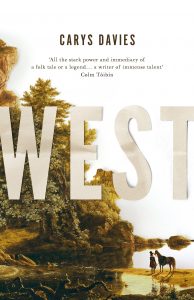 Carys Davies has been honing her short form craft for many years, with two collections of short stories to her name and a slew of impressive writing credits that include the 2015 Frank O'Connor International Short Story Award and the Royal Society of Literature's V.S. Pritchett Prize. It should be no surprise then that her first novel, West, is something of a masterclass of the short novel form.
Landing at only 150 pages, West not only offers an invigorating read that can be finished in one sitting, but its final third is persuasive in impelling you to do so. The novel charts the ill-fated exploration of America's Old West by the unprepared mule farmer Cyrus Bellman, who sustains his adventure with nothing more tangible than his own depth of feeling about an article proclaiming the discovery of mammoth-sized animal bones in Kentucky. This conceit could be almost comical were it not for Bellman's enchanting naivety and optimism – 'If they are out there, Julie, then I will be the one to return with news of their existence. Wouldn't that be a great thing?'.
Bellman leaves his ten-year-old daughter, Bess, with his sister Julie, but Davies keeps her readers with them by creating two stories that separate but interweave. The short novel format becomes shorter still through the use of fragmented chapters, often lasting no more than three or four pages, showcasing differing points of view and timelines.
Davies deploys only a small cast of characters. Though their fates are intertwined, each is meticulously and individually built on the page, and an example is Bellman's hired guide, a native American boy with 'the unpromising name of Old Woman From A Distance'. Yet any assumed potential for comedic value is quickly dispelled because this most silent character is so beautifully drawn ─ a simple yet intricate mind who dwells on the injustices done to his family at the turn of the 19th century as they were driven west by settlers:
Old Woman From A Distance still wasn't sure what to think.
One thing he was sure of though: there was no Great Spirit. No Big Man in the Sky looking out for them. If there had been one once, there wasn't anymore.
The plot is advanced through small interactions and shifts in dynamics between no more than two characters at a time, then cemented with personal introspections that see more time elapse. The book is nearly a third of the way through before Davies begins to reveal a hidden vulnerability, a potential threat, a foreboding of danger. While Bellman looks set to evade all predatory forces in the wilderness, a malevolence of a different kind begins to stalk his daughter back home, threatening not just her personal safety but also her sense of self and ambition, and the sustainability of her devotion to reading and education:
As far as Elmer Jackson was concerned, he had a choice, the aunt or the girl, and he had never much fancied the aunt.
Davies manages to mix elements of folklore, societal development and contemporary safety fears, and writes with such authority that I began to wonder if this journey is a retelling; a famous adventurer being re-fictionalised. As such the book serves to remind how intimately readers can get to know characters within even a shorter format when the writing is as well-crafted as this. A story both new and strangely timeless, West gathers the people within it together to encapsulate contrary feelings of hope and isolation, fear and longing, love and regret.
Hannah Whaley