Noctuary (Forward Prize Shortlisted, Best Collection)
Tweet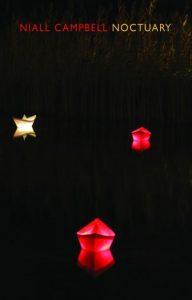 Certain kinds of children's stories have long promised that anything is possible at night when the rest of the world is asleep. So there is a certain magic in just the conceit behind the title of Niall Campbell's Forward Prize shortlisted second collection. A 'noctuary', we are told, is 'a diary for the late hours' which will 'illuminate a night world of disturbed sleep and half dream.' The nights documented here, however, are not the realm of adventure, at least not in the traditional sense; they are instead that sleep deprived, slightly hallucinatory place familiar to new parents the world over – Noctuary documents the poet's nocturnal life as he adjusts to the demands of caring for a new baby.
Campbell's first collection Moontide – winner of the Edwin Morgan Poetry Award and the Saltire First Book of the Year Award – dealt too with the very personal, exploring the poet's memories of growing up on the island of South Uist having left it behind. Memory features too in this collection, but there is also often an immediacy to the poems, capturing night-time experience, night-time worries as if in the here-and-now. We have the young father feeling suddenly old clutching his tiny baby; we feel his alarm at the long, hard road ahead for his son heralded by a first illness; we pause and take in a more soothing moment as, waiting for his child's meal to cool by an open door, he is distracted by the beauty of the night sky.
Some commentators have criticized Campbell for being overly sentimental and for not pushing the boundaries. It is true his poems address subjects that have always inspired poets. It is also true that his lyrics have an easy simplicity to them. The repetition of 'oh heart, poor heart' in 'Midnight' is perhaps too gentle a form for existential crisis. The discoveries of 'the romance of fresh oranges at midnight' or the moon as 'the first good bead on a one-bead string' do not feel revolutionary. The observation that 'Doesn't snowfall make everything so quiet?' may come across as a little trite. But there are plenty of moments that do hit the mark. 'Four Memories in No Particular Order' evokes the experience of uncertain dream-like memory subtly:
and folded grass, rain coming down
as I proposed by the stone bench
the two of us in the new silence
in our child's bedroom[.]
Each fragment of remembering bleeds into the next creating an impression of a grounded, comforting whole. 'Language' is a poem that conjures up something beyond the limits of his son's vocabulary, observing that 'bird' can welcome too a 'bat into the meaning of it' even though 'it never sang or perched', gesturing towards an ineffability of sorts.
But what really changed my feelings about Noctuary was a different approach to it, by re-reading the book from start to finish in one sitting, one early morning. By rights, of course, I should have been reading at midnight, but there was something very different about Campbell's quiet observations en masse, rather than just dipping in. There were more smiles and chuckles, more nods of recognition, more sighs – and it felt more in keeping with a sense of snatched moments of reflection amidst exhaustion. The poet feels thankful for still finding the poetry in life, in spite of and as a result of his current circumstances. When I came to the final poem 'Good Night', I was somewhat astonished to find Campbell's son already 'three years into his life' as though I had lived through the period with them. Noctuary is a diary for the late hours; it is also a diary for the all-too-fleeting in life: a child's early years, for simple joys, for odd reflections on the little things that have brought you to where you are today. It may not dazzle with its sense of adventure, but this collection – in places at least – evokes its own quiet magic, its own sense of the wonder that is still possible at night.