Good Day? (Shortlisted, The Goldsmiths Prize 2019)
Tweet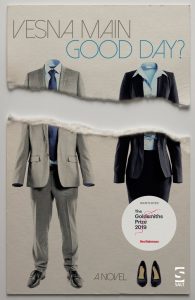 Twenty four years of marriage and two children might make everyday conversations mundane, unless the object of these discussions is somebody else's life. Following an unnamed couple, Main documents their lives through short dialogues, each beginning with 'Good day?'. It quickly becomes apparent that both parties are hiding more than they would be willing to admit, and when talking about somebody else they might actually be talking about each other.
Vesna Main was born in Croatia, but obtained a doctorate in comparative literature from the Shakespeare Institute in Birmingham, which has led her to a career as a journalist, lecturer and teacher. She recently published a collection of short stories, Temptation: A User's Guide.
Good Day? is written entirely as a dialogue between two unnamed parties who begin each conversation with the titular phrase, quickly skimming over their own lives and moving onto the wife's writing. In her novel she tells a story of Richard and Anna, whose lives curiously resemble her own –  also married for twenty four years with two daughters. Richard being a professor specialising in suffragettes makes the writer's husband uncomfortable as he believes that it is too close to his own life. Towards the end of the book he asks how his wife is different from Anna and she can only respond that her protagonist works in galleries. That similarity is the trick Main uses to illuminate her own characters without them talking about each other explicitly, inviting the reader to make up their own mind on what's really happening.
Every 'Good day?' begins a discussion about book's characters, as the writer's husband is also her first reader, whose feedback often leads to arguments. It is gradually revealed that Richard has been seeing prostitutes for the past eight years and has admitted this to Anna. The plot isn't linear – one day the writer might be thinking about Anna's reaction, the next day she'll be building the story of one of the prostitutes. By jumping from one topic to another, pieces of the story are disclosed, but may still change over the next few pages as the writer is rarely satisfied with what she's produced.
The fictional writer is inconsistent and unable to settle on the main purpose she wants to achieve with the book. At times she defends the plot by saying it could be useful for other people in similar situations, but then moralises about not wanting to write an educational book. Her naivete shows when she writes clichés and defends them when highlighted by her husband. He also challenges her politics, in particular how she blames Richard and casts Anna as the innocent victim. While her husband understands that life is grey, she tries to make it black and white. This facilitates the reader's inquiry into the writer's marriage, because it would be difficult to imagine that she doesn't identify with Anna as an idealised version of herself, which could potentially cause further problems in the marriage. Main carefully balances her character's writing to point out her weaknesses.
Good Day? is a peculiar book. With the bold narrative dialogue, Main faced a difficult task yet managed to write a story that touches on intricacies of adultery, feminism and how it relates to prostitution. She has also created a bubble of mysteries, many of them left without any resolution. Good Day? has the unique feel of threads flying with the wind, loosely tying themselves to one another along the way, missing detail but creating a compelling whole.