The Porpoise (Shortlisted, The Goldsmiths Prize 2019)
Tweet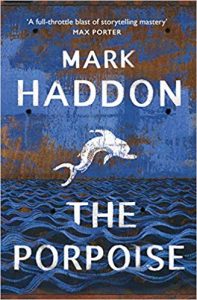 Mark Haddon is best known for his 2003 bestseller, The Curious Incident of The Dog in the Night-time. The Porpoise is his fifth novel for adults and it begins with a tragic accident; a light aircraft collides with a grain silo. Philippe, a wealthy businessman loses his pregnant wife in the crash, but his baby daughter survives. He names her Angelica. She grows up in seclusion; a cohort of paid minders and fixers keep the outside world at bay because Philippe is an abusive father. To escape from her miserable and lonely existence Angelica reads avidly and fills her mind with stories and myths.
She has no one with whom she can share these stories. She is both teller and listener.
When Angelica is a teenager, Darius, the brash son of Philippe's art dealer invites her out for a drive. Philippe refuses to let her go, and it becomes clear to Darius what has been happening between father and daughter.
'Your father is jealous.' Only when Darius says the word, the precise word – not protective but jealous – does he realise how accurate it is. Sexual jealousy. It's like reaching into a dark box and touching something cold and clammy and alive.
Darius attempts to rescue Angelica but is brutally attacked by Philippe and chased by his henchman Hervè. These events mirror the story of Prince Apollonius of Tyre who risked death after revealing a king's incestuous relationship with his daughter. In Shakespeare's version of the story, Apollonius was renamed Pericles. Darius escapes on a friend's yacht, The Porpoise, and sails to the Mediterranean, but his mind is filled with another man's thoughts and he becomes Pericles.
Having witnessed her father's brutality, Angelica refuses to talk or eat, and refuses her father's advances.
She takes up less space than she once did, but she is not reduced. She has been compacted. She was a branch, now she is a blade. She can cut through anything. She cannot be broken.
Angelica and Philippe's story coalesces with that of Pericles; reality mixes with myth and the present blurs with the past. The transitions are eased by the attention Haddon gives to character and place names. Darius's yachting friends Helena, Marlena and Anton morph into Pericles's captain Helicanus and his junior officers Marlenus and Antonio. Philippe's house is called Antioch; Antiochus is the name of the incestuous king in Apollonius's story.
Like an ocean swell moving away from a storm, the fast-pace of Pericles's adventures carries far beyond the grim reality of Angelica's life – but this doesn't last for long. As Pericles evades his pursuers, there is bloodshed and gore, and more violence and abuse. Amidst all this there's an interlude that harks back to Jacobean London; Shakespeare's ghost makes an appearance with George Wilkins who is believed to be the co-author of Pericles. Wilkins was a pimp renowned for abusing women.
I found the shifts between modern and ancient times, between reality and myth confusing, and it wasn't always clear which character was speaking. Occasionally an omniscient narrator gave away some elements of the story, which stalled the rhythm and flow of the narrative like slack water between the tides.
But he will not be returning to school. In two hours he will be dead.
The Porpoise is a riptide of a read. A large part of the story takes place at sea, the violence and abuse are shocking and it reads like a fast-paced thriller, all of which left me reeling with the same dizzy sensation that follows spending time aboard a ship. Be prepared – it may take some time to recover your land legs.