The Man Who Saw Everything (Shortlisted, The Goldsmiths Prize 2019)
Tweet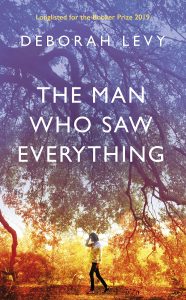 The Man Who Saw Everything is Deborah Levy's seventh novel and her third, along with Swimming Home and Hot Milk to be nominated for the Man Booker Prize. Levy has also written plays and short stories, and is a Fellow of the Royal Society of Literature.
The novel's protagonist, Saul Adler, narrates two separate incidents in his life when he was run over on the iconic Abbey Road pedestrian crossing in London, famously featured on the cover of The Beatles' 1969 album of the same name.
The novel deals with the aftermath of the incidents, one in 1988 and the second in 2016. In the first, Saul, a young Historian, is on his way to visit his photographer girlfriend, Jennifer Moreau, when he is hit by a car that failed to slow down at the crossing. He is not badly hurt and continues on his journey. We learn that Jennifer forbids him from describing her beauty or commenting on her appearance and though he proposes marriage to her, she abruptly ends the relationship. He then sets off on a research trip to East Berlin, which at that time was still divided from the West. The supposed purpose for the trip is to report on how good life is in East Germany. There he meets Walter, his translator and Luna, Walter's sister, an avid Beatles fan who owns a copy of the Abbey Road album. The relationships formed by Saul with these two characters are unstable and affect his life for years to come.
The narration throughout the novel is fractured and distanced, which makes for challenging reading. This excerpt shows Saul, ironing shirts in preparation for his trip to East Germany:
Frankly, what with the car accident and my first ever offer of marriage being rejected, it felt like I had been beaten up. That was what Stalin most hated, the beatings from his father. I hung up the shirts and stepped on to my balcony. A crowd of sooty ungainly crows were hopping around on the grass of Parliament Hill Fields. One of them suddenly took off and flew towards the birdbath. It was carrying something in its beak and then it dropped it in the birdbath. Maybe it was a mouse, which reminded me that Stalin loved his daughter, Svetlana, as a cat loves a mouse. How did I love Jennifer and how did she love me?
This is a novel about seeing and being seen; surveillance and betrayal. It turns 'the Male Gaze' on end, exemplified by Jennifer's work as a photographer and Saul as her muse. He is physically beautiful and emotionally fragile, but he lacks empathy with others and his way of seeing is so solipsistic that the reader never fully understands what is happening.
It is also a novel about tyranny. Saul's father, who appears to die twice during the novel, was a Communist, but violent and abusive, so it follows that Saul's research project is a study of Stalin's tyrannical father.
The second part of the narrative takes place in 2016. Saul has been run over at Abbey Road for a second time, but this time is badly injured. He narrates from a hospital bed, where he drifts in and out of consciousness in a hallucinatory 'reality' caused by morphine. Jennifer is a regular visitor and Saul believes that one of the nurses is a Stazi spy from the East German episode. Many more disjointed facts emerge about Saul's relationships with Jennifer, Walter and Luna but they are incohesive and there is no sense of resolution at the novel's close.
This novel pushes the 'unreliable narrator' conceit to the extent that the reader is left detached from the characters and put into a voyeuristic position. And it is not a comfortable place to be.