WRITING PRACTICE AND STUDY 2019 SHOWCASE: "Aside" by Kai Durkin
Tweet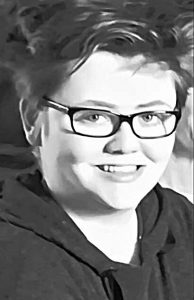 Kai Durkin has been a university student for the past 5 years, and likes to pretend they didn't exist before that. They completed their undergrad in English and Creative Writing, and their MLitt in Writing Practice and Study, at the University of Dundee. They enjoy writing in a variety of mediums, but they especially love writing for performance, and usually (try to) inject humour into whatever they write. They would like to branch out into different mediums, like radio, and can occasionally be reached at @firewolfmutt on Twitter.
 Kai's poetry has been published in the zine Artificial Womb, and their flash fiction in the University of Dundee's own publication, Vaulted Marvels. They have also written three plays, two on commission for the Being Human Festival; they have written two short films for the 48 Hour Film Project, and currently edit the theatre section of DURA. Aside is their fourth stage play, and is the angry queer didactic rant they always swore they'd never write. The play is set in a gay bar, where the sarcastic bartender imagines what the patrons' personal lives may be like. The three extracts here all start mid-scene. 
[Extract One]
REBECCA: Wait, is that old man chatting up Louis?
[REBECCA points to JOHN offering LOUIS a sip of his whiskey. LOUIS looks terrified.]
JOHN: Go on son, it's good stuff.
LOUIS: I, uh, I'm alright thanks.
JOHN: It's good stuff so it is. Go on.
LOUIS: [firmly] I'd rather get my own drink. [gentler] But, thank you.
JOHN: Yer missing out son, yer missing out.
[JOHN returns to his seat. The other BABY GAYS flock to Louis, surrounding him protectively.]
CATHERINE: Was that old man trying to pull you?
LOUIS: I'm not sure. Maybe?
JEMMA: Why'd you say no? I thought you wanted a sugar daddy.
SAM: Drink could've been spiked.
LOUIS: Aye. I feel a bit bad for him though.
REBECCA: Yeah.
ALEX: I reckon John must be in his 70s. I wonder what he was like when he was their age?
[MUSIC: "Stayin Alive" by The Bee Gees begins playing. YOUNG JOHN enters, wearing a ridiculous 70s disco outfit. He takes centre stage and starts dancing. There is a SFX: "record scratch", and the music stops abruptly.]
ALEX: No, no, yer joking. I cannae take him seriously like that.
[YOUNG JOHN exits]
ALEX: I mean, if he was out and proud in the 1970's he must've seen some shit. The founding of the Gay Liberation Front. The first UK Pride. Maybe he's fluent in fucking Polari. Oh! I wonder if he ever saw Queen live…
[MUSIC: An instrumental version of "Fat Bottom Girls" by Queen starts playing. YOUNG JOHN re-enters, now dressed like a "Castro Clone" in denim and leather, oozing confidence and sex appeal.]
YOUNG JOHN: Hey kid.
LOUIS: Who, me?
YOUNG JOHN: Ye see any other homosexual gentlemen around here?
LOUIS: Not so loud!
[LOUIS is afraid, but goes to YOUNG JOHN nonetheless. He's drawn to him. They dance.]
YOUNG JOHN: Ah'm Johnny.
LOUIS: Johnny? Cool.
YOUNG JOHN: Fancy a drink?
LOUIS: Oh, no, that's okay, you don't have to buy me anything.
YOUNG JOHN: Ye 'hink ah'm gonnae buy something frae here? They water down the beer.
[YOUNG JOHN takes out a hip flask.]
YOUNG JOHN: Try this, it's more fun.
[LOUIS tries a sip and coughs a little.]
YOUNG JOHN: Smooth, innit? Premium scotch.
LOUIS: Cool.
YOUNG JOHN: Ah've got a whole bottle back at mine if ye fancy it.
LOUIS: Cool.
[YOUNG JOHN and LOUIS freeze].
ALEX: I'm no' saying it was all easy mind.
[The MUSIC changes to an instrumental riff of Queen and David Bowie's "Under Pressure".]
YOUNG JOHN: Where're ye going?!
LOUIS: It's not right Johnny! I mean, Jesus, I'm not even twenty-one.
[YOUNG JOHN and LOUIS freeze again.]
ALEX: Or maybe he didnae get scared off. Maybe they had a long-term relationship. And they had TV dinners and scheduled sex and arguments. Couple stuff. Maybe they were still together in the 80s.
[ALEX goes offstage to retrieve a paintbrush and a cardboard sign, both of which they hand to YOUNG JOHN. He sits on the floor and begins painting the sign]
LOUIS: Where are you going?
YOUNG JOHN: There's a protest on today.
LOUIS: Again? Do you even know what day it is?
YOUNG JOHN: It's Wednesday.
LOUIS: It's our anniversary!
YOUNG JOHN: Ye used that line last week, remember?
LOUIS: I don't like the thought of you being out there Johnny.
YOUNG JOHN: So ah've noticed.
LOUIS: It's dangerous. They're arresting people now, did you know that? You're going to end up spending the night in a cell.
YOUNG JOHN: So, whit? Ah should "sit here and look pretty and do as little as possible"?
LOUIS: That's not fair –
YOUNG JOHN: While folk keep dying in the streets 'cause Thatcher – because the whole world – refuses to pay any mind to a plague happening on their own doorstep?
[YOUNG JOHN storms past LOUIS. He takes the sign with him, and we now see that painted on it are the words "ACT UP. SILENCE=DEATH". Then he and LOUIS freeze again. ALEX picks up the paintbrush, takes the sign from YOUNG JOHN and returns them to backstage.]
ALEX: Or maybe something a little less…melodramatic.
[The MUSIC changes a third time, to an instrumental of Queen's "I Want to Break Free".]
LOUIS: It's your turn to take out the dishes!
YOUNG JOHN: Well it's yer turn tae do the ironing!
[The two men square up to each other and freeze again.]
ALEX: But then, why's he spending his nights alone here?
[MUSIC: An instrumental of one last Queen song: "Who Wants to Live Forever?", starts playing softly.]
LOUIS: Hey Johnny.
YOUNG JOHN: Hey kid.
LOUIS: Listen, Johnny. I'm sick.
YOUNG JOHN: What?
LOUIS: You should…you should go to a doctor. Get tested. To be safe.
YOUNG JOHN: Whit about you?
LOUIS: Take care of yourself Johnny. I love you.
[LOUIS retreats slowly offstage. YOUNG JOHNNY watches him go, forlorn. He reaches out to LOUIS. JOHN rises from his chair and comes to stand next to YOUNG JOHN, matching his gesture. He keeps reaching out as YOUNG JOHN leaves. After a moment, JOHN goes and sits back down. LOUIS re-enters and re-joins the BABY GAYS. Normalcy has returned.]
LOUIS: Do you'se think he's okay? He's kind of staring into space.
[JOHN clears his throat and picks up his newspaper. The BABY GAYS, realising he heard, are abashed.]
 LOUIS: Anyone else fancy a smoke?

[Extract Two]
ALEX: Believe or not, John might not be our strangest regular. Here we have a far more mysterious character.
JEN: The usual, pet?
INGRAM: Yes, please.
ALEX: I like tae call him Ingram, after James Ingram. You'se'll see why.
[JEN hands INGRAM a microphone. He takes centre stage, looking intensely serious. A karaoke track starts to play: "Just Once" by James Ingram. INGRAM sings along with the voice of an angel. ALEX speaks during the instrumental sections, so as not to interrupt. HARRY sarcastically waves a lighter back and forth. SAM and JEMMA return and stand with LOUIS, watching with a mixture of confusion and just a little awe.]
INGRAM:
I did my best
But I guess, my best wasn't good enough
'Cause, here we are back where we were before
Seems nothin' ever changes
We're back to bein' strangers
Wonderin' if, we ought to stay
Or head on, out the door

Just Once…
Can we figure out, what we keep, doin' wrong
Why, we never last for very long
What are we doin' wrong?
Just once…
Can we find a way, to finally make it right
To make the magic last, for more than just one night
If we, could just get to it
I know we could, break through it

hmm-hmm…
ALEX: "Just Once" by James Ingram. Every Wednesday he comes in and sings it. It's been going on fer weeks now. Ye have tae wonder what happened tae the guy. A break up? A rocky long-term relationship he can't bear tae let go of?
HARRY: This guy's a hoot!
CHRIS: I think he's good.
HARRY: He does this practically every night, the psycho.
INGRAM:
 I gave my all
But I think my all, may have been too much
'Cause, Lord knows we're not getting anywhere
Seems, we're always blowin'
Whatever, we've got goin'
And it seems at times, with all we've got
We haven't, got a prayer

Just once…
Just once…

Can't we figure out what we keep doin' wrong
Why the good times never last for long
Where are we goin' wrong

Just once…

Can't we find a way to finally make it right
To make the magic last for more than just one night
I know we could break through it
If we could just get to it

Just once
I want to understand…..
Why it always comes back to goodbye
Why
Can't we get ourselves in hand
And admit to one another
We're no good without each other
Take the best and make it better
Find a way to stay together

Just once…..

Can't we find a way to finally make it right (Whoa)
Make the magic last for more than just one night
I know we could break through it
If we could just get to it

Just Once…..

Whoa oh, we can get to it

Just Once…..
ALEX: Did he lose the love o' his life in a tragic paragliding accident? Is this just the song that best shows off his range? Who is he singing to, over and over and over? Do they know? Also, does this mean we count as a musical now? Can we put that on the flyers?
[The BABY GAYS give some tentative applause.]
INGRAM: Thank you.
HARRY: Bravo! Bravo!
[CHRIS sniggers. INGRAM ignores HARRY and goes to the bar. ALEX goes to serve him]
INGRAM: Long vodka, please.
ALEX: It's no' exactly yer normal karaoke song, is it? No' that that stops him giving it laldy. Maybe it's a gay thing. An LGBT+ thing, I mean. I'd say a queer thing but I try no' tae call people queer without their permission. What I mean is, maybe it's a gay thing tae stop caring so much about what's normal. I mean, some people are more easily accepted than others these days, but at the end o' the day being gay or bi or trans or basically anything other than straight and cis forever locks ye out o' being 100% normal. We're damned if we do, damned if we dinnae – literally, according tae some folk. Ye can try and downplay it, aye. But in the end, it disnae matter if yer a Tory voting businessman who watches football and plays golf, or a camp, non-binary drag queen who wears a dress and a glitter beard. Double it if yer also no' white, or if yer disabled, or yer poor, because no' aw inequalities are made equal but by god do they stack!
[INGRAM takes his drink from ALEX]
INGRAM: Cheers mate. Alright John? What's in the paper today? Anything interesting?
[INGRAM goes to sit with JOHN. ALEX takes centre stage.]
ALEX: It's kind o' why I'm here actually. See, a while ago I was speaking with this normally very nice woman. I dinnae mind what about, but I must have said something to do with my being non-binary, or pan, or about working here, because she goes "Well, leaving LGBT stuff aside". Aside. Because it complicated everything she wanted tae talk about. Because it was messy and awkward and no' what she was used to. Because it wasnae normal, and it was easier for her tae pretend it didnae exist, or else didnae matter. Well, this play is about saying fuck that.

[Extract Three]
ALEX: I'm just a bartender. I dinnae know these people. I dinnae talk tae them. I just sit and I watch and I imagine caricatures with their faces. Everything I said tonight might be totally wrong. I'm no' the Lorax, I don't speak for the gays. Harry might be a tender, attentive lover who makes all his partners breakfast in bed. John could be a married straight man who comes here because it's the last place his bird would think tae look fer him. Jen might no' be a colossal arsehole. A year frae now Louis could be standing at that bar, about to buy a drink fer the man he'll spend the rest of his life with. If the people these characters are based on saw this, who knows what they'd think? The only thing I can guarantee they'd all say is:
THE ENTIRE CAST (SIM): That looks nothing like me!
ALEX: Truth is, I'm no' telling their stories. I'm only telling "their" stories. You know, "they". "Them". "The community." You talk about some gay folk, yer talking about all o' em, whether ye feel willing or qualified or no. That's the rule.