WRITING PRACTICE AND STUDY 2019 SHOWCASE: 'Home' by Hamzah M Hussain
Tweet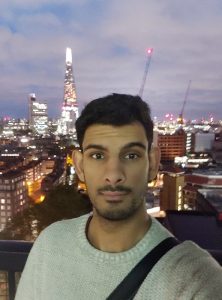 H.M. Hussain is a short story and essay writer who endeavors to cover a variety of themes both universal and those specific to him and his identity. His work has appeared in a range of print and online publications. These include 'Cruise' in Prole magazine, 'The Last Time We Drew Flowers' for the Vaulted Marvel project, and most recently, 'Mind Your Step', which appears in a new literary magazine by people of colour, Bad Form. H.M. Hussain is also a keen editor and enjoys working collaboratively with others. Having been born and bred in Dundee his entire life, he has recently taken his practice to London where he is training to be an editor at Hachette UK.
Outbound
I thought I knew what 'home' was.
I know what my home is, I know where it is. Home is origin, the place I'm from. The only place I've ever known; Dundee.
Dundee is where my family and friends are, it's the place I always return to, the place I know best. I can make my way through the streets knowing where everything is; my flat where I spend most of my time, living with my mother. The university campus where I have met friends, learning about myself and how to take up space in this city. The city centre with its cafes, takeaways and restaurants, where much of my memories of the home have been formed.
But I will leave this home and create another elsewhere. To appreciate what home is, I must experience its absence, feel what it is to leave the comfort of a home and recreate that comfort in a new city. This home will always be here, ready to welcome me back.
The first steps to this leave-taking happened earlier this year – a trial run. As I sat in my flat in Leeds where I worked for six weeks, I called that place 'home'. It was my place of rest, where I ate, where I prayed, where I retired to at the end of the day; all the things we do when at home.
Arriving in the large, tower block accommodation, I took in the bare room and began populating it. I emptied my pockets; wallet, spare change, keys, receipts, scraps of paper – already performing the same acts I do in Dundee.
I unpacked my luggage. In one suitcase were my clothes, easily stored in the small wardrobe. In a large, red bag were migrant objects that, like me, were living somewhere new for the first time. Above the desk in my room were shelves, ready to house my displaced objects; books, my re-useable coffee cup, a 'good luck' card from a friend, equipment for the gym and some toiletries.
This ritual felt cheap, felt false. My real home was in Dundee, yet I would call this place, a place I barely knew 'home', a sort of 'step-home'. Recalling this now, it was a make-believe house, a game much like 'playing housies' as a child with my cousins. I never thought I'd be doing just that, but alone.
Yet, the process of placing objects in space helped me make sense of my new home, helped visualise how I would use the space, how I would live here. With my belongings, I made this anonymous space my own, planted signifiers of my identity within cupboards, in drawers and the bathroom. I used my experience of my own home as a template. I separated my groceries in the same way. The same toiletries that are in my bathroom at home; handwash, air freshener, toothpaste, sat just as they would in my own bathroom.
I made a home not only for myself but for my things which were an extension of me. This act not only filled the space but made it feel familiar, gestured towards making the unknown more identifiable. While there were traces of 'home things' in this new dwelling, there weren't enough. Was it the white walls, the not-enough-stuff, or no one to share the space with that made this fake home feel inadequate? Try as I might, the space still felt as owner-less as a hotel room.
Objects carry the weight of belonging and identity. How we choose to adorn our walls, desks, shelves and other surfaces is a performance of ourselves, a story told without words,
This is what I like.
This what gives me comfort.
This is what I find beautiful.
This what I hold dear.
This is how I live.
Divya Tolia-Kelly in her study of religious artefacts in South Asian homes; the creation of Hindu mandirs, explored the use of the created sacred space in the homes of Hindu women, in which they stored religious idols and ornaments. Tolia-Kelly makes the connection between objects, memory, narrative, place and identity: 'The new site of home becomes the site of historical identification, and the materials of the domestic sphere are the points of signification of enfranchisement with landscapes of belonging, tradition and self-identity.'[1]
I enjoy Tolia-Kelly's phrase, 'landscape of belonging', because isn't that what homes are? Landscapes in which we feel we truly belong, where we can be ourselves? I created my own landscape of belonging in my Leeds flat, not with a single shrine, but scattered fragments, materials borrowed temporarily to give this new place some of my identity. My blue Dundee University coffee cup says where I'm from and study, my prayer met tells you of my faith. In the kitchen my eating habits are in boxes, packets, and on the shelves in the fridge.
With these 'historical sites of identity,' our homes become little museums of our own,  harbouring exhibits of where we've been and where we hope to go. The home is an unusual place which exists simultaneously in the past, present and future. Objects from previous dwellings chart where we come from; old furniture transported from place to place, personal effects that we use to personalise our rooms. New flooring, freshly painted walls and newly bought décor prepares us for the future; an act of erasure. We conceal the property's past, removing all signs of those who once called this place what we hope it will become; a home.
There are no shrines in a Muslim household. In Dundee, the closest thing we have to this is a bookshelf on top of which lies a stack of Islamic literature. On the walls hang embroidered cloths with Arabic calligraphy: verses from the Quran. An Islamic home is marked not by the objects or images it holds within, but the actions and words spoken by its occupants. The landscape is not made real by material things but is instead uttered into being through prayers and incantations.
How do we create homes? What does it mean to recreate one elsewhere, somewhere new? Is it simply imitation? Do we make migrants of materials we possess and transpose them into a new setting, hoping they will reconnect our sense of place and the comfort home gives?
Let me return, to the beginning.
I thought I knew what home is. I know where my home is. I know my home, but not the homes of others. I look for other writing that might make some sense of this peculiar and slippery concept of 'home'. If I consider what Jen Hadfield has to say in Home – Scars, it might offer a new perspective:
[…] Home, they said it was Mum and Mum's cooking […]
Home wasn't the family house but the street corner where
you hung out with friends […] For others, home was all about
not speaking […] Home was a circus, everyone shouting over
each other, phone constantly ringing […] home was a place of
perfect privacy or geyser of fury, everyone counting down to the
next eruption.[2]
I peruse through Helen Oyeyemi's The Opposite House and come across an inspiring word, 'somewherehouse[3]' a phrase which never occurred to me but sounds quite attractive. In the title of this paper I thought of home as 'anywhere' and 'elsewhere', both of which sound hopeful, suggest a destination. 'Somewhere' makes one feel at a loss, conveys that something is difficult to find. 'Somewherehouse', however, seems to me just as hopeful, almost utopian. Might we all have a somewhere house awaiting us, a destination, a house somewhere waiting to be discovered?
We rely on history and time to turn houses into homes, just as it turns strangers into friends. The more time spent in a place, the more comfortable we can become with it, learning its habits, becoming familiar with the body of its topography. We move from comfort, to the unknown, back into a new state of comfort. After unpacking my suitcase, I went for a walk. I explored my surroundings, looking for things both old and new. At first, I looked for places that were old, the ones I knew and trusted; a Tesco, newsagents, fast-food chains. Finding these allowed me to get my bearings. I plotted my routes in references to the familiar: The flat is fifteen minutes from Tesco, there's a Dominoes in that direction, I can get groceries from here.
The landscape and I introduced ourselves to each other, not knowing anything of what the other needed. I used the walk to map out my routes, plan how I would use this landscape, much like the space in the flat. I remember my excitement when discovering a shop which sold fresh naan and roti made in a tandoor. I relished the fact that I could eat food that would be just like being at home, fresh and piping hot. Why is it that, even when we leave home willingly, we search for things that pull us back to that mind-space, that make us remember what we have left behind? We choose to hold on to this comfort.
Perhaps this state of comfort– all the things a good home can give – is the essence of 'feeling at home.' I believe it is something more than having familiar things around you. Things, after all, break, become lost in transit; shops close down. We move homes, leave behind countries, live and work abroad and reach new states of homeliness. How long does this transition take, how long does it take to get into the state of home? Some slip into this state quickly and seamlessly, others never find it, their former place never quite replaced.
My grandfather would tell me stories of how he came to Scotland. Sitting in his rocking chair, as if telling the tale for the first time, he would always start by questioning: Do you know how your grandfather first came here?
In the early 1960s my grandfather took this country as a surrogate home. He fled Pakistan by road through Turkey and Eastern Europe and arrived in Scotland to find work. The plan was to make money, send it home and to eventually return home. But he never did. His cousin was sent to bring him back, but he also stayed. The home that they had only intended to adopt became their permanent home and replaced the land that they had come from. They would only return back to Pakistan a handful of times throughout the rest of their lives. They would always tell me stories of how they came to be in Scotland, what things were like when they first arrived. They are the reason my family is here today and the reason for my dual identity.
'All my adult life I have fled from place to place, always on the move,
constructing myself, under a different name, in my own demesne, in
different countries […].'[4]
Each time we move and settle in a new environment, we have the opportunity to reinvent ourselves, edit our narratives. Each place left behind is a new script to take forward; how faithfully we recite from this is entirely up to us.
'Where are you from?'
'No, where are you really from?'
'Where were you born?'
'Yes, but where is your family from?'
I often find myself replying, as if having memorized a script I mustn't stray from, 'I'm from Dundee… but my family is from Pakistan.' I don't call myself a Pakistani. My identity, the story I tell when I introduce myself is not Pakistani. Saying 'my family is from Pakistan' seems to distance me from the country even further. It places them in once place and me in another, almost inferring that they are from another place and come to my home. Afterall, my identity has the prefix, 'Scottish', which places the country I was born in before cultural and ethnical heritage. I find myself re-telling my grandfather's story when explaining more about me. I might separate where we are both from, but our stories are connected – without his I can't tell mine.
Notes:
[1] Divya Tolia-Kelly, 'Locating processes of identification: studying the precipitates of re-memory through artefacts in the British Asian home', Transactions of the Institute of British Geographers, Vol. 29 (3), (2004), pp. 314-329, p. 315.
[2] Jen Hadfield, 'Home-Scars, in The Poetry Review, 106.4 (2016), pp. 65-72, p. 68-69.
[3] Helen Oyeyemi, The Opposite House, (London: Bloomsbury, 2008), p.1
[4] Devlin, Polly, 'Flight Path' in Writing Home, (London: Pimpernel Press, 2019).