Tweet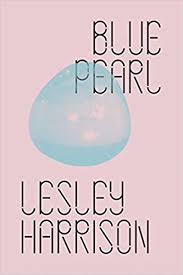 Blue Pearl is a gift to readers who, like me, are fascinated by wild places. These poems do not, however, offer easy representations of frozen wastes as unexplored purity. They are populated with life and stories waiting patiently for those who are prepared to dig for them.
Lesley Harrison is a Scottish poet whose work has been widely published. Harrison lives on the Angus coast and has travelled extensively in remote regions, and she weaves those experiences into her poetry. Previous collections include One Bird Flying, a pamphlet inspired by travels in China and Mongolia and Ecstatics: A Language of Birds, a collaboration with artist Laura Drever which won the Callum Macdonald award. Blue Pearl shows Harrison to be a meticulous poet, as fascinated by the shape of words as the stories they convey.
Everything about Blue Pearl evokes the North. The language, like the light in northern regions is breathtakingly clear but eerily askew. In 'Balaena Borealis', the close attention to small detail obscures as well as illuminates the whole, a quality that runs throughout the collection:
indented, the lips, the abdomen yellowing with age.
Its surfaces are furrowed, the sinews dividing into threads[.]
Many poems in Blue Pearl explain a single concept in evocative new ways. At times they feel almost like riddles of sense or emotion rather than of narrative or logic. This technique is most visible in Harrison's use of the Icelandic rune poem; collections of three-line stanzas describe the qualities of a rune, though in this case Harrison uses her own choice of noun in place of those ancient symbols:
noctilucent          high pitched
                           elusive, neither plant nor animal
                           a thin polar cloud
Being unfamiliar with the term noctilucent, this is where I started to look up words, uncovering the meaning after the initial sensory experience of the poem.
Harrison seems to be nudging the reader into inhabiting words as they convey the essence of the far north; she encourages us to dig under the white printed page for the richness of meaning below, much like the characters who inhabit or encounter such landscapes must do in order to survive there.
One particularly moving poem is formed of three solid blocks of text in the voice of Pia Arke, a Greenlandic–Dutch conceptual artist who made work that challenged colonial constructions of her cultural identity. The wrenching, intimate lines of 'Nude' are a stunning contemplation of how poet and artist can converse across mediums, allowing their work to be changed by others unlike them. It is an unflinching conversation on power and difference ‒ on whose stories get told and how. Short, declarative sentences discover the artist within and beyond her work, as well as revealing the poet as observer and the tensions this triangulation evokes:
I must always carry objects. You are heroic. I am a complete museum, the story of my own making. I am a mirror to you; you are reflected in the looking at me. At best, I mimic you. You write me. When you leave, I will no longer exist.
Arke is not the only character given voice in this collection. We meet hubristic 17th century explorers, a quiet farmer dwarfed by his landscape and reencounter Gerda and Kai, the poor victims of Hans Christian Anderson's Snow Queen in the stanzas of an almost rune poem:
Gerda she dances in daylight
a blank sunny surface
as pure as a doll
shoeless, forgetful
Blue Pearl is a poetry collection that should be read more than once. The first time is for the evocative mystery of the words and again—search engine at hand—for the stories behind them. While her poems will stand as visceral invocations of sound and light in northern climes without further research, patient reading yields a defamiliarization that will nudge the reader into exploring the limits of their own interpretation, an important message when exploring unfamiliar culture and landscapes.