THE UNMAKING OF ELLIE ROOK
Tweet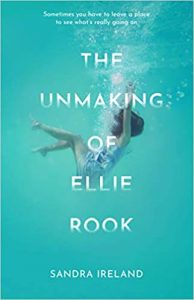 A psychological thriller, entwining local myth and legend with modern day themes of love, loyalty and survival, The Unmaking of Ellie Rook leads on from Sandra Ireland's previous works, Beneath the Skin and Bone Deep, to explore the dark side of family dynamics, skewed loyalties and emotional manipulation.
Set in a fictional village based around the Den of Finella, a stunning waterfall that feeds into the sea near St Cyrus on the east coast of Scotland, Ireland draws inspiration from the 1000-year-old legend of Queen Finella. Hunted down for killing Kenneth II to avenge the murder of her son,  Finella reaches the waterfall with nowhere left to run. There are many theories about the end of her plight; did Finella climb into the trees and make her escape, or did she jump to her death? There are few answers, although some believe that she survived and made her escape to Ireland.
The story begins with the prologue. Ellie, the protagonist, recounts a memory of walking with her mother close to the waterfall, 'Tell me again about Finella', Ellie urges her. Together they re-enact the legend, creating a mood of innocence that highlights the strength of the mother-child bond, emphasising also Ellie's strong, vibrant character.
Ellie escapes a world overshadowed by the twisted carcasses of her father's scrapyard to a bright new life at University, leaving her mother and brother to contend with his disparaging ways. Enjoying a gap year that her mother believes 'will be the making of her', Ellie receives a phone call asking her to come home: her mother has gone missing and is feared drowned.
At home Ellie's confidence wanes, exposing her complexities as Ireland cleverly drip-feeds  accounts of misogynistic relations and domestic unease in her representation of the Rook's home. The idea of the kitchen at the heart of the home is smeared with oil-laden male dominance and narcissism, as Ellie realises 'the only clean shiny thing in the whole place has always been my mother.' Doing what she is good at, Ireland weaves premonitory tension through the narrative, activating mythical symbolism, notably in the appearance of a crow, the birds Ellie's mother loves to feed which holds a familiar green button in its beak.
Ireland has a knack of creating well-rounded female characters that are authentic and loveable, and also shows her storytelling dexterity with the creation of Lawler Rook, Ellie's father. Raising his son, Ellie's baby brother, River, in his own image whilst commanding respect and loyalty from the women in his family and workmen from the scrapyard, Rook  is a fascinating character that we find ourselves unsure of, feeling both fear and empathy for in equal measure.
Ireland writes of her novel, "I wanted to say something about the lives of women who feel they have no choice." Disturbing in its own right, the novel fuses modern-day domestic abuse with that of  historical violence against women, with Ireland handling its insidious nature and damaging legacies with tact and care. A subtle change of tone leads into the story, instilling a sense of foreboding that remains with every turn of the page, as in the prologue and at the end of the novel, Ellie asks her mother, 'Do you think she survived?', and her mother's reply, 'What do you think?', says it all.