The Caiplie Caves (Shortlisted, 2019 TS Eliot Prize)
Tweet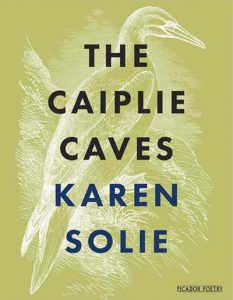 This is Canadian-born Karen Solie's fifth full collection and it is a strange and wonderful read, taking two outwardly unappealing themes of loneliness and indecision and exploring them fully through the eyes of the seventh-century Scottish saint St Ethernan.  The titular 'Caiplie Caves' were the dwelling place of said saint on the sleepy Fife coast, and having visited them some years ago I can confirm they are stark and imposing, and a perfect spot for an ascetic to contemplate the meaning of things. Solie draws a picture of St Ethernan's conundrum – whether to act by building a monastery or to withdraw and live a life of contemplation and solitude, a choice Ethernan describes in the opening lines of the collection as his 'apprenticeship to cowardice'.
This uncertainty is explored through a variety of poetic forms and occasional passages of stylised prose, some voiced by Ethernan and others in Solie's own voice and others from her imagination. More voices are added throughout, overlapping tone, narrative and place while holding to the contemplative and often rueful central themes. At the core of this is the poem 'When Solitude Was a Problem, I Had No Solitude' which lays out bitter resignation in its opening lines:
Experience teaches, but its lessons
may be useless. I could have done without a few
whose only byproduct is grief.
Solitude is not the poet's only response to the challenge of action; anger is also an option:
To make our own the righteous anger
that keeps some people alive
feels like doing something
so grief and fear don't stir
under their blanket, don't open their eyes.
Another response is frustration with the lack of sense and order in the world, where electrical appliances resist their users' attempts to understand them, as do the more complex appliances of the mind, described in 'Time Away With The Error',
No operator's manual for the long night
either,
no troubleshooting tips for those of us
who truth can't stop going
where truth isn't.
A wonderful and sad short poem 'Song' (the first of three poems with that simple title) describes the process of Ethernan observing the decisive actions of others while himself in the grip of long years of inaction,
Ships arrived to harvest souls // I saw stones become a
church //
before concluding that
I saw trees turn into ships, and sail away //
The narrative of this long meditation is not bound by that of the obscure era in which it is set – the vernacular is modern and the wit feels contemporary. Again from 'When Solitude Was a Problem, I Had No Solitude',
                                      For Christ's Sake.
I am guarding the walls. Like punctuation
it could make all the difference.
and in the opening lines of 'The Sharing Economy' a voice rails against the culture of celebrity and the cult of mirrors:
This performance of "I want my fucking Money'
broadcast live from the street will conclude
when the last human being on earth
has perished.
Despite the searing language Solie occasionally employs to face off against the subjects that trouble her, the tone is mostly inward-looking and often resigned to her protagonist's decision not to make a decision. Ultimately, Ethernan's poetic story is a study in self-delusion – the protracted internal arguments simply mask his avoidance tactics, to which he almost seems blind. Viewing his struggle from a distance, we readers want to know if Ethernan ever leaves this place of solitude and contemplation (spoiler alert: he doesn't). The end of Ethernan's story, however, is perhaps the beginning of Solie's journey into herself, addressing her own conundrum – to contemplate the possibility of reading more poetry, or to set-to and actually create some? In The Caiplie Caves she proves the value of action over contemplation: without action, we would not have this satisfyingly strange and lyrical collection.