Arias (Shortlisted, 2019 TS Eliot Prize)
Tweet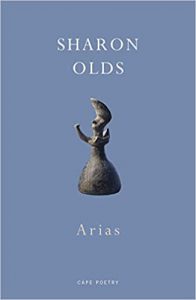 Arias is American poet Sharon Olds' twelfth poetry collection. Her 2012 collection, Stag's Leap, which focuses on the break-up of her thirty-year marriage, won the Pulitzer Prize and the TS Eliot Prize.
To say that Olds' poetry is personal would be an understatement. It is intimately personal, corporeal, visceral, but also somehow transcendent. Her work is firmly in the Whitman tradition, celebrating the body in all of its states: unborn, being born, living, childhood, hurting, in ecstasy, motherhood, in pain and dying, and even in resurrection. Yet her poetry is unified in one particular respect; it speaks to the reader in such a way as to create the impression of being taken inwards to Olds' spiritual self. The feeling is uncanny and it would be easy to imagine, unsettling for many.
Arias is a large collection, split into eight sections. 'Meeting a Stranger' is a short introit of sixteen poems on that theme; some of the meetings within the poems are joyful; others horrifying, as in 'Poem which talks back to me', where the poet is imagining the feelings of the parents of a murdered child. The 'Arias' section contains 38 poems, each dedicated to a single body part or concept, such as Anal Aria, Breaking Bad Aria, Cervix Aria. Here the poet delves into subjects that other writers might not dare to explore; sex, violence, entrails, guilt. In 'Timothy Aria', the poem is narrated by her son, in the act of being born:
Until I was fully born – even while my
crown was moving toward the surface of my mother, then
was framed in her nether rock-star hair –
I was Timothy. I'd been Timothy
for nine months, and I was Timothy
when the sexual palm of her body passed up
over my brow, and nose, and mouth[.]
A theme within Olds' poetry, taken up in many of her works, rehearses the memory of having been regularly beaten by her mother (presumably as a punishment for bad behaviour). In 'Waist Aria'
Young lady – go up and wait for me
with your clothes off, below the waist[.]
These beatings appear to have been highly ritualised, almost sexualised; poems that address these memories accentuate the intensity of trauma arising from the violence. Such punishments seem to have been bound up in the family's Christianity. In 'I do not know if it is true, but I think', she writes,
My mother beat me to the meter of 'Onward
Christian Soldiers'…
Further on in the poem, Olds reflects on whether her mother had been beaten in a similar fashion, and her mother before her.
The reader can sense the fear and shame that linger in the poet's memory. Some critics accuse Olds of obsession with her body, but these poems hint at writing as a way to break through emotional pain. This theme is taken up again in the 'Run Away Up' section.
In 'The New Knowing' section, Olds returns to the theme of separation from her husband of thirty years. Seven years on from Stag's Leap, these poems reveal the enduring legacy of hurt, betrayal, and grief in the aftermath of that separation. In the 'Elegies' sections, the poems are dedicated to her mother (though even here, in deeply moving poems, she harks back to the childhood beatings), her father's second wife and finally, to various friends. The final section, 'First Child', contains four short poems about birth and early motherhood.
Altogether, this collection, as in Olds' other writing, celebrates the importance of women's lived experience. The control, depth and pathos of her style present Arias as another powerful collection by a major American poet.
Jenny Gorrod