Tweet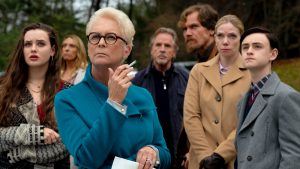 Knives Out opens with a wide-angled long take of the opulent house where a death occurs. After a time, guard-dogs, previously heard dimly behind the studio logos, bound into view and pass to the right, intent on their prey. In these few moments director/writer/producer Rian Johnson establishes the mood of the film: gothic, whodunnit, film noir.
Johnson, known for his "old Hollywood" style, reveals this mastery of his craft throughout Knives Out. Take, for example, the establishing shot described above. Despite being filmed in colour, the shot is muted by its night-time simulation and brings to mind Manderley, Hill House, the Bates Mansion and other notorious residences. The dogs imbue the scene with significance, representing a duality of the threatening and protective. As they pass us by, we go from being intruder to fixture. In addition, they foreshadow much, as they play a key role in the solution to the mystery at the "doughnut hole" core of the film.
In scene after scene Johnson nods to film noir traditions. There's the shadowy figure of an unknown listener in the form of the central detective character; the uncanny 'ping' of a piano key or coin flicked; shots of still-life scenes within the house; a backlit character in an abandoned room; the femme fatale eyes (think Bette Davis) of the closest thing to an ingenue our current age can fathom. The film raises spectres of Welles in The Third Man and Burr's eyes in Rear Window. Johnson dismisses expectations that this whodunnit is a Cluedo or Murder by Death remake by having his detective team recognise the house as a three-dimensional Cluedo board, with all such similarities abandoned from there on.
Going beyond nods, Johnson explores how truth and lies change depending on who remembers them. He layers scenes with social commentary and current politics, displaying in the 'bereaved' family's characters everything from white upper-class complacency to red-hat-wearing to neo-Nazism, and all stations in between. In a stroke, he reveals their hypocrisy as each member claims the heroine, Marta (Ana de Armas), is from a different South American country whilst maintaining she is 'part of the family.'
Via props, Johnson expresses the victim's popularity as a crime writer. Notwithstanding the shots of Harlan Thromby's (Christopher Plummer) prolific titles, he summons levels of George R. R. Martin's stardom. It seems not by chance that each of the family members are interviewed seated in an armed chair, the mandala of a knife display haloed behind their heads, echoing the iron throne of Game of Thrones. The interfamilial ruthlessness is fully revealed here.
Beyond Johnson's expert handling of the film, the cast is brilliant. Each actor thoroughly assumes his or her character, at no time allowing their famous personalities to leak through.
Gentleman detective Benoit Blanc, played by Daniel Craig, takes his place alongside Poirot, Wimsey, Holmes, Marlow, Morse, and Maigret: both for his intellect and for his eccentricities. Waxing lyrical about his method of detection, he invokes Thomas Pynchon's Gravity's Rainbow, feeding into our sense that this detective is a one-off. When Toni Collette's character mispronounces his name as 'blank' I recognised Blanc's intention to remain a nemo, invisible while detecting. This is an intention which shatters as he becomes embroiled in serving up justice with truth. In being criticised for his 'Kentucky Fried' accent by Chris Evans's unsavoury character, Craig might even escape audience disparagement for his old plantation voice.
Knives Out is a sharp and intelligent satire on our deeply stratified society. It departs from film noir in that the genre's 'wrong side of the tracks' dissolution is found in the 'upstanding' characters in the film. It also departs from neo-noir in that it harks back to a time where wit and mood outshone violence and spectacle. With puzzles galore, Knives Out is thoroughly enjoyable.