The Mizzy (Shortlisted, 2019 TS Eliot Poetry Prize)
Tweet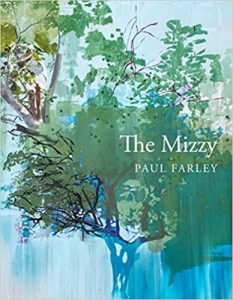 'All I've ever done with my life is follow the average course'
(The Starling)
How bold of Paul Farley to open his recent poetry collection, The Mizzy, with such a provocative admission to have followed the ordinary or 'average course'? Yet, Farley is anything but average or conventional, and throughout this latest collection, the profound self-reflection contained within should prompt our own internal debates, leading to questions about our choices and purpose. The Mizzy contains stunning, jarring and unpredictable poetry, is wisely philosophical and searingly honest in presenting vulnerability, exposing a hollowness in our everyday living and our perpetual quest for meaning.
In poems such as 'Atlas' and 'Glade', Farley exposes our inconsequentiality on this 'gigantic' earth that constantly 'turns' despite us, reminding us in 'Bananaquits, St Lucia' that we are here only for a 'flying visit'. In 'Positioning' Farley gives a sense of our struggle to navigate our place in the world and our relentless manipulation of self-image ─ endless attempts to 'make an entrance' as captured in the symbolic 'Red Carpet'. Despite being a collection that focuses on the pursuit of fulfilment, the universal emptiness of the human condition permeates The Mizzy's haunting poetry.
The natural environment is the focus of Farley's writing and, as he ponders the wordless birds who can never reveal their secrets, he is confident that nature knows something we don't; the common starling acknowledges, 'and soon I'll be dead and the swarm will go on'. If 'The Robin' continues to be our intriguingly 'useless guide' as it 'lead(s) the way' ─ to where and to what we can never be sure. If nature really does have anything to offer, as Farley confirms, 'The Mizzy will only allow you so close'. Truth and knowledge elude human ken throughout this collection even if the desire for purpose is earnest and unabated.
The poignancy of 'The Playground' serves as a nostalgically raw reminder that childhood is the resting place place of creativity, experimentation and carefree escapism; and just as childhood is left behind with waning adolescence, so too is the innocent self-assured optimism of youth. 'Clever and Cold' chillingly expresses the harsh reality that awaits in adulthood:
Jack Frost came
to my childhood window one night and told
me: Look, from now on things won't be the same.
Farley explores the futility of our daily rituals; he observes the all-consuming appeal of horse racing in 'Glorious Goodwood' and in 'Accumulator', the father's 'the long hour' of studying the horses' form is a tense weekly moment which brooks no disturbance. Both these poems remark on such vacuous pursuits.
Farley not only excels in expressing confusion over our purpose on this vast earth but he violently confirms our fragility when in 'Green Man' he recounts a young man kicked to death in a car park. In 'Gold Crest' he wistfully reminds us our time on Earth is short,
and as we age and money comes to seem
the simple trap we fall into to dream
our days away… Just then the music stops.
Yet despite the deep philosophical soul searching that it inspires, The Mizzy is not morose or disturbing. Farley leavens depth and seriousness with a joyful playfulness, puzzling with word choice in 'Nightjar' and experiments with form and white space in 'Long Eared Owl'. There is a thrilling range of styles throughout the poems. Despite exposing man's vulnerability, Farley manages to excite with his strange philosophical quirks; in 'Critique of Pure Reason', he contemplates the course of two raindrops, and in the 'Adrenaline' he observes succinctly the impact of an unnerving yet commonplace physical response such as fight or flight. The Mizzy is a dense and diverse collection of provocative poetry in which Paul Farley confronts all our our vulnerabilities while simultaneously managing to be entertaining and stimulating.