Tweet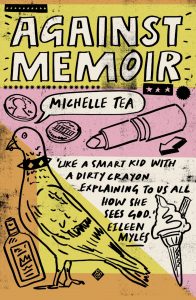 Michelle Tea's latest book, Against Memoir: Complaints, Confessions and Criticisms, turns the notion of the memoir on its head. Divided into three sections – 'Art & Music', 'Love & Queerness' and 'Writing & Life' – the essay collection paints a non-sequential picture of Tea's life, layered under her musings and rants about other LGBT+ artists and events. With equal parts biting wit and profound compassion, it poses the question: who is a memoir for?
From the opening paragraph, Tea makes it clear this collection is not for the faint of heart:
I was thinking a certain way when I first came across the SCUM Manifesto. I had retreated into the desert of Tucson, Arizona, in the midst of what I now refer to as my Radical Lesbian Feminist Nervous Breakdown.  I make light of it, but it was a dark and dangerous moment in my life. I only just learned that my stepfather had been spying on me and my sister through holes he'd stealthily carved in the walls of our home -the bathroom walls, the bedroom walls.
With this, all at once, the collection's character is established. This is a book that balances self-aware, dry humour with personal trauma. It is aggressively queer. And, as demonstrated above with Valerie Solanas (author of the SCUM Manifesto), Tea's own stories and experiences are expertly interwoven with her sophisticated analyses of the stories of others.
The writing is almost electric, imbued with a manic pace as it recounts tales of rebellion, sex and peril:
All across the US, we wrote and caused trouble, and wrote about the trouble we caused, and read it all each night to actual audiences…Performers hooked up in ways both discreet and mind-blowingly not discreet. Like, leaving lube-y handprints on the back windows. Like, getting it on in a room you're sharing with three other people. Like, steering the van with one hand while fisting someone with the other.
Behind this sensationalism, however, is a sharp commentary on the world, in particular the queer political sphere. Some of these insights are shared with passionate frustration: One can only…hope that as the TERFs (trans-exclusionary "radical" feminists – quotes mine) age and die off so will their fearful, reactionary points of view.'  But at other times Tea also directs this perception inward, revealing a clarity of self:
It's important to point out to people when they are fucking up. What I ask is, can we not enjoy it so much?…you know, you're going to fuck up too, I'm going to fuck up. I think it's really important to be humble and forgiving, and not, like, totally get off on shaming a person for not knowing everything yet.
Although the writing is brimming with wit, as much tragedy lies within the pages as comedy. Oftentimes, Tea's own presence as a bystander to the events being described only heightens the emotion. She serves as the reader's point of reference throughout the collection, and we share in her awe, for example as she recalls being 'starstruck' in nineties San Francisco by the lesbian motorbike gang HAGS: 'When they poured into a bar, my breath caught in my chest.' This then intensifies the horror the reader feels upon reading about the painful deaths several of the HAGS suffered after contracting a flesh-eating bacteria, most likely from abusing a contaminated strain of heroin.
The titular essay, 'Against Memoir', interrogates the drive to write memoirs itself:
What would it mean to get sober from writing memoir? What would a memoir bottom be?…my mother nervously making dinner in the kitchen as I stammer out my intention to write a book about how he hurt me, how she stood by his side. "But why do you have to publish it?"
But Tea avoids any self-obsession in this collection by celebrating the lives and works of others. The typical memoir is flipped, inverted, as Tea uses herself as an excuse to talk about the past, and not the other way around.