Tweet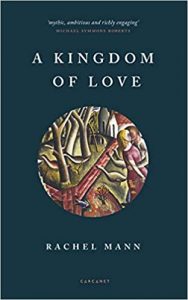 Rachel Mann's A Kingdom of Love is a collection of incantatory free verse that leaves a pattern of allusions for readers with religious inclinations to discover. The sensual and intellectual writing within demonstrates what language can do when tackling weighty issues such as the presence of God, the reality of death, suffering and love.
In this debut poetry collection of Mann, she approaches the project with delicacy, but she isn't afraid of appearing unreasonable—even absurd—in psalm-like poems that stage emotional conflicts between Christian beliefs and her own:
Oh, how slowly we flow, oh
How slowly we flow, we crack with age.

I've lived for the feelings of others,
A philosophy of sorts.
Some poems such as 'Christening' and 'Extreme Unction' stand out from the rest of the collection in addressing rites for the beginning and end of life, where the key theme of love is explored within fragments of scripture and rituals.
Mann has also regularly contributed to The Church Times, written feminist liturgical theology and cultural history. She has published 5 full-length books, including Fierce Imaginings (D.L.T.), Dazzling Darkness and many others. A Kingdom of Love gives an idea of Mann's life as both poet and priest as she interrogates the sacred and profane in a world that dismisses mythical elements. She talks of a world made complex by technology, and her raising of doubts are undertaken in a language that pierces:
God is Love, God is, God is.

A person without a name is not,
That is one of history's truths
(I have seen the films of the camps

Where names are erased).
If God, if if if, if God […]
Though the main theme of the collection is love, Mann manages to explore this and other subthemes with frankness and without clichés. In 'Fide Quaerens'  she tackles/explores  doubts and the uncertainties of faith —
I don't know what 'believe in' means
In the vast majority of cases [.]
Lingering questions about faith and love are raised in a philosophical manner, and rendered with depth and meaning in striking metaphors and images throughout the collection.  In 'Collect for Purity', for example, Mann talks of how love should be like belief, and provides concrete and vivid images to suggest as such:
Love should taste of something,
The sea, I think, brined and unsteady,
Of scale and deep and all we crawled out from.
Here the topic of love is imagined as something wild and natural — the sea —  but at the same time also love is something maternal in that we all emerge from watery depths. The deepest form of love is like the deep sea… yet Mann's doubts  still infiltrates the beautiful imagery of the poem, working at the edge of what language can explore in the presence and absence of God, and above all, of love:
UBI CARITAS

We learn the world, the first world
Of love and drool and sweet milk
Through Lips.

What surprise that prayer shares
A language with kisses?
In 'To A Water God', the human fragility operates as a contrasting rhetorical undercurrent, something changeable, uncertain, in opposition to a biblical God who is often compared to solid rocks, who is firm and steady. The body is envisioned as the site of the water, thus linking the changeable nature of water to humans. In the second stanza the sibilance shapes the mouth and adds a sonic physicality to language:
I want you on my palms. Further back,
When you zig-zagged, young and pissed,
Jump off cliffs […]
A Kingdom of Love is a passionate examination in short lyrics, of some of life's big questions on death, faith, doubt and, of course, love.