Tweet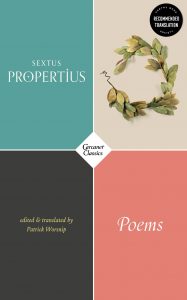 Sextus Propertius (ca. 50 BCE – 15 BCE) may not be the most famous Roman poet of the Augustan age, but possibly unjustly so. Patrick Worsnip has now translated Propertius' elegiac poems for the modern reader, reinterpreting the 2007 Oxford Classical Text as swift, easy-to-read verse poetry. No prior knowledge of Latin literature is needed: the edition contains Worsnip's notes on ancient mythology and specific translation choices.
While the introduction by Peter Heslin, Professor of Classics at Durham University, praises Propertius as an 'enigmatic' poet who is the 'choice of a select but discerning readership', the first of the four books soon pacifies any anxiety that the poetry's core might be obstructed by the plethora of mythological references.
In one of the first poems, Worsnip sets his tone as Propertius lays out one of his major themes:
Are you off your head, Gallus?
You actually want the purgatory I put up with?
Prepare, then, to know ultimate hardships, my friend
walk through unimaginable fires,
drain all the toxic potions in Thessaly.

(I.5)
Although his influences on Western love poetry are quite obvious, Propertius is far from restricting himself to the psychological suffering caused by love. Most poems address his lover Cynthia but not all deal with the addictive love the weak poet feels towards his cruel mistress, and the arising questions about the constancy of women, doors, and graves.
Propertius describes not only his conflicting emotions but the entire experience of love, including personal opinions and bizarre contradictions. He often changes perspective, addresses different people and new themes, particularly in the later books. As he writes in I.7, his poetry is 'ten percent inspiration, ninety percent vexation' – and this vexation is what makes Propertius interesting, creating a sub-tone brilliantly conveyed by Worsnip.
Whether he complains about make-up, money, or society generally, the modern translation often aids the subtle irony present in the original text. Propertius repeatedly protests that he cannot write pro-Augustan historical epics like his contemporaries and wants to stick to the battlefield between the bedsheets.
Worsnip translates the tone of these passages extremely well, such as when Propertius writes
That is how I shall spend
my last days; but you who prefer
To make war, off you go and bring
the standards of Crassus home.

(III.5)
Despite sometimes very modern or colloquial terms, it remains clear that this version of Propertius' poems is 'translation, not adaptation or imitation', as Worsnip reiterates in the afterword. It might surprise the reader that a poet living in the Roman Empire should speak of 'cash-cows' and 'designer nails', yet Worsnip never strays far from the original text, although he  aims to restore its rhythmic qualities in verse. While most poems are in free verse, sporadic rhymes or metre, assonance and alliteration make for a poetic elegance. A beautiful example are two lines from poem III.20:
Sun, who spin out your fire longer in summer
shorten the journey of your lingering light.
In a few poems, Worsnip also integrates Latin words or phrases into his translation, reassuring the reader that it is still Propertius speaking. Unfortunately, though somewhat appropriate for a modern translation, Worsnip more often uses French for a romantic tinge. While he never chooses phrases that are particularly complex or unusual, it feels at times disconcerting that he should write 'amour' rather than the Latin 'amor'. While it is understandable that he may not want to disturb the reader with footnotes on the page, but some could have helped understand some of his more daring translation choices.
Overall, Patrick Worsnip's translation of Sextus Propertius' poems is an impressive piece of work, even more so if one considers how little experience with professional translations he had until his retirement. Thanks to him, a new generation of poetry lovers will be able to explore the depths of Propertius' enigma.