'The Audience is Half the Poem': An interview with Joelle Taylor
Tweet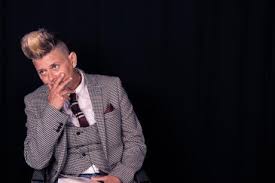 It is not hard to spot Joelle Taylor across a busy theatre foyer. The tall blonde quiff gives her away, but as I approach, I notice an open confidence that suggests performance poet too. I meet her on the penultimate day of the StAnza poetry festival, less than a fortnight before such gatherings become a national health risk, which, on reflection makes me all the more grateful for her time. As I walk over, Joelle is chatting with Eleanor Livingstone and Annie Rutherford, the festival director and co-ordinator respectively. After briefly introducing myself I fall silent, allowing the conversation I interrupted to come to a natural close. It's a privilege to eavesdrop on their catch-up until we are generously ushered into the green room. I was expecting to be chatting over the clatter of the café downstairs, so the backstage pass is a welcome treat.
The room is small, with piles of books on a low sofa and a small kitchenette for theatre staff off to the side. As we take a seat at a table in the centre of the room, we discuss her latest poetry collection Songs My Enemy Taught Me, a troubling but deeply moving study of women's experience of violence across the globe that begins with a poem about her own experience of rape and sexual assault. I'm keen to hear about the process behind such challenging work, and the journey that led her to it, but I am unprepared for the depth of her candour.
After winning the UK Poetry Slam the previous year, Joelle was asked by the Poetry Society in 2001 to set up a spoken word competition, later to become SLAMbassadors. From that point on, Joelle worked in schools across the country with disaffected youth, mainly young boys, alongside writing her own plays and poetry collections. 'Setting up the slam changed me. I'd been so frightened of males as I grew older, [but] suddenly I was able to see their vulnerability. It was a revolution of my heart.' As with all her work, the mentoring of others is a core source of inspiration for her own poetry, and during this time she found success writing about the young men she supported. But this led to a realisation that some stories are privileged above others. One of her most successful poems, 'Last Poet Standing' is studied on the OCR curriculum and was originally written about a girl.
I just changed the pronouns and it went from nobody really responding to packing out the royal festival hall. It has a sister poem called 'Crystal Kisses' which is directly about girls growing up in gangs that never hit the same kind of public domain because we're talking about a gang rape so it is seen as something we can't talk about.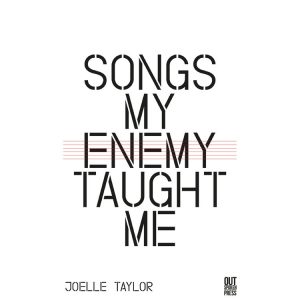 Her rising interest in countering this inequality led her to a dramatic change of course in 2017, when she sat down to write a poem about her experience of rape as a small child. It would later become the opening poem of her most recent collection, Songs My Enemy Taught Me. The poem took her by surprise and led to a shift in priorities, eventually leading her to leave behind the project she had built over 20 years. 'I quit everything. I just dropped my career and walked away. You reach these points as an artist where you have to (go through) a process of letting go and taking great risks.'
My list of carefully prepared questions lays forgotten. Anything I put to her from this moment on becomes a different tack towards the question of how and why a poet might take such a material and psychological risk, especially given that the content of her poetry is so personally challenging. She is generous and patient in her answers, but does not sugar coat: 'I did think I was going to have a nervous breakdown through the writing of it and I was very, very surprised it didn't happen. You have to go into the locked room.' The locked room is less of a metaphor that you might think. Writing the poem, Taylor says, 'I imagined the hotel where I was raped is on fire. I'm still a five-year-old locked in a top room but this time a 49-year-old woman breaks the door down, picks the kid up and leaves.'
The anticipated breakdown had come earlier, the necessary recovery from it provided clarity for the way ahead, proving she 'didn't have to write about disaffected young boys any more'. A late running show had cut her performance short mid-way through her poem, 'Everything You've Ever Lost', a powerful, grief-struck poem about a friend lost to suicide. Stripped of her tried and tested methods of channelling and releasing that tension in collaboration with her audience, she came close to ending her life on the train home, only to be saved by frantic messages from her publisher. 'I think I grieved my entire childhood teenage years and early adulthood on that one and a half hour train journey but it seemed to unburden me quite a bit'.
I wonder if she too is in unexpected territory, the way she seems to be speaking directly to my own fears about writing into darkness, or if this is natural to her, a poet's way of getting to the heart of the matter. 'I can't recommend enough telling the truth. It's far less frightening than you think it's going to be. I hope courage calls to courage because it turns out you need far less than you think.' It feels nothing short of life-changing to sit with someone who has gone to the darkest places and come out the other side with such powerful, galvanising work. It puts my own creative fears and struggles into sharp perspective.
I am fascinated to know what supports her through the danger of writing and performing such painful content, and find that one of the more surprising supports for Taylor has been finding the form that best conveys that content. It's another creative departure, this time a shift towards page poetry form. Taylor discovered the canto, finding it to be a release from the responsibility of the spoken word form. 'People don't think that slam has a form but slam is a form; it's got its restrictions and controls and there are ways of approaching it. We call it a victory poem where there's going to be this arc that builds and builds until the audience can't help but stand at the end.' In contrast, Taylor describes the canto as short scenes revolving around a central metaphor. 'When I write a page poem I don't have to worry about if it's got a narrative arc. It doesn't necessarily have to go anywhere.'
It strikes me that this approach does chime with psychological understandings of how our minds and bodies process traumatic events―how memory becomes fragmented when an experience is unbearable. It makes perfect sense that the so-called victory poem isn't quite the right form for such embodied expression.
But the ultimate answer to what enables this deep work is also its purpose. Joelle's commitment to her community, and the support she receives in return is evident in everything she does. During her performance at StAnza later that day, she reflects "I helped other people and that taught me to help myself". This profoundly communal aspect is a key part of her live performances and audience interaction, as it is in the slam scene generally.
I ask her about the responsibility she feels to audiences when sharing 'difficult' work, a question that is embedded in current debates about so-called trigger warnings, where advance warning is given about the content of performances to protect audiences from being exposed to upsetting content. She is keen to critique this approach, seeing it at its worst as having a silencing effect on women's experiences. Joelle shares an experience of hosting OutSpoken, a regular poetry night at London's Southbank Centre, at which complaints were made about a female performer sharing poems about sexual assault. The same night a male artist's performance included stories of war and child murder but went unchallenged.
Although I do think it is important to give audiences a sense of what to expect so that they have some degree of control over what emotional experiences they are exposed to, I do understand her frustration when this attitude tips over into paternalistic silencing. Taylor goes on to share her alternative approach, which involves a far more nuanced and holistic sense of collective care. It challenges bias and sets its sights on community healing, not just safety. It is a compelling vision;
I get a lot of women, and men too, who come to talk (after the show) and they are crying and talking about past experiences but there is such an empowering moment in that. If you've always had this shame and you're in a room with 300 people and I'm on stage and I'm talking about it, at some point during that performance the woman whose crying is going to look across and see another woman crying and see a bloke at the back bawling, somebody else hitting the chair and then you've got a community. In a community together our responsibility as poets is to talk about things that people cannot vocalise.
Our interview setting itself provides a surprising example of this approach at work; part way through our conversation, as Joelle is describing the experience of inhabiting a body that has endured sexual assault, a member of the theatre staff comes in on her break to make a cup of tea. Joelle welcomes her in with a grin and a wave and carries on with her story without missing a beat. I feel uncomfortable on behalf of both Joelle, who has an unexpected new witness, and our guest, who I'm sure wasn't expecting such a visceral tale with her cuppa. But neither seem at all put out as Joelle begins to speak about her work with a group of Afghan poets and their distinct form of resistance poetry, the Landay, 'only Afghan women are allowed to tell Landays and when you come across them, they are so incredibly powerful. They are like Haikus but I call them fuck yous.'
At this, we all laugh; Joelle, me and our visitor, who chuckles an appreciative 'I like that'. It is a brief moment of shared joy and such a perfect demonstration of the point that I doubt Taylor herself could have scripted it better. We are getting closer to the secret of how to move through disaster into transformative joy; it's all about breaking the discomfort of silence with stories (and possibly one or two defiant expletives along the way). In this spirit, the story our new confidante and I are treated to is worth sharing in full:
There's these women in Taliban controlled Afghanistan who are meeting in secret because women are not allowed to write and they are writing these poems that are the antithesis of how they appear. Most of them are about shagging and desire and a lot to do with war and politics; things that under this restricted regime women are not allowed to do. I went to work with this group of Afghan women refugees and we had the most amazing time. You go into these sessions shaking because you're some white girl from the ends and these women are like the fuck is that but in a very, very quick time in spite of all the grief and the trauma you're laughing and fighting over biscuits.
I ask Joelle how different it is performing for audiences such as those at StAnza, who on the whole sit quietly and wait to clap until the end. After telling me categorically that she will not let us get away with that, she explains that clapping is a release of energy, 'an important part of the communal exchange', giving the audience a chance to reconnect with their bodies and refocus. I think back to the interrupted performance she described earlier and have a far more visceral understanding of why it was such a rupture. In her characteristic 'from the ends' tone, Taylor rounds out the point with brilliantly incisive humour.
That exchange that we typify on stage in slam and spoken word which is that we are half the poem, the audience is the other half is why we get sweaty if nobody is responding because we can't go to the next level. It's like sex. If you're just fucking lying there and letting me do you darlin' this is wonderful for me but what about your fucking responsibility as half the poem.
The laughter we share is another release, and although she doesn't explicitly say it, I sense this communal attitude has its roots not just in her chosen form, but also her working-class queer identity in which gathering community about you is a matter of both physical and emotional safety. 'Poetry for people from marginalised communities is a communal event and it needs to be important. If I'm taking up 45 minutes of your time, I don't want to read you a poem that's technically brilliant about how shiny my fucking shoes are.'
It is not just the audience-performer relationship which is a mutually supportive core of her practice. Her mentoring of other poets through workshops is another vital element. As research and development for her latest collection, Taylor conducted 18 workshops over nine months with groups of women in settings such as prisons, refugee camps and women's shelters and used the experience to fuel her writing.
My process is to be inspired by direct contact with the people that I'm speaking about. I can see that as a sort of defensive mechanism as much as it is an important technique, but there's two things happening at the same time.
Once her last book was published, Taylor began work on her upcoming short story debut, The Night Alphabet which takes 10 of the poems from Songs My Enemy Taught Me and reimagines them as fiction, enabling a more detailed, playful narrative. As part of this project, she chose three of the poets from the previous workshops to mentor intensively over the year, helping them not only creatively, but teaching them how to lead workshops and develop their own arts projects. There's a touch of awe in her voice as she recounts an impromptu performance from one of her mentees, who she met during the Landay writing workshop, 'she just stood up and read her work out and the audience erupted. It was one of the most powerful moments of my life and I know hers, (showing) that with just a little bit of outreach, a tiny bit of support that's all people need'.
Before Joelle rushes off to see her friend Tony Walsh perform, she speaks briefly about her newest project, Butterfly Fist which is shaping up to be a glorious mashup of page and stage poetry, combining a book with a 'big, theatrical musical experience'. 'It's a series of cantos about being a butch lesbian woman growing up in underground queer culture in early 90s London and the great grief we suffered but also the sense of community in our relationships to gay men.' It seems Joelle Taylor is all set to continue making work about the multifaceted ways community can pull us through trauma, and writing this from my suddenly multi-use kitchen table in the midst of lockdown, I'm sure we'll be needing her stories more than ever.