'Poetry is only good at the big picture if it's talking about the small detail': An interview with John Glenday
Tweet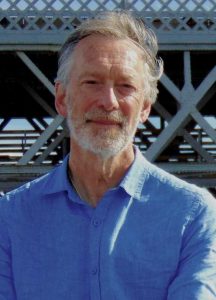 I am ravaged by a fever that incapacitates me for days. Every part of my body aches and my mind is occupied only with the sensation of intense discomfort and the wish for relief. I feel as though broken glass has settled inside my chest. Every inhalation agitates it into a cloud that stabs my lungs. The Covid-19 virus is wreaking havoc across the globe. Schools and universities are closing. Flights are cancelled and lockdown has begun. Hospitals are inundated with the ill and dying. From this perspective, it seems strangely prescient that just weeks earlier I had been discussing Cormac McCarthy's post-apocalyptic novel The Road with the acclaimed poet John Glenday.
Glenday lives in Carnoustie and had agreed to meet to talk about literature and the writing of poetry. 'What a doom-laden, monochrome, violent book that was!' he announces gaily the day we meet. Tucking into our cake and coffee in Dundee's Contemporary Arts cafe, we are blithely unaware of the situation about to befall us. My memory of The Road is one of dread and horror. I recall reading it on a train, traumatised yet unable to put it down. A fellow passenger spotted the book and, having read it recently himself, offered condolences. 'Does it end well?' I asked desperately. 'Not really,' the stranger answered solemnly and lowered his eyes, unable to offer any solace.
In contrast, John Glenday is most inspired by the redemptive paragraph on the very last page. 'McCarthy writes about the hills in the South and the streams; how the light used to catch the scales of the trout and it was prismatic. All the colours would be glinting on the scales as the fish swam in this absolutely clear water. He writes how the shape the scales made on the fish's flanks was like a map of the world in its beginning. And he says this right at the end of a novel where there's no hope for anything. We're all just completely destroyed and then we get to this beautiful image of these extinct trout. And you go: wow!'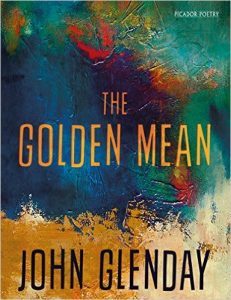 I have no memory of this detail at all but its significance for John highlights something vital that underpins his own writing. For him, that stunning image of the trout in their beautiful natural habitat balances all the horror of the preceding story. Which is exactly what his own poetry achieves, albeit on a less cinematic scale. Take 'The Walkers' – the final poem in The Golden Mean, his most recent poetry collection. It describes the journey of the dead as they return home to urge the living to cherish what they have, warning that it won't last forever. It takes a deft hand to steer the sentiment away from something mawkish but the writing manages to rest on a delicate axis between heartbreak and humanity; the urge to turn away and the necessity to bear witness. It is hauntingly beautiful.
'That was a strange one', explains John. It was commissioned by a Dutch film-maker he'd met at a film-poem conference. 'I didn't know what to do but I quite like that sort of commission when you're forced to look at something you've not been looking at.' Initially, the film did not inspire any poetry. 'It was just a vague film of blurry outlines moving across a landscape. I thought: what the hell am I going to do with this?' The year was 2014 and reports were just surfacing of an airline disaster. Malaysian Airlines Flight 17 had been shot out of the sky as it crossed Eastern Ukraine with the tragic loss of all two hundred and ninety-eight passengers on board. Subsequent reports suggest ro-separatist fighters mistook the domestic plane for a military aircraft[1]. Eighty of the passengers who died were children. It is almost unbearable to look at the photographs of the dead who accompany the media reports, to absorb their number as they smile into the camera, oblivious to the violence they will meet. According to a subsequent investigation, a missile had been transported from Russia on the day of the attack, fired from a field in a rebel-controlled area and returned to Russia afterwards. A trial began in March of this year in The Netherlands, though Russia continues to deny any involvement.
'There were two images in the media at the time that stuck with me: one was of a Russian separatist fighter with an AK47, a fag in his mouth and a teddy bear in his other hand. He was unshaven. It was quite a disturbing image. And another was of a field of sunflowers, not quite in bloom, and there were all these little plastic flags; bits of tatters of plastic bags hung on sticks and each of those marked a body which you couldn't see.' Apparently, the flags were placed by locals who came across the bodies and, as a gesture of respect, marked each place as best they could. The stuffed toy had been looted from the wreckage. 'Those two images are of course where the poem started. A lot of my work starts with an image which I then spend a lot of time getting away from to see something new'. A google search brings up both images in seconds. The lines 'A white tatterflag marked where each journey began' and 'A soldier cradled a cigarette, a teddy bear and his gun' resonate differently knowing their origin. 'One thing I like about poetry is when you deal with a big subject matter like an aircraft disaster…. You know… two hundred and ninety-eight people killed; you can't sit and write how awful it was—almost three hundred people killed and the plane falling in flames from the sky—because it's just too big for a reader to understand. One of the things that poetry does well is to focus and be quite precise. So you describe the smallest element of that. Which is what? A little plastic flag in the ground. The soldier holding a teddy bear'.
Precision is something John Glenday's poetry is particularly noted for. According to the introduction to his most recent collection: 'Glenday's mastery of the short, translucent lyric… means he can sometimes read as a Spanish or Eastern European poet in immaculate translation'. Yet for all its economy, his writing is a lengthy process. 'Norman MacCaig used to say he wrote one fag and two fag poems. And that's fine for him but I spend weeks and weeks on a tiny poem.' Glenday likens himself instead to Gwen John, the painter who famously continued to touch up her canvases as they were being transported to exhibition. Perhaps this explains why, despite its accolades, he has yet to publish a follow-up collection to The Golden Mean printed back in 2015? 'I've got a pamphlet coming out at the end of this year and I sent the manuscript off about a month ago and the publisher said 'That's great. Thanks, John.' Then I sent him it again, saying 'Sorry, I've changed it'. And I've now done it again and it's something like one word and a slight change to punctuation. And I think: You've got to stop.'
So, how does he know when he's finished a poem? 'If you imagine the poem is made of clay. You're working and working the clay. Eventually it's going to set. It's going to go hard. And even though you want to change it, it's not going to do anything. It's solid, dried-out clay at the end. That's what happens to the poem. You're desperately re-working it until it gets to that stage where it's too far in the past for you to change again. It's already been said: a poem isn't finished; it's abandoned. That's true'.
As well as working on his own writing, John is currently involved in Art Angel Dundee, a charity that supports people who have experienced mental health problems to 'learn and re-learn to be themselves' through making art. He teaches a weekly creative writing class. 'I love it. I go every Friday and we have a great laugh and we write something and read it out and we chat about what's going on in our lives.'  The act of listening is the bedrock of the organisation. A statement on their website reads:
With a background in hospital-based healthcare provision, John is familiar with the inherent hierarchy of the institution and its reluctance to listen. He describes GPs who continue typing, unable to look beyond their screen during patient consultations and pre-op checklists that have replaced an open conversation with the patient facing surgery. Does creative writing facilitate therapy in a way that standard healthcare fails? 'Well, it's a form of communication, you know? The same as poetry is. The wonderful thing about the Art Angel class is that it's not just a place where people come to write, it's a place where those writers can talk about their lives, share the difficulties and share the joys. The people who go there inspire me a lot, because that's what being a writer is all about: acknowledging and facing up to the inherent difficulties, and continuing to write'.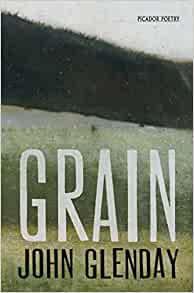 The transformative power of attention is a recurring theme in John Glenday's life and art. Andrew Greig once wrote in The Scotsman: 'It is clear that though Glenday has intelligence, learning and technique enough to afford to downplay them, his poetry's source is not in these but the heart. The heart and the noticing eye. Perhaps more accurately, a calm receptivity that watches from behind the heart.'[2] On the day we meet, two men fitting John Glenday's description walk into the DCA café. Both are bearded, both have white hair and are dressed in an unassuming jumper. Yet, I know immediately which is the real John Glenday. There is something of his own watchful poetry about him. The poet Li-Young Lee once said: 'I'm trying not to write. The fact that I have to write is unfortunate. I'm just trying to hear something'. Does he identify with that kind of writing process: an emptying in order to listen, rather than striving towards something already imagined? 'I suppose another way of saying "empty" is "receptive". That you're always paying attention to the world. Poetry is redemptive because you have to look at things really closely. Often my poems are about things that are very mediocre, or ordinary, forgotten, overlooked. And the poem gives it a second chance.'
Amongst other literary projects, John Glenday has published four collections of poetry to great acclaim. When you talk to him it is easy to see how the act of writing poetry is, in itself, an inherently significant act.  I'm beginning to wonder if publication is all that necessary; is it enough to be making art for art's sake? 'Well, what is writing? To me, writing is a conversation. It's a conversation with someone you can't see and you may never meet. But it is a conversation. You're saying something to people and in a strange way you're also hoping to hear them in the poem. You hear how they're going to respond to the poem as you're writing it. And if you imagine that that writing process is simply you speaking to yourself then fine. But why does David Hockney have exhibitions? Why doesn't he paint and leave them in a cupboard? It's a public act. Creating is a public act'.
Has he any advice about honing the poetic voice? 'Read! Everything you read will inform your writing. I do a lot of online work with writers and I'm always asking: 'what are you reading?' before I'm asking 'what are you writing?' For every poem you write you should have read one hundred.' My eyebrows raise involuntarily at this statement. That sounds like a lot of poetry. 'Well, I think it's reasonable. Reading is a symptom of the fact that you love literature. You have to love words. And love the way they sound on the page. And the way they fit together.'
Is he ever concerned his own voice will become overwhelmed by all the poetry he reads? 'I remember reading Denise Riley's Selected Poems and thinking: God, I've forgotten this is what poetry can do. And the day after that I'm thinking: well, if I'm writing it now, it'll be Denise Riley I'm writing because it'll have her voice in it. But that fades'. Somewhat prophetically, he uses current motif to describe the process: 'It's like catching a cold, you know? You have the symptom for a couple of days and then you return to what is your own voice. And it'll be slightly modified by Denise Riley or Sharon Olds or whatever. But it's your voice. It's not Denise's voice or Sharon's voice. Because you've contracted the virus that was Sharon Olds and now you're immune to her. You've absorbed her, you know?!'
'The mistake I made in my late teens was to think: I want my own voice. I want it to be different from other people. Therefore, I'm not going to read any contemporary poetry. Tremendous error. Because then you've got to teach yourself something from the beginning. It's like saying: I'm going to design the best racing bicycle there is but I'm not going to look at any other bicycle. I'm just going to start. You'll end up with a bloody penny farthing.'
And yet, he is very clear about the obligation that a writer has: 'When you write anything, you're asking your reader to invest part of their life in it that they'll never get back. And someone who has put words down on the page in a tired and obvious and self-congratulatory way, they're wasting my time.' He is not claiming that his―or any—opinion represents the literary benchmark. 'It's where it's sitting. It's the same as a work of art. What makes a work of art a work of art? If Tracy Emin takes her bed with the empty vodka bottle lying at the end of it and the dirty clothes lying on the floor, why does this become a work of art? Precisely because it was removed from the context, you know? It transforms it into a work of art. The context is really important'.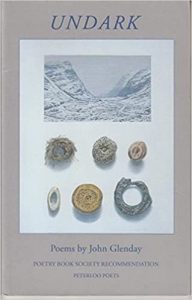 It is, he says, a matter of how you say it, more than what you say. 'A lot of people who are beginning to write poetry think they have to say a lot – provide a lot of subject matter and explain it all to the reader and then go over it again and sum it up at the end. But you don't. You give them this tiny snapshot so the poem is allowing the reader to look through this window for a couple of seconds and then you shut it. And then they just get this glimpse of this world that's beyond them. And then it's gone. And then they have to re-inhabit it in their memory. So it doesn't have to be very much at all'.
And so, I circle back to the place where I began. The pandemic has brought global systems to their knees. Confined to my bed, I feel it's disabling effects as the virus rattles my body. An aircraft disaster reminds us of our collective humanity as well as our tendency towards inhumanity. Life and death; global politics; love and war are contained within the image of a soldier smoking a cigarette, holding a gun and a teddy bear.
'Poetry is only good at the big picture if it's talking about the small detail,' John Glenday had reminded me before he left to take the Art Angel class.
Notes:
[1] Simon Calder, 'MH17 Crash: Everything We Know 5 Years After Plane Gunned Down',  The Independent, 17th July 2019.
[2] Andrew Grieg, 'Book Review: The Grain', The Scotsman, 27th November 2009.