The Art of Getting Words on a Page: A Conversation with Sandra Ireland
Tweet
A bitter wind howls in from the east blowing the rain horizontal. I could easily be on the Yorkshire moors of Wuthering Heights, and this would be a fitting backdrop for an interview with gothic novelist, Sandra Ireland. We meet in Carnoustie's Costa Coffee to chat about her most recent novel The Unmaking of Ellie Rook published in 2019, and her new novel Sight Unseen, forthcoming in July 2020.
The café is situated on the main drag with the added convenience of its own car park. I arrive early to gain a sense of calm and organisation, nestling in a small four-tabled nook with an Americano. Two tables are occupied and, although it affords more privacy from the bustle of the main café area, I wonder if I might miss Sandra coming in. When there is no sign of her at two o'clock, I pop my head out of the cosy cubby-hole and spy her sitting at a table by the window—she managed to slip past! I gather my things and head over, both of us laughing. Once settled with coffees, I fish out my questions and set my phone to record.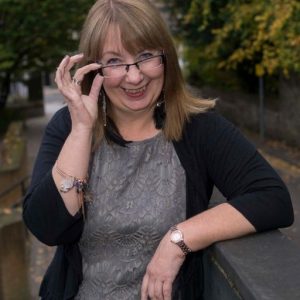 Sandra is the secretary of Angus Writers Circle of which I am also a member. I can't help mentioning that I feel slightly nervous―discussing her work professionally is not the same as our relaxed interactions in the safety of the writing group. 'Don't be daft, it's only me,' she reassures, and tells me about a Ted Talk on vulnerability she was once encouraged to watch: 'As humans, we like to look after vulnerable people it's in our DNA. If I do an event I always say "I'm really nervous, I hope you like the book", and as soon as you show you're vulnerable, you get them on your side.'
Feeling a little more relaxed I warm up with a question about rituals, how—or if— Sandra loosens up before writing: 'That's a good question, and you're right; you need to limber up instead of going into it cold'. For Sandra, walking is thinking, stimulating the flow of her subconscious processes while she relaxes into the minutiae: 'When I sit down after a walk, I've maybe got a couple of lines and I take it from there.' Transcendental meditation is another way Sandra taps into the creative brain: 'I've been doing that for about five years now, twenty minutes twice a day, it helps you to be creative; to sink to a place below all the chatter and access ideas.'
The soft lilt of her accent reflects her gentle presence. It is not the strong northern dialect you would expect given that she was born and raised in Yorkshire, living in Sheffield and then Northumberland as a teenager. She lived near to a gothic rectory in Sheffield and I am curious to know if this is where the drive to write darkly gothic novels originates: 'You've done your homework!' she exclaims, smiling as she recounts the memory:
It was amazing. I was in my early teens and new houses had been built in the grounds of the rectory. An old lady owned the rectory house and she had a white face and wore blood-red lipstick, she would come out to us kids for climbing the surrounding wall: I was terrified of her. Our house sat on the site of the summer house where [Thomas] Gray wrote his Elegy, which I later studied.
We raise our eyebrows in sync at the coincidence 'yeah, things can really be weird', she laughs. Sandra was a creative child and enjoyed drawing and writing but, as was the case for many working-class children at that time, her creativity was not actively encouraged by her parents: 'I never got the impression that it was necessarily a good thing'. Laughing, she air quotes: '"One of those imaginative children." When I was growing up you would never have thought about getting into publishing or writing, I never knew anybody in that world. It wasn't until I grew up that it occurred to me that people do actually write books.'
Long before contemplating a career in writing, Sandra was busy developing an eclectic range of skills. At the age of nineteen she moved to Limerick in Ireland where she owned a small-holding. She learned to skin rabbits and milk goats, which she likens–jovially–to The Good Life. When she came to Scotland she ran a café in Carnoustie, before trying her hand as a Heraldic Artist in St. Andrews. It wasn't until after her divorce that she considered taking her love of the written word seriously: 'My sons were growing up and I needed to find something for myself. I dropped out of university when I was eighteen, but it wasn't until after my Mum died that I decided to go back.' She reminisces for a moment, returning to the present with a sigh:
It was disappointing really, because she was always the one who wanted me to go back. Anyway, I'm sure she knows. I signed up to do a part-time Literature degree and it was really scary, I remember going into my first class, an evening class, and I felt like a fish out of water. There was this woman like me, she had just done her shopping and was surrounded by shopping bags, she was like water in the desert; she asked me to sit beside her and we became really good friends.
Gaining her Literature Degree, she was awarded her first accolade—the Carnegie-Cameron Scholarship―and went on to complete the MLitt in Writing Practice and Study at Dundee. She was 'next in line' for the Scholarship, the initial winner decided to work abroad and Sandra is still glowing with this fortunate turn of events. Life can be full of strange happenings and some coincidences just cannot be ignored, but Sandra is humble about her accolades, the Scholarship being the first of many: 'It's all about the timing, isn't it?' And it would seem the timing was perfect, considering what she has achieved in a relatively short space of time:
It doesn't feel short, but you've got to grab opportunities and, because I'm older, I suppose I'm aware, not of time running out, but of the passage of time. I'm fortunate that I have these opportunities, I mean, nothing is guaranteed in publishing but I'm really lucky that I got the initial start with Polygon.
Would self-publishing have been an option for her had she not been signed by Polygon?
It would, yes. It is definitely an option. It's much more mainstream and that is a good thing, but for any author, nobody knows what the future holds and I know a lot of people who have been able to take control when they haven't succeeded down the tradition route, but at the moment, Polygon are taking my books and while I've got that I just want to keep producing.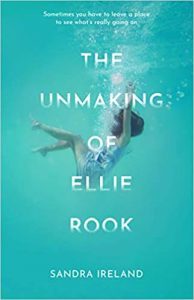 The Unmaking of Ellie Rook, longlisted for the Guardian's Not The Booker Prize, is her third novel, a psychological thriller based on the local legend of Finella, a Pictish queen hunted down for killing King Kenneth II to avenge the murder of her son. Keen to write about the local landscape, Sandra discovered Den of Finella, a wooded cliff-top waterfall that feeds into the north sea where Finella is reputed to have made her escape, or died trying.
Sandra's use of landscape as character evoke the strong sense of place that distinguishes her work, as does her use of folklore and symbolism. It is discussing these aspects of her writing that her passion truly comes to the fore; her face sets, her brow furrows:
Well, for a start I pick places that I would find frightening. I hate scrap yards, I have a real phobia about them, and if you have an emotional reaction to a place your writing will be stronger. And I love crows. I wanted to show that Imelda Rook–a little play on the word "rook" of course–was very in-tune with nature, a real woman of the woods who fed the crows, and was very much part of the landscape. I wanted to bring out that side of her personality so she had her own inner strength, like Finella, and this led me to write about strength in general, and in particular the courage of women in difficult situations.
Domestic abuse, the insidious nature of coercion and the dangers women face in these relationships are emotive subjects. Imelda's daughter, protagonist, Ellie Rook has inherited her mother's strength but she emanates a deep-seated unease around her father, Lawler Rook, which makes for an uncomfortable to read. He is something of an enigma, and I imagine it is a challenge to occupy the headspace of a character of his complexity:
'I think writing as an older person is really helpful because I've got more to write about than I did in my twenties. I'm divorced and I've gone through things in relationships and life in general.' Sandra breaks eye contact and looks up nodding, almost as if to reassure herself, resumes eye contact and continues unfazed:
He was so obnoxious, but really enjoyable to write. I was in a relationship like that and it was something I wanted to write about and it just came into the book. So there's some of my experiences but a lot of the narrative was inspired directly from the newspapers. This [domestic abuse] is going on all around us in horrendous ways and you see it every day in the media.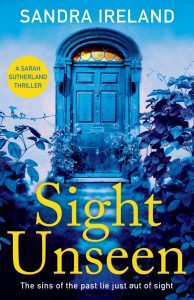 Sight Unseen is the first book in a series of Sarah Sutherland Thrillers, a foray into new territory. The story resonates with elements of cosy crime, which was Sandra's initial idea, but it is, essentially, an innocent stumble into a foreboding mystery and is in keeping with the Gothic genus that Sandra is renowned for, and will be marketed as such. Cautious not to expose spoilers, Sandra limits our discussion to the basic plot.
Protagonist, Sarah Sutherland—supermarket manager by day, story-teller by night—leads tourists through the fictitious Scottish town of Kilgour, recounting the story of Alisoune Gowdie, a young woman executed for witchcraft in 1648. Juggling two jobs, and an obnoxious employee, Sarah struggles with the responsibility of caring for her elderly father, John, whilst keeping tabs on her twenty-something daughter, Hannah, touring Thailand on a gap year. As a family unit the Sutherlands are ordinary people living ordinary lives:
It is very much a family story. Sarah innocently stumbles into these mysteries that she has to solve but, at the same time, she's an ordinary woman, struggling to cope with domestic life. I cared for my Dad and it's a hard thing to do. You feel like you miss out on a lot and there's a lot of guilt attached to that feeling. I don't think there's a lot written about caring and the default position that sees a lot of women stuck in the middle of two generations.
We digress into a discourse on domestic roles, gender, and the distractions from daily writing practice, attempting to differentiate between what is procrastination and what necessitates time away from the pen. Sandra recently enjoyed a writing retreat which, on the surface, sounds like an extravagance, a whimsical fantasy almost, but is, rather, an act of self-discipline, with a little luxury to boot:
There was very much the expectation that we were there to write, and I wrote thirteen thousand words which is the most I've ever written in a week, at home I'd struggle to get past a thousand a day. Everyone said the same thing on the retreat, men as well as women, and I don't think it's any easier for men, to write… [if] you're on your own so you've got everything to do; all the stuff that comes between you and what you want to do.
At this point, I suggest caffeine to promote focus and Sandra agrees: What were we saying about procrastination? I return from the counter with our refills as the raucous coffee grinder gives Sandra reprieve to check her emails, and I review my list of questions, being mindful of the time. When the ruckus stops I tell Sandra that Sight Unseen was funny, and she collapses forward onto the table in mock relief: 'Oh thank God! I tried to make it humorous, I didn't want it to be too bleak. I read a little bit at a book event and I was getting lots of laughs and I wondered if people were just being kind!'
I recognise imposter syndrome immediately and Sandra concedes my point: 'I've got it bigtime, and I think creative people do. It's your work and you don't know what kind of reception it will get. It's scary.' Negative reviews are a concern for any author, but Sandra is philosophical, having learned to manage the negative fallout:
I was devastated the first time and felt that I might not write anything else, but they're not people you know, and they don't know you, they're maybe having a bad day and you've just got to let it go. Bone Deep was sold in America, and readers didn't like the protagonist, Lucie, because she was immoral, which I find interesting. There wasn't any attempt to get under her skin to see why she's like that. Psychological thrillers are about why they done it, rather than who done it.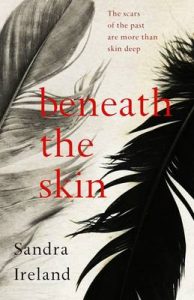 Editing is another fraught experience for authors who are frequently faced with the dilemma of remaining true to their art, or heeding the advice of their editor. Sandra's debut novel Beneath the Skin, shortlisted for the Saltire Society First Novel award, was originally narrated from a female point of view but her dissertation supervisor, novelist, Kirsty Gunn, felt the voice of male war veteran, Walt, was much stronger, 'I hadn't intended to narrate from a male point of view, but I could see that Kirsty was right, Walt's voice was very strong and I found it quite easy to write.'
During editing for publication, Sandra was presented with the general consensus that the ending was incongruous with one of the characters' sensibilities and would need edited for plausibility. She altered the ending but remains unsure if it was the right thing to do, but maintains confidence in her editor and what is, fundamentally, a learning process: 'I'm much more aware of the reader than I was before, because at the start, I was writing for myself. Now I am very aware of the trends in publishing; what is selling and what readers are looking for.'
Exhausting my list of questions, and a little more, I feel vampiric but I am pleased to have gained an insight into Sandra's journey, enriched by our persistent and enjoyable digressions. Sandra's story is one of success, of hard work as much as good timing, and I am aware that writing novels is only one aspect of her very busy writing life. Nevertheless she is testimony to all aspiring writers, but especially women, proving what can be achieved with a little self-belief, a lot of courage and a daily writing practice.
by Wanda McGregor
Ed–Wanda McGregor's interview was completed before the March Covid-19 lockdown but held back till the publication of Sandra Ireland's new novel, Sight Unseen. Wanda's review of Sight Unseen can be found by clicking HERE.