Tweet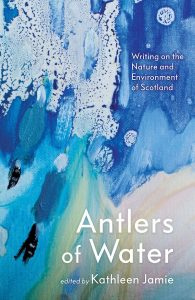 'Antlers of Water'—the phrase is MacCaig's—and for several reasons it's an apt title for this new anthology of 'Writing on the Nature and Environment of Scotland'. That craggy map. A land that is as much water, as land. Those antlers, perfectly seen by the poet, delve deeply into what it is to live in Scotland.
There's almost a sense of photographic negative in the title, and in what is delivered. Scottish nature writing, as editor Kathleen Jamie says, 'is far from new.'  Yet what she curates often flips the anticipated, just as those antlers turn round our perspective of cartography. Though I'm generally loathe to read reviews of anything I'm reviewing, I happened on one, where Jamie was termed a 'nature poet'. It's fun to imagine how she might have read that constricted definition. That confounding of limited expectations is surely one of this book's triumphs.
Scotland, of course, enjoys a great tradition of nature writing. Much of it is concerned with lonelier glens, more lofty peaks, the deeper lochs and the remotest islands, and this is both a success and a shortbread tin cringe. Of course there's magnificence which cannot be ignored. But the country's nature far from coast to coast Monarch-of-the-Glen. Rather, as our writing is rich in the gritty urban, revels in the suburban, and knows the remote, and it took the audacity of Alan Warner's Morven Callar to examine Oban in a way without tourist-tartan packaging. Jamie's task here is to bring breadth to the canon, to confound presumptions. However stunning the rock formations, truths of environmental catastrophe are always close.
Of the 23 contributors, many are names readily associated with the subject. However, they don't offer what you might assume. Poet Chris Powici opens, but in essay form, in a remarkable piece which questions what we may, or may not think, about wind farms and birds. That surprise in both form and enquiry defines the editorial stance. We are used to Jim Carruth's Renfrewshire farming heritage but we don't anticipate archaeological-themed sonnets, perhaps. There's Jen Hadfield too, in 'I Da Welk Ebb', writing prose in a piece worth contrasting with Gerry Loose's 'Littoral Rising' and Linda Cracknell's 'Lunar Cycling'. Auchmithie poet Lesley Harrison offers work that is as much music as poetry, and in 'The Cadgers' Road, as much pictogram as word.
Further still, Gavin Francis applies his medical understanding to silt and the isotopes which are unlikely to leave the Firth of Forth any lifetime soon. As Malachy Tallack observes ' Worry is not an illogical response to the problems that face the planet.' His examination of his then-new doorstep's space is strangely prescient in these locked-down times. He gives anxiety, but also hope.  This meditation, like so many others here (albeit in very different ways), breaks that too-frequent trope of the separated observer of nature: the problematic human, severed from the pattern.
In such a wide-ranging anthology, it's impossible to give other than a taste. Celebrated nature-writer Jim Crumley digs into Orkney's archaeology to consider the future. If you know Karine Polwart for her singing, her very timely―'Find the Ground'—will amaze.  Sally Huband's 'Northern Raven' is all the better for not being what you might assume from Shetland, and Garry Mackenzie's visceral exchange with Duncan Ban MacIntyre's 250 year old poem is bravely boundary-defying. Then journalist-memoirist Chitra Ramaswamy contemplates a very personal revelation of nature in Applecross and, with equally poignant strength,  the same for a city pigeon. All this remarkable writing, and worth considering beside Amy Liptrot's immersion in maternity and water.
As with any anthology, you won't love everything, but under Jamie's challenging editorship, you should find a significant group of works to inspire you to cross that fence, take a ferry or look anew at hawks-bit (a weed) cracking through pavements. You'll even smile at Alec Finlay's 'A Place-Aware Dictionary'.
Realistically, the book anyone with an interest in Scotland's nature needs.